BLOG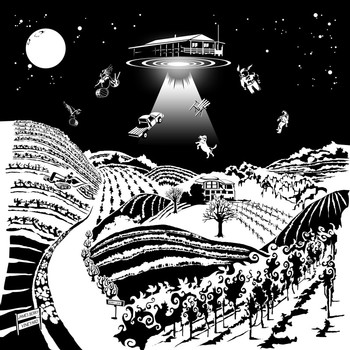 Wine Wednesday
Trailer life was pretty common for many Templeton families back in the 70s and 80s. My family lived in a trailer while the adobe was being built, Matt and Michael Dusi and I drove go-karts around their trailer at the Dante Dusi Ranch as kids, and Pebble, Terry and Justin Smith lived in a blue double-wide for many, many years as they developed the James Berry Vineyard. They were undoubtedly saving money for farm equipment, like the little Honda ATV that Pebble bought for vineyard work. Justin and my brother Rod were in Junior High at this point (I must have been in 4th or 5th grade), and Pebble allowed Justin to drive the quad over to our ranch to ride around our gravel pit which also contained a small pond. I remember asking for a turn, getting on the quad and managing, somehow, to crash it almost immediately into the pond. Justin swam in after it while I apologized profusely, and eventually Pebble drove over and rescued the flooded little scooter. I am pleased and relieved to mention the fact that this little Honda quad is still in use at JBV to this day. As for the pond, I got my revenge a few years ago, back filling the hole with sandy gravel and planting Grenache and Roussanne over it. We now call it the "Lake Block".

That'll show you, stupid pond.

I can't seem to find any photos of our trailer on the Adams Ranch, but I remember it fondly. My Mom and Sister? Not so much. My brother and I seemed to revel in the fact that we could tape newspaper clippings of sports photos on the walls in our bunk, kick open a side door and relieve ourselves at any hour of the day and generally harrass my sister, who at this time was on the verge of becoming a young woman. Being a female pre-teen in a trailer with two little boys had to have been challenging, and if she didn't routinely kick the crap out of us, I would still feel bad about the juvenile shenanigans she had to endure at the hands of her burpin', tootin', lizard catchin', tree climbin' prankster little brothers.

Wednesday August 8th, 2018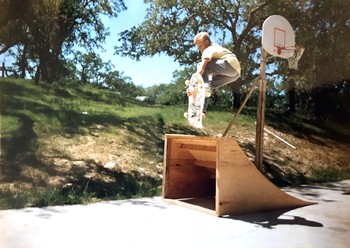 Sweet air there, Champ.

This is the same weekend our family rented a camcorder for the purpose of recording my brother's Valedictorian speech for his achievements at Mission College Prep in San Luis Obispo. We were (and are) all so proud of him.

The previews we'd gotten of his speech were funnier than hell. My brother is like a sleeper cell comic genius. I mean, this shit was hilarious.

It was a great idea that Mom and Dad had to rent a camcorder, and I was more than happy to be in charge of documenting this momentous occasion. I considered myself quite the auteur actually.
The lighting was perfect.

The audience was rapt.

The audio was on point.

The whole congregation (or whatever you call it when you graduate in a church) was rolling with laughter. But none of it ever made it to tape because the numb-nuts (pictured above) wasted the video camera's batteries on stupid skateboarding videos the day before the Valedictorian speech. Ouch.

Today is Wednesday, August 1st, 2018.
Happy Wine Wednesday!
This week's offer is up. Click the above link for details. You may also like to click this one.
--
It's hot in Paso Robles. Damn hot. Remember that humble water well I wrote about a few posts back? Well that thing has been hummin' and huffin' and puffin' bringing what it can to our new blocks of Cinsaut, Roussanne, Syrah and Grenache. Our oldest blocks (going on 14 years old) do not require very much if any water, but the baby vines and our beloved nursery need a nourishing dose of life-giving root juice on the regular.
I'm gonna keep tossing up some of these old photos for a while, but keep checking in, as the planting of the farm and the winemaking process is not far away. My beloved brother and sister are pictured with me below, along with our kitty "Sunrise". I am clearly not wearing any pants and likely freaking that cat out with a death grip like no other. Dad told us that Sunrise ran away a few months later. We're all pretty sure it died of multiple rib cage injuries and Dad was just trying to soften the blow.

Photo: circa "a long ass time ago". Probably taken by Sasquatch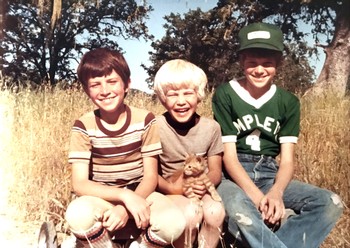 Cat Scratch Fever (Adams kids Rod, Mark and Barbara left to right)



Today is Wednesday, July 25th, 2018.
This week's offer is up. Click the link for details. I am also happy to bring that link to your table.
--
"And you want to see me doin' my thing
All you got to do is plug me in to
High
I said High
High voltage rock 'n' roll"

-AC/DC, High Voltage
From the album T.N.T - 1975
---
High voltage came to the Adams Ranch around the same time the album T.N.T. came out in 1975. Prior to having power, the family lived off of propane in a trailer near where the adobe currently is. I have nothing but fond memories of this time, but then again, I was only 3 or so years old. All I needed was a stick, a dog and a tree to climb. Pictured below is PG&E trenching from the ranch down to Vineyard Drive in order to bring power to the water well and to the future home site.

Photos: Probably Mom, maybe Dad, around 1975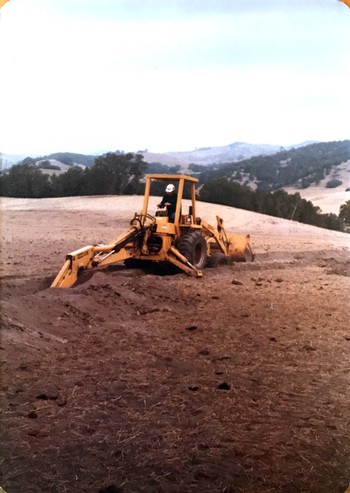 Today is Wednesday, July 18th, 2018.
This week's offer is up. Click the link for details. I am also happy to bring that link to your table.
--
John Denver was wrong. Life on a farm isn't really laid back at all. Pictured below, my brother (left) and I (right) wash our pigs in preparation for the California Mid-State Fair. At this point, the process both exhausted and saddened me, having worked all year raising an animal only to take it to the slaughter. The red pig below (a Duroc) was named "Bacon", and I believe it was my second to last show animal. My first was "Joan Jett" after the famous rock singer of the time. As my affinity for these animals grew, I felt the need to desensitize myself and rename them according to their destiny. After Joan Jett came "Pork Chop", "Bacon" (pictured), and finally "Dinner", who was the lovliest and most intelligent of them all.
My daughter recently requested that she not be asked to raise pigs on the farm due to her love of bacon. "I love bacon too much to want to raise pigs, Dad."

Oh, I get it. I really love bacon too, and I loved "Bacon", and raising these animals emparted a great respect for sustainable, local livestock and agriculture. It was also a good way to earn some summer cash and learn a few valuable life-lessons.

Photo Credit: Mom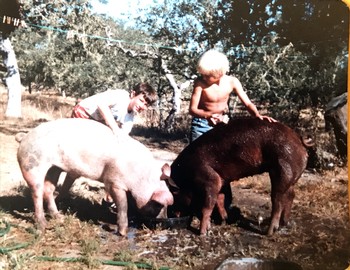 Today is Wednesday, July 11th, 2018.
Every Wednesday we will be releasing rare, noteworthy bottles from our warehouse and spinning some yarns about the history of Ledge Vineyards. Click the link above for details, or better yet, let me bring a bottle to your table.
Below is the original well on our property, which is still in use today. Can you guess any of the future vineyards in the background? Bonus points for history.

The original well at the Adams Ranch going in in the mid 70s.
The well is still in use today at the same depth
of around a few hundred feet.