August 1, 2018 | Mark Adams
I Dreamed I Saw St. Augustine
Today is Wednesday, August 1st, 2018.
Happy Wine Wednesday!
This week's offer is up. Click the above link for details. You may also like to click this one.
--
It's hot in Paso Robles. Damn hot. Remember that humble water well I wrote about a few posts back? Well that thing has been hummin' and huffin' and puffin' bringing what it can to our new blocks of Cinsaut, Roussanne, Syrah and Grenache. Our oldest blocks (going on 14 years old) do not require very much if any water, but the baby vines and our beloved nursery need a nourishing dose of life-giving root juice on the regular.
I'm gonna keep tossing up some of these old photos for a while, but keep checking in, as the planting of the farm and the winemaking process is not far away. My beloved brother and sister are pictured with me below, along with our kitty "Sunrise". I am clearly not wearing any pants and likely freaking that cat out with a death grip like no other. Dad told us that Sunrise ran away a few months later. We're all pretty sure it died of multiple rib cage injuries and Dad was just trying to soften the blow.

Photo: circa "a long ass time ago". Probably taken by Sasquatch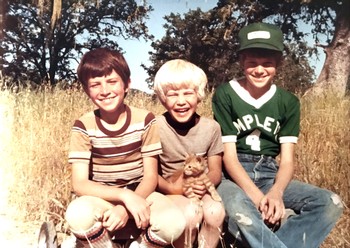 Cat Scratch Fever (Adams kids Rod, Mark and Barbara left to right)


Comments
Commenting has been turned off.