August 8, 2018 | Mark Adams
Talkin' Big Pine Opera Blues
Wednesday August 8th, 2018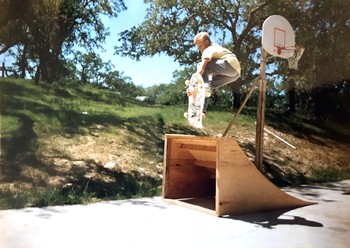 Sweet air there, Champ.

This is the same weekend our family rented a camcorder for the purpose of recording my brother's Valedictorian speech for his achievements at Mission College Prep in San Luis Obispo. We were (and are) all so proud of him.

The previews we'd gotten of his speech were funnier than hell. My brother is like a sleeper cell comic genius. I mean, this shit was hilarious.

It was a great idea that Mom and Dad had to rent a camcorder, and I was more than happy to be in charge of documenting this momentous occasion. I considered myself quite the auteur actually.
The lighting was perfect.

The audience was rapt.

The audio was on point.

The whole congregation (or whatever you call it when you graduate in a church) was rolling with laughter. But none of it ever made it to tape because the numb-nuts (pictured above) wasted the video camera's batteries on stupid skateboarding videos the day before the Valedictorian speech. Ouch.
Comments
Commenting has been turned off.