BLOG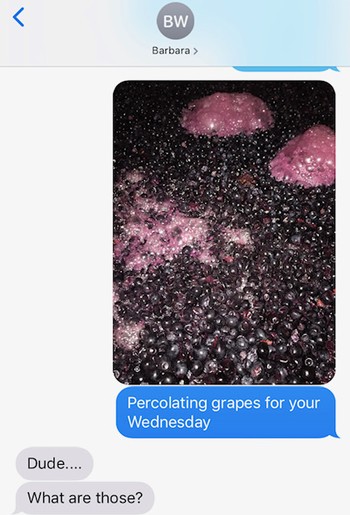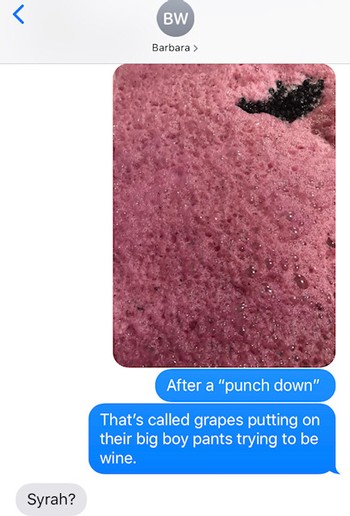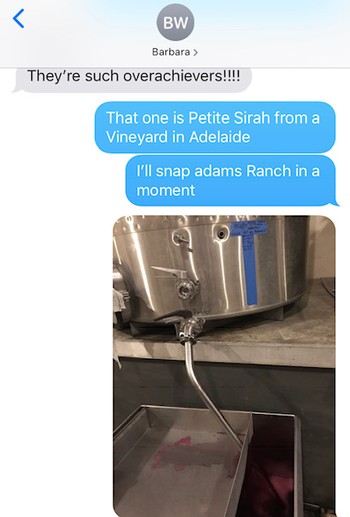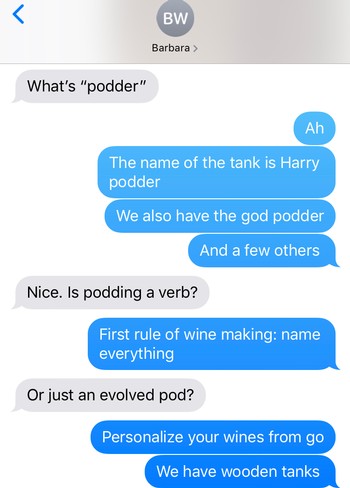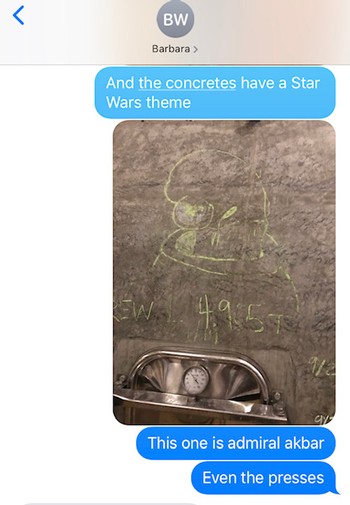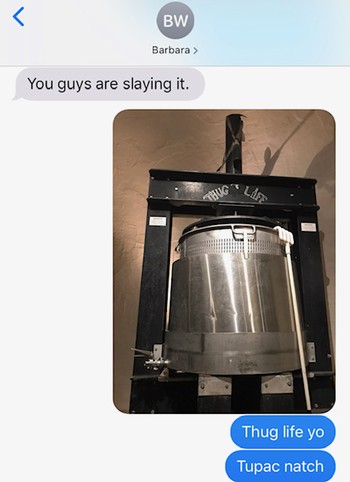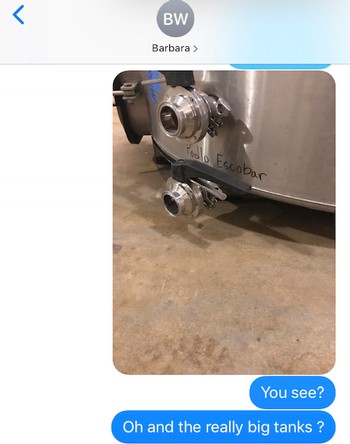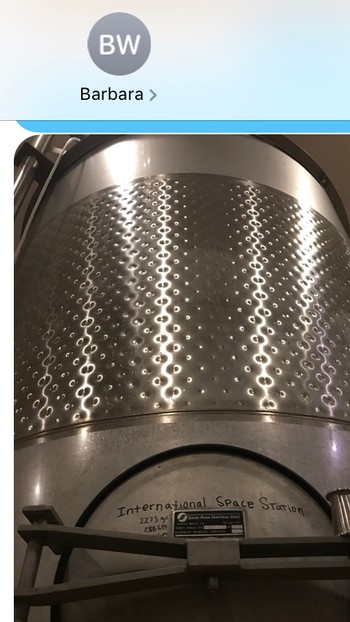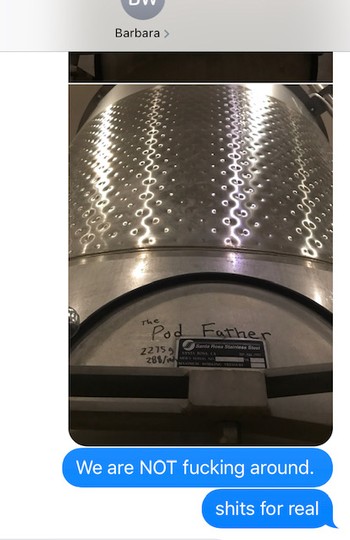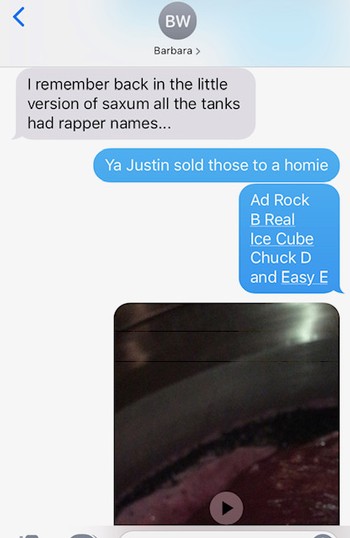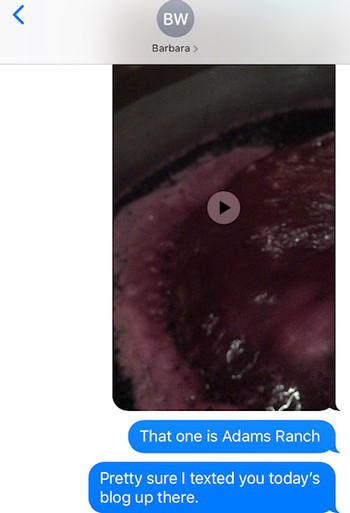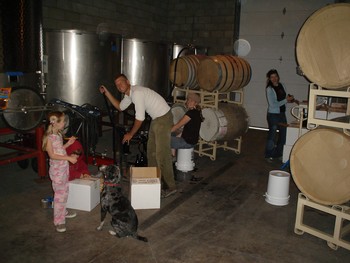 First Adams Ranch bottling, 2006 with (left to right) Olivia and Colin Smith, Sid (the dog), me, Ciera and Laura Kay.

Today was magical because we picked the 2018 Adams Ranch Syrah and Roussanne and we are even more excited now than we were then. Better yet, my brother, his wife and two boys, my wife, my daughter, Jordan Collins and good ol' Bobby Fox all helped deliver that beautiful fruit into a fermenter where all the magic happens. It's ticking away right now!

Harvest is on. Grapes are flying. So many grapes. It's exhilarating, exhausting and completely awesome. Sunrise after sunrise. Tractors, heavy lifting, forklifts, sorting tables and fermenters. This is what it's all about.

I can't wait for tomorrow.

Good night.


Not much of a story tonight folks, partly because harvest has begun and I'm a bit spent. Also I need to get my arse to a bachelor party for the rest of the weekend with one of my dearest college buddies down at Leo Carillo near Malibu. I am stoked to be back at the caves at Saxum, assisting my buddy and mentor Justin Smith, who joyfully encouraged the trek before the shit really hits the fan. Justin has known my buddy Arash since the 90s and knows what a special occasion this is. Best work environment ever.

Congrats Arash! We have pictures of you helping us plant the first Ledge block, but could not find them tonight. When we toss one up you will already be married : )

We pick about 7 tons for Ledge next week.

Everything looks great.

We're all pumped.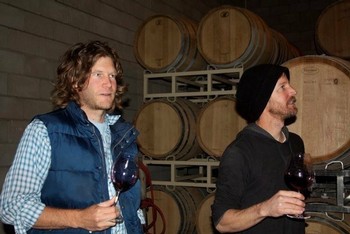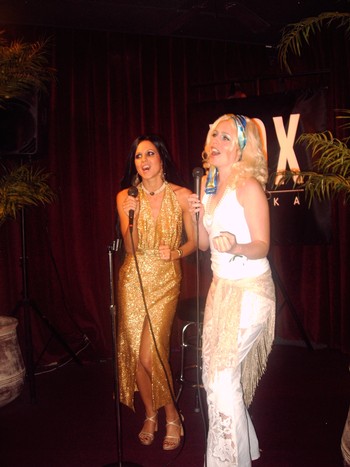 Ciera (Tammy Wynette) and her roomate Julie (Cher) in L.A., 2004.

The story of our vineyard and winery is built around the support of those who allowed (and even encouraged) us to dream big. To those who didn't mention how crazy it was to plant a vineyard without experience or financial backing. Thanks guys! We're still crazy after all these years.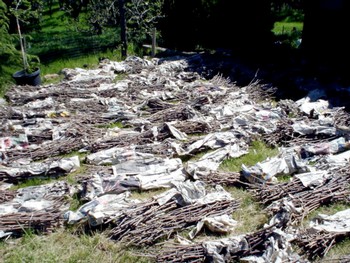 Syrah cuttings prior to planting, Spring 2005

Trimming all of these sticks down to size was pure insanity. We did nothing but clip. As mentioned in the last blog, we called it our "A.B.C.s" or "Always Be Clipping". What wasnt mentioned was the "D" part of the equation. As the hours rolled on and our fingers began to blister our mantra became the "A.B.C.D.s" or "Always Be Clipping Drunk". My wife (then girlfriend) Ciera took most of the photos during this time, but she was there helping us clip away.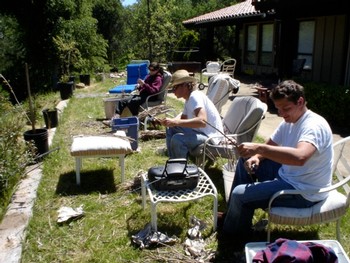 (l to r) Laura Kay Swanson, me and Tom Eaton. Thanks Guys!

After days of non-stop clipping came non-stop planting. I had the vineyard block surveyed wide - 72'x72' if I recall correctly, so we took a long tape and sunk popsicle sticks every three feet down the rows for vine placement. At each popsicle stick I pounded a hole in the ground with a heavy duty bar, where we put the vine cutting. Rinse. Repeat. Wipe hands on pants.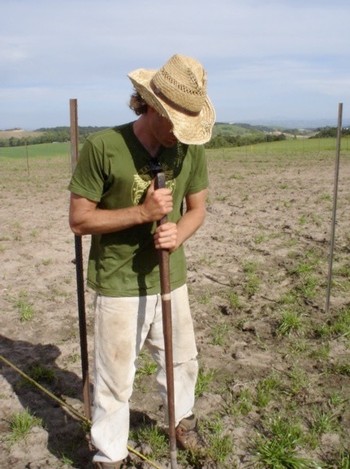 Pounding holes for vine cuttings

We had ample rain in this winter and you can see the saturation of the soil in the photos during this time. Thank heavens too, because it saved us huge amounts of time. Dry soil would have been our undoing.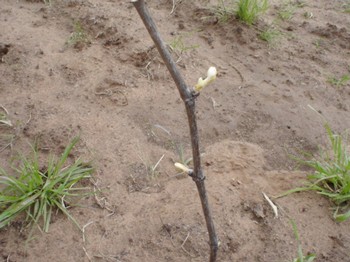 A little baby Syrah cutting, popping out & yearning to be a vine!

We have a decent amount of video, and a lot of it is hilarious. We all had the right spirit. Good friends subjecting themselves to endless manual labor in order to play a game that can turn a rich man poor. Yes this was an almost idiotic, impossible dream, but it goes to show what one can achieve if they put their mind and body into it with all of their heart.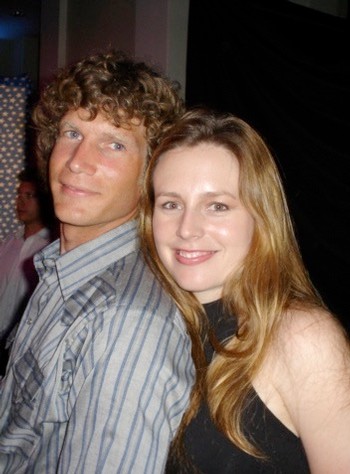 Mark and Ciera around the time of planting.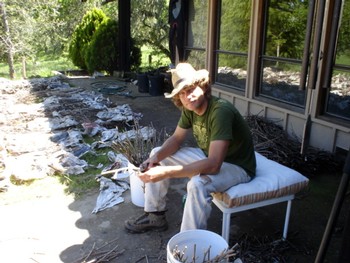 Preparing cuttings for planting, Spring 2005

Cut the knuckle, leave two nodes and soak the cuttings in rooting hormone overnight. Repeat 4,000 times. We invited a few friends to help "do our ABCs" as we called it, "always be clipping." I collected thousands of Estrella clone Syrah cuttings from the Bone Rock terraces at James Berry Vineyard over the course of a rainy February in 2005. I wrapped them in wet newspaper and black trash bags and threw them into the basement until spring. We plowed the field and did a wide survey of what is now known as the Ledge Block. The spacing was 8' by 3' and we would train them on a cordon, or a wire in a "T" formation with 6 spurs on each arm. We didn't have the end posts, wires or irrigation in place. We placed the block as close to the water well as possible, and planned to complete the infrastructure after planting.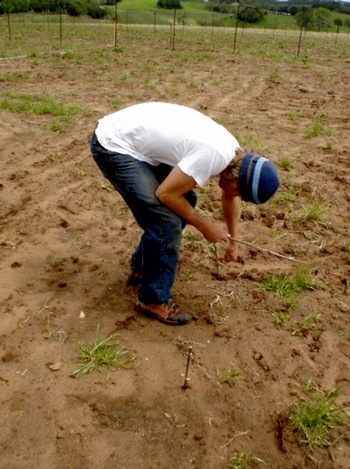 Planting the Ledge Block, Adams Ranch Vineyard, Spring 2005.

Planting a vineyard from cuttings, or "own rooting" has its risks, but we have been lucky. Sites such as ours with sandy soils and exposure to coastal winds are resistant to pests like phylloxera, which can decimate an own rooted vineyard in heavier soils. We continue to propgate our vineyard from cuttings, and the sticks seen above have been bearing fruit (and wine) since 2008.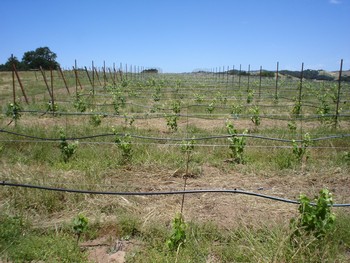 Ledge Block in late Spring 2005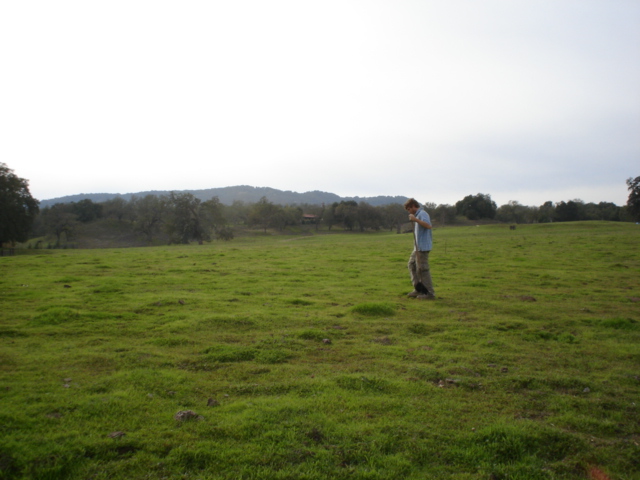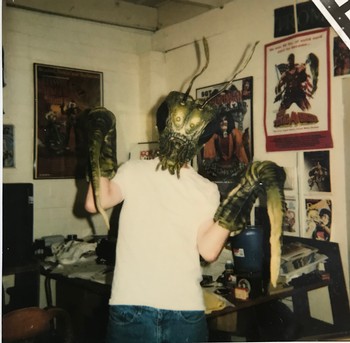 Hard at work in the late 1990s

We made some pretty hilarious movies as kids at the ranch. Game shows, talk shows, phony phone calls, stop animation, crime dramas, fantasy, music videos, you name it. None of it was very good, but we were prolific and are still happiest in the creative realm.

I practiced music and filmmaking as a kid and on through college at Chico State, where I majored in Humanities, Cinema Studies, rock n roll and Sierra Nevada beer. Chico State was chosen after a statewide road trip with Justin Smith, who true to form, generously took me to visit a variety of college towns in order to help me decide. My knowledge of wine was minimal, but during my time at Chico State, (usually around Thanksgiving) I was gifted killer bottles of red wine from James Berry Vineyard, unlabeled but remarkable Rhône blends called "Barn Red" and "Farm Red". These early wines were very much like the JBV wines of today: balanced, inky, tannnic, ripe, floral and simply delicious. Those were good times up in Chico, but a move needed to be made and I chose Los Angeles to sniff out new creative opportunities.

After an embarrasing stint as a singing waiter at an Italian restaurant, I landed a job as an usher at the Regent movie theater which was was also a film production company. I was hoping to go from sweeping popcorn and tearing tickets to writing and scoring movies. I arrived to work early and stayed late and eventually was rewarded with jobs on several low-budget films in varying capacities, learning that a lack of money should never prevent one from executing their visions, especially at studios like Troma where their B-Movie battle cry is "Let's Make Some Art!" That mantra stuck with me even when I landed a solid job as a sound effects editor at Sony Pictures. I got myself a studio apartment near Pacific Coast Highway and Sunset Boulevard where I would eventually meet my wife. Everything had fallen into place, except for the fact that I was creatively stifled. To top it off, my plan to buy a ranch was about 30 years away were I to retire with earnings from the Editor's Guild.

My family was proud of my work at Sony, but I think they sensed that I wasn't content, and they welcomed my coming back to help develop the ranch the family already owned. Justin and I remained close and I sought his advice. Not wanting to be a copy-cat, I asked him about planting an orchard or some other non-grape crop on the property. He cautiously suggested that a small vineyard may be better and that he could show me the ropes in exchange for labor and some fruit when the time came. Delighted, driven and inspired, I prepared to move, but it was essential that I keep my Sony job in order to maintain a living wage. Over the course of many months I traveled from Los Angeles to Paso Robles on weekends, assisting at Saxum and learning the ways of a vigneron. It was around this time that I met my future wife, Ciera Lamborn, a Soprano at the Los Angeles Opera. She and I had what we affectionately called a "summer fling" that never fizzled. She was familiar with Paso Robles, but hadn't explored the countryside where the Adams Ranch is located. I think she fell in love with the Adams Ranch and the Willow Creek District almost as much as with me. My parents gave me their blessing to plant some grapes, I eventually became Saxum's first employee and I married Ciera, the love of my life and Ledge Vineyards visionary in her own right.

"What the hell." we figured, "Lets Make Some Art!"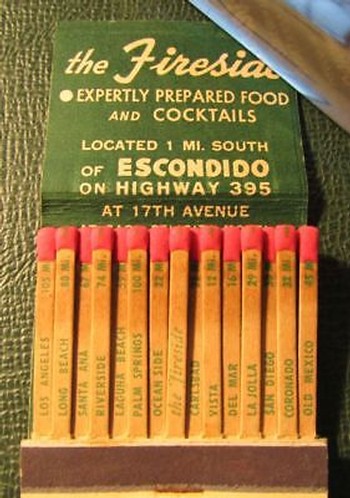 Going out to eat was always a big deal. It was a treat to go into town to celebrate a monumental birthday with the whole family or a victorious ball game with the team at Foster's Freeze. I can still taste those crinkle-cut fries and softy frosties. These are some of my fondest childhood memories.
We especially loved going out to dinner with the Grandparents down in Escondido. They would always say, "Order whatever you want." Followed by one of the parental units saying,

"Don't order what you can't eat."
My modus operandi was to go with the former suggestion and load up, as this was a directive from on high ... from The Grandparents. The problem was, as prophesied, I usually wasn't able to finish my food, leaving a quarter to half of the plate untouched. But I always managed to smuggle the unwanted portion unnoticed to a dog under the table or into a cleverly placed napkin. That way, you see, I was still offered a sundae - with full honors!
---
I have always been inclined to take on "too much", aim "too high", set lofty goals and dig myself into tunnels with no real escape plan. I have faith in well-intentioned ambition, self reliance and willful overindulgence with regard to an individual's perception of their purpose. I'd be blind to suggest that this is always healthy, as we see overwhelming evidence of toxic ambition, greed and vanity on the rise in America and all around the world.
With regard to Ledge and the Adams Ranch Vineyard, my wife and I venture into the intimidating world of wealthy wine growers with measured optimism, gratitude and vision, keeping our program simple, focused, respectful, sustainable and with a steady eye on the cherry at the top of life's sundae: love and family.

With practically no budget whatsoever, we planted fifteen acres of own rooted cuttings on a sandy ledge and are growing nuanced wines with unique personalities that vary dramatically from their cousins in the same area and of the same varietals. In many ways we have ordered more than we can eat, but we maintain that we don't have to conquer the wine world in one sitting, if at all.

We are deeply grateful to those who have joined our allocation list and to the many professional critics who have written glowing reviews of our wines. You are all helping us nibble away at what many have said was an impossible order to finish. We have already gotten there, we aren't going anywhere and drop us a line if you'd like to make an appointment to taste the wines.

May I be excused?

Click for Wine Wednesday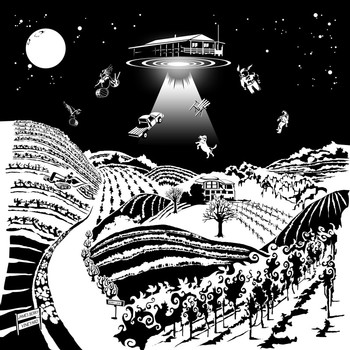 Wine Wednesday
Trailer life was pretty common for many Templeton families back in the 70s and 80s. My family lived in a trailer while the adobe was being built, Matt and Michael Dusi and I drove go-karts around their trailer at the Dante Dusi Ranch as kids, and Pebble, Terry and Justin Smith lived in a blue double-wide for many, many years as they developed the James Berry Vineyard. They were undoubtedly saving money for farm equipment, like the little Honda ATV that Pebble bought for vineyard work. Justin and my brother Rod were in Junior High at this point (I must have been in 4th or 5th grade), and Pebble allowed Justin to drive the quad over to our ranch to ride around our gravel pit which also contained a small pond. I remember asking for a turn, getting on the quad and managing, somehow, to crash it almost immediately into the pond. Justin swam in after it while I apologized profusely, and eventually Pebble drove over and rescued the flooded little scooter. I am pleased and relieved to mention the fact that this little Honda quad is still in use at JBV to this day. As for the pond, I got my revenge a few years ago, back filling the hole with sandy gravel and planting Grenache and Roussanne over it. We now call it the "Lake Block".

That'll show you, stupid pond.

I can't seem to find any photos of our trailer on the Adams Ranch, but I remember it fondly. My Mom and Sister? Not so much. My brother and I seemed to revel in the fact that we could tape newspaper clippings of sports photos on the walls in our bunk, kick open a side door and relieve ourselves at any hour of the day and generally harrass my sister, who at this time was on the verge of becoming a young woman. Being a female pre-teen in a trailer with two little boys had to have been challenging, and if she didn't routinely kick the crap out of us, I would still feel bad about the juvenile shenanigans she had to endure at the hands of her burpin', tootin', lizard catchin', tree climbin' prankster little brothers.

Wednesday August 8th, 2018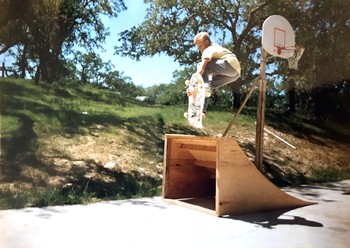 Sweet air there, Champ.

This is the same weekend our family rented a camcorder for the purpose of recording my brother's Valedictorian speech for his achievements at Mission College Prep in San Luis Obispo. We were (and are) all so proud of him.

The previews we'd gotten of his speech were funnier than hell. My brother is like a sleeper cell comic genius. I mean, this shit was hilarious.

It was a great idea that Mom and Dad had to rent a camcorder, and I was more than happy to be in charge of documenting this momentous occasion. I considered myself quite the auteur actually.
The lighting was perfect.

The audience was rapt.

The audio was on point.

The whole congregation (or whatever you call it when you graduate in a church) was rolling with laughter. But none of it ever made it to tape because the numb-nuts (pictured above) wasted the video camera's batteries on stupid skateboarding videos the day before the Valedictorian speech. Ouch.