September 26, 2018 | Mark Adams
That Was a Good Drum Break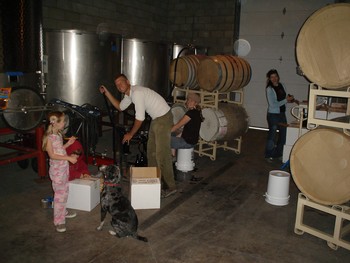 First Adams Ranch bottling, 2006 with (left to right) Olivia and Colin Smith, Sid (the dog), me, Ciera and Laura Kay.

Today was magical because we picked the 2018 Adams Ranch Syrah and Roussanne and we are even more excited now than we were then. Better yet, my brother, his wife and two boys, my wife, my daughter, Jordan Collins and good ol' Bobby Fox all helped deliver that beautiful fruit into a fermenter where all the magic happens. It's ticking away right now!

Harvest is on. Grapes are flying. So many grapes. It's exhilarating, exhausting and completely awesome. Sunrise after sunrise. Tractors, heavy lifting, forklifts, sorting tables and fermenters. This is what it's all about.

I can't wait for tomorrow.

Good night.

Comments
Commenting has been turned off.