September 5, 2018 | Mark Adams
Brave New World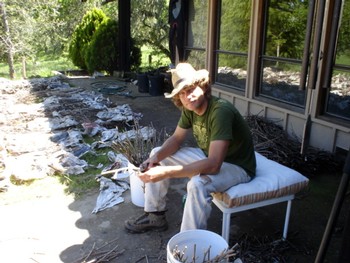 Preparing cuttings for planting, Spring 2005

Cut the knuckle, leave two nodes and soak the cuttings in rooting hormone overnight. Repeat 4,000 times. We invited a few friends to help "do our ABCs" as we called it, "always be clipping." I collected thousands of Estrella clone Syrah cuttings from the Bone Rock terraces at James Berry Vineyard over the course of a rainy February in 2005. I wrapped them in wet newspaper and black trash bags and threw them into the basement until spring. We plowed the field and did a wide survey of what is now known as the Ledge Block. The spacing was 8' by 3' and we would train them on a cordon, or a wire in a "T" formation with 6 spurs on each arm. We didn't have the end posts, wires or irrigation in place. We placed the block as close to the water well as possible, and planned to complete the infrastructure after planting.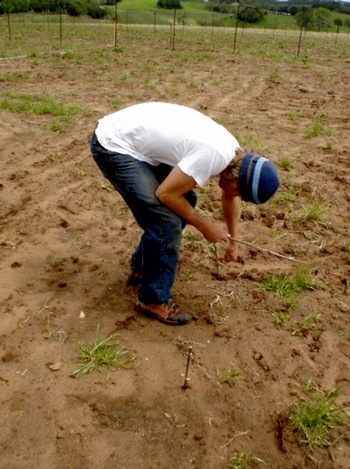 Planting the Ledge Block, Adams Ranch Vineyard, Spring 2005.

Planting a vineyard from cuttings, or "own rooting" has its risks, but we have been lucky. Sites such as ours with sandy soils and exposure to coastal winds are resistant to pests like phylloxera, which can decimate an own rooted vineyard in heavier soils. We continue to propgate our vineyard from cuttings, and the sticks seen above have been bearing fruit (and wine) since 2008.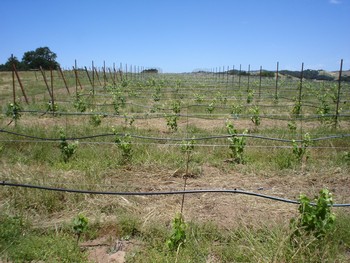 Ledge Block in late Spring 2005
Comments
Commenting has been turned off.