BLOG

SPECIAL BULLETIN

There are only a few seats left for our 5:30pm Ledge Winemaker Dinner at Decker Kitchen in Westlake Village this Sunday 12/22/19. If you would like to try to snap them up, RSVP here: 818.735.9577 or by emailing info@deckerkitchen.com

We will be pairing 5 wines with 5 courses, prepared by Graham Harris, owner and chef at Decker Kitchen. Graham is an old family friend who actually helped us plant our first block of Syrah here at the Adams Ranch Vineyard in 2005. We also played in a band together. We are close friends and very excited about the opportunities that lie ahead. This dinner will kick off an exclusive relationship with Decker Kitchen and Ledge Vineyards, one in which we hold regular wine tastings and winemaker dinners, as well as offer Decker Kitchen some exclusive library wines for tastings as well as for purchase at the restaurant.

Fun side note, next door to Decker Kitchen is the Regency Theater, where I onced worked as an usher tearing tickets and sweeping up popcorn. I should add that I was highly overqualified and applied for this job because the theater chain was owned by Regent Entertainment, who had just won an oscar for the film Gods and Monsters starring Ian McKellen and Lynn Redgrave. My thinking was that if I worked my ass off as an usher, I could gain employment on their productions in Hollywood. The gambit payed off and I soon found myself working on several of their productions in the art department. This eventually led to my working at Sony Pictures as a sound effects editor. This was an amazing time in my life, but one that led me to the realization that I needed to work outside, ultimately on a farm, and with any luck, our family farm in Paso Robles. Thankfully the stars aligned and I was able to invest my time and all available resources into planting and farming the Adams Ranch Vineyard. A huge factor here was that I was able to apprentice at Saxum and eventually become their first employee.

So this humble and artsy corner of Westlake Village holds a very dear place in my heart and we hope that you stay tuned for our future tastings at this restaurant and wine bar. Who knows, maybe we can pop next door and catch a flick at the Regency. I'll smuggle in the wine.

That's a wrap on this one.

Until next time, we'll see you at the movies.

MCA

Happy 12/12/19 earthlings!

Interested in tasting Ledge wines over the hoilidays? Email us at info@ledgevineyards.com
Full moon fever is upon us.

It will actually be completely full tomorrow, 12/13/19, but you'd never guess by looking at it tonight.

It's the last full moon of the decade and it's blasting over the horizon and slipping up into the stars as I write this.

I spent today riding my broom around the wine cellar and making these final blends (to be bottled in January):
2017 MCA Cuvée (Paso Robles)
(Grenache 40%, Syrah $40%, Cinsaut 20%)
Sourced from Adams Ranch Vineyard, James Berry Vineyard, Adelaida Vineyard and Rolph Family Vineyard.
Aged 26 months in new and used French oak vessels, 300-500 liters.
15.2% ABV

2019 MCA Rosé (Willow Creek, Paso Robles)
100% Counoise from James Berry Vineyard
Slowly bladder pressed and cold fermented in a stainless steel tank over the course of 3 months.
13.5% ABV

I'll check in again at the 3rd quarter moon.

Soon,
MCA

Whelp, we did it.

We got about 30 tons of organic compost cast thoughout the vineyard just in the nick of time. It started raining like hell immediately afterwards. Close call. The last thing we needs is a big tractor stuck in the muck out there.

Next up in the vineyards before we ring in the new year is to do a vine count and continue operation rehabilitation. In the spring we will bring in 2 year old nursery vines to fill in some gaps in the vineyard.

I was really happy with how the Bunkhouse Block of Syrah performed in the cellar. The Bunkhouse is planted to Shiraz Clone 7 (Australia) and Syrah N Clone 747 (France), whereas the Ledge and Meter by Meter blocks are the Estrella clone, named for the Estralla River plantings of Gary Eberly who supposedly got the source material from the Chapoutier family's Hermitage Vineyard in the Rhône. I may experiment with other clones, depending on what is available for 2 year olds.

In other good news, Ledge made the top 100 wines of the year from critic Jeb Dunnuck, who compiled his list from over 10,000 reviews of wines from all over the world. We ranked 42.

Pretty cool.
All of the 2019 wines are safely in barrel and taste great. We are a bit more ripe across the board this year with the Adams Ranch Vineyard delivering brix around 27 and both James Berry Vineyard and Bien Nacido coming in over 28. We used a bit more new oak than usual as a result. They will soak it right up and find their zone. I am confident of that.

Excited for 2020!

My daughter has a loose tooth. She won't let me pluck it out. Bummer.
I'm enjoying the rain and my family.

Are you in need of wine for the Holidays? Visit the Ledge online wine shop and stock up. Some cool verticals up for sale.

Hope this update finds you well.

Cheerio,

MCA

Bright light city gonna set my soul, gonna set my soul on fire...
...

It's been over a decade since I've been to Las Vegas and I am currently wrapping up almost a week here with Ciera, Elizabeth and Ciera's Parents Bob and Carla, who brought us out for a post-harvest Thanksgiving vacation. You two rock, thank you!

Some notable highlights:

Chef Dylan Hallas, a Ledge afficionado and Chef de Cuisine at Wolfgang Puck, MGM Las Vegas, proved to be an amazing host, guiding us to a few hot spots. We had the pleasure of hosting Dylan at the ranch in Paso Robles and I suppose this was his way of showing his appreciation.

First was Thai restaurant Lamaii Las Vegas, from owner/sommelier Bank Atcharawan, who focuses on Riesling, Champagne and Chablis. That said, I spied Saxum Hexe and Broken Stones in the wine cellar. Nice. The food was insane and the wine list was very impressive for any establishment, especially a charming little Thai place tucked off of the strip.

We visited Garagiste wine room and merchant from founders Mario Enriquez and Eric Prato, who are working to advance the presence of wine culture in Las Vegas, especially with regard to small, mostly grower-based producers from all over the world. Little producers not unlike Ledge. These guys have a charming room and a philosophy very much in line with what Ciera and I are doing on the ranch. Great spot.

After Garagiste I was treated to some of the best street tacos I've ever tasted, but I couldn't tell you the name of the truck or where it was parked. I took four of these amazing $1.50 tacos down like they were breaths of air. I'll circle back and edit this post when I get more details.

Finally, Chef Hallas treated Ciera, Elizabeth and me to his culinary sorcery with a dizzying array of flavors at Wolfgang Puck, spoiling us with delights from soup to nuts. Rounds of delicious starters, fresh fish, perfectly cooked steaks, Wolfgang Puck's signature smoked salmon pizza, and our absolute favorite, agnolotti "dal plin", little pasta squares stuffed with veal, cabbage and Parmigiano with nutmeg and - - oooh baby -- shaved Magnatum Pico (white truffles). All of this with delightful deserts and wines and all in the charming company of Dylan's wonderful fiancee Nicole. Ciera and I can't stop talking about it. You guys spoiled us. So. Much. Fun. Thank you Dylan!

We're headed back to Paso Robles with satified bellies, neon stars in our eyes and the satisfaction of striking it rich in Las Vegas. Rich with loving families, talented and generous new friends and a lifestyle that mandates the respect of a variety of cultures and their respective artisinal wares.

Viva Las Vegas.

I hear it's raining back home.

Time to go back and sing in it.

MCA


Whelp, thats a wrap on harvest for Ledge Vineyards.

Adams Ranch Vineyard (Paso Robles, Willow Creek):
Syrah, Grenache and Roussanne red blend

James Berry Vineyard (Paso Robles, Willow Creek):
Grenache, Mourvédre, Syrah, Roussanne red blend
plus
Rosé of Counoise

Bien Nacido (Santa Barbara, Santa Maria Valley):
Syrah

MCA Cuvèe (Paso Robles / Santa Barbara):
A red blend of Adams Ranch Vineyard, James Berry Vineyard and Bien Nacido Vineyard

A big thank you to Jordan Collins who assisted me in the vineyard and in the cellar. Jordan is a hard working and knowledgeable young man who also happens to be the son of Neil and Marci Collins of Lone Madrone, Tablas Creek and Bristols Cider House, fine establishments all. Thank you Jordan as well as my wife Ciera and daughter Elizabeth for your patience during these long days. Hip hip. Hip hip. Hip hip.

I would also like to thank the Academy, my agent Ari Graepsenstüff, my dog Fifi, my stylist Roberto, my trainer Gustavo, our vineyard manager Clavo, the House of Ways and Means on Winding Creek, Señor Ramirez our varmint slayer, pedal steel consultant Bob Hamilton, Barbara my editor, Roderico of Red Ale, Daryl Von Chardonwah, my personal chef Celine, Pablo the B-Bender, our archivist Timmer and last but not least Mom and Dad.

Some of the above are in jest, some not. Saxum gets a huge shout out for granting us a corner of their amazing space. Hello Senator.

Now a little rest and family time, after which I get to focus on the real winners, the vines. We are spreading organic compost in the vineyard and praying for rain. Some dormant time will be followed by some tilling and more nutrients, cover crop prep, pruning, bud break, flowering, fruit set, veraison, shoot thinning and fruit dropping...

Holy shit, then it's harvest again!

Hindsight is 2020.

Stoked.

MCA




...and then there were three.

The final ferments for Ledge are happily ticking away:

Bien Nacido Syrah (two tanks) and a James Berry Vineyard Rhône blend (co-ferment) of Grenache, Syrah, Mourvèdere and Roussanne.

Adams Ranch Syrah, Roussanne and Grenache are tucked away in barrel and our JBV Counoise rosé is undergoing a slow cold ferment which will gently ferment away for a few months.

More next week,
MCA

Vineyard Photo Credit: Kyla Rudd
Cellar Photos: Mark Adams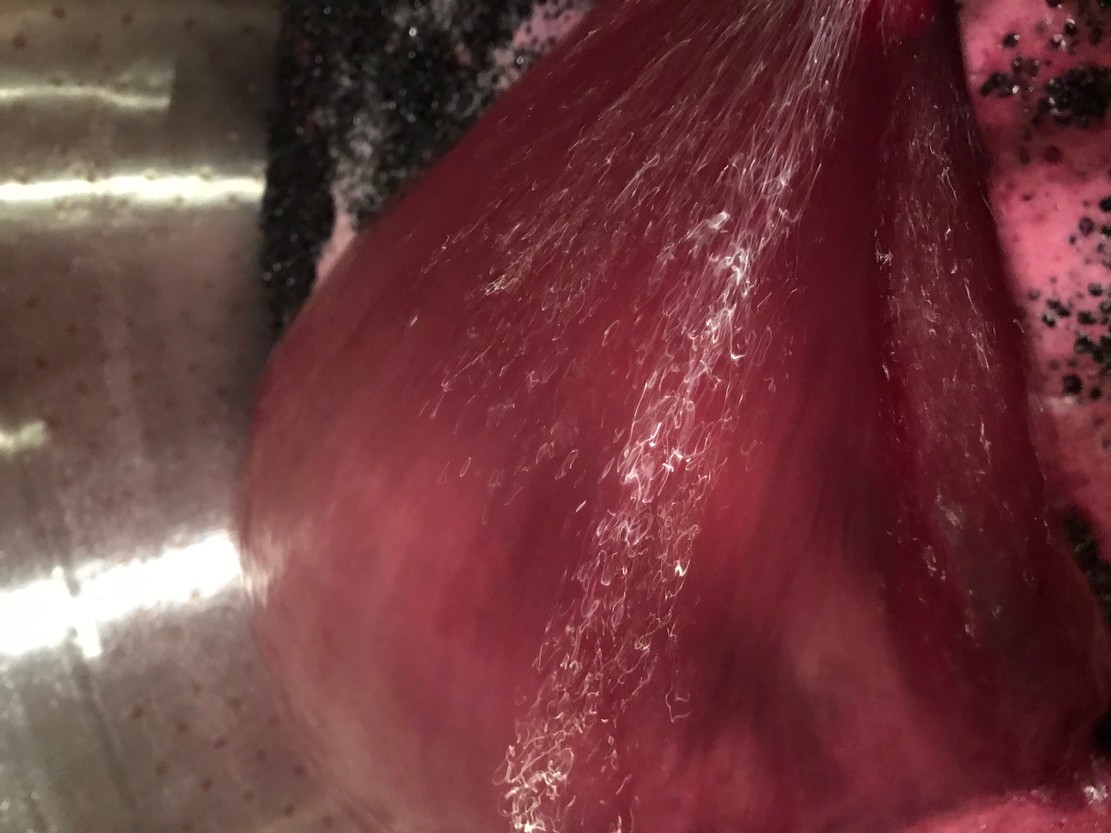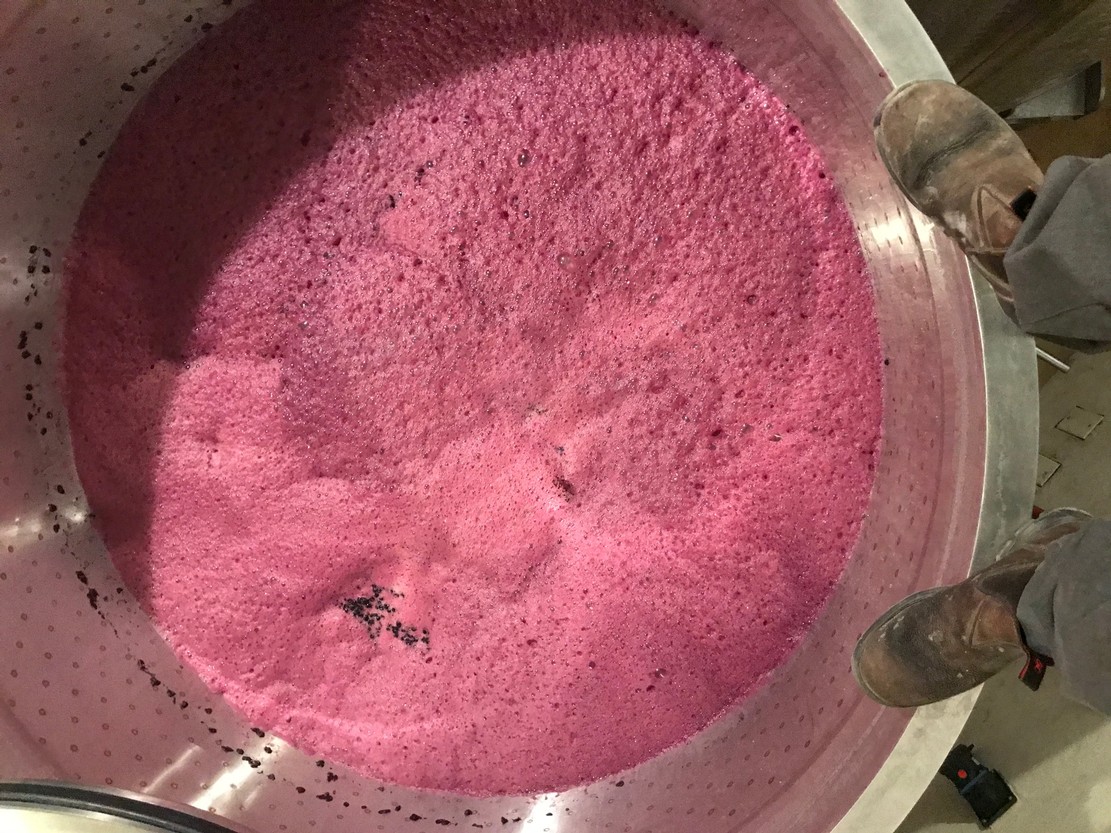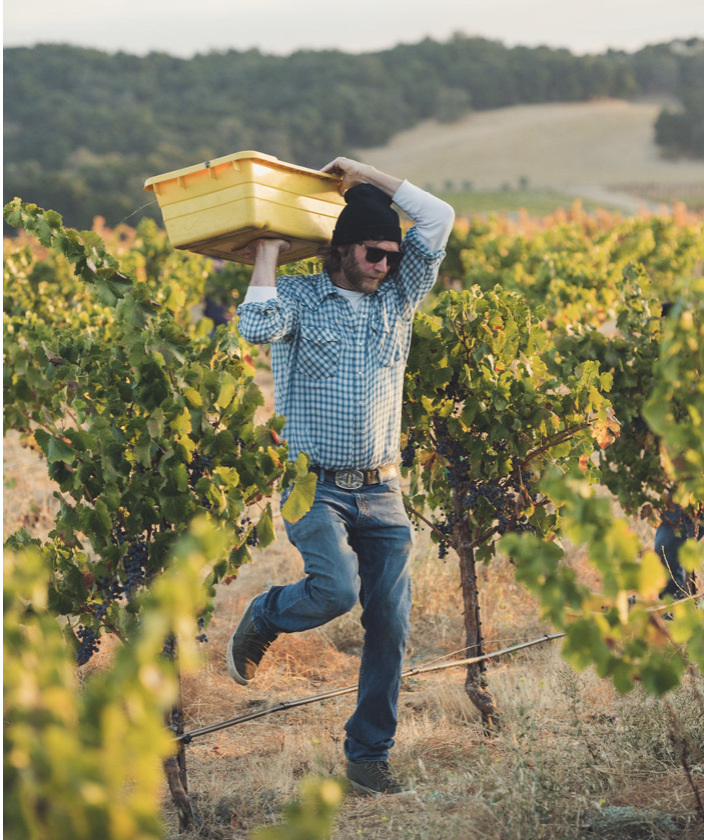 Happy Birthday Mom!

It's actually on the 7th but since I will be in the cellar, I thought this would be a good opportunity to send my wishes here.

Wine wise everything is rollin' away!

The Adams Ranch Grenache has finished fermenting and is ready to be pressed and barreled down. The James Berry Rhône blend is doing it's thing quite nicely and the Bien Nacido Syrah started ripping today. It was little slow to start (just like last year), but it's gassing now.

That's the update.

Oh, wait. We will be preparing Holiday wine packs which are available on the website. A four pack, a three pack and a two pack. The 4 pack is a red blend verticle, the three pack is a Dusi Zin vertical the two pack is two vintages of Grenache. Yum! Check it out.

That's it for now.

Catch you on the flip side.


MCA

Wake up!

The show is about to begin.

Here is a quick, weary-eyed harvest update.
Wines in barrel or in tank:

2019 Adams Ranch Vineyard - Syrah / Roussanne coferment is finished fermenting and is safely in barrel.

2019 Adams Ranch Vineyard - Grenache is almost finished fermenting and will be safely in barrel by the end of the week.

2019 James Berry Vineyard Syrah, Mourvedre, Grenache, Roussanne coferment is safely in tank and very, very happy chemistry wise.

2019 Bien Nacido Syrah also delivered very sound numbers and has been delivered to two tanks.

Easily my favorite harvest ever. I am beyond happy.

Oh, in other news, we will be crafting another rosé from James Berry Vineyard. Picked for the purpose of rosé, Provence style. JBV Counoise rosé.

Bam!

Life is good.

Photos on the way.

MCA




the ranch has been picked and the vines are resting.

we have been blessed with another year of incredible fruit.

the quality is better than ever. the smells and the flavors are spot on.

the syrah / roussanne coferment (which is still in tank) has nearly gone dry and will be pressed and transferred into barrels within the week.

the grenache was picked on the 17th and just started fermenting this morning.

it smells glorious.

aye.

---
All Photos by Kyla Rudd
---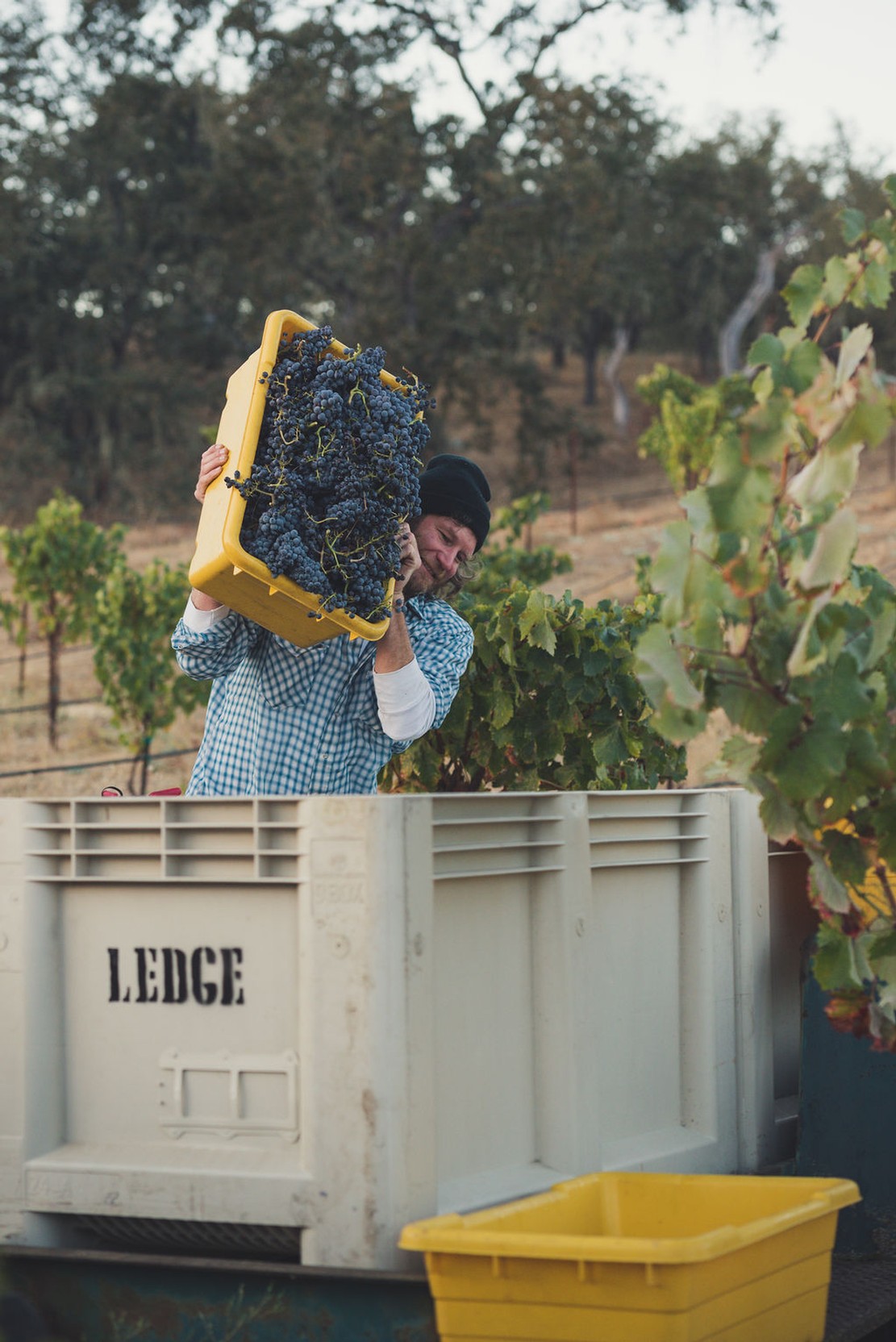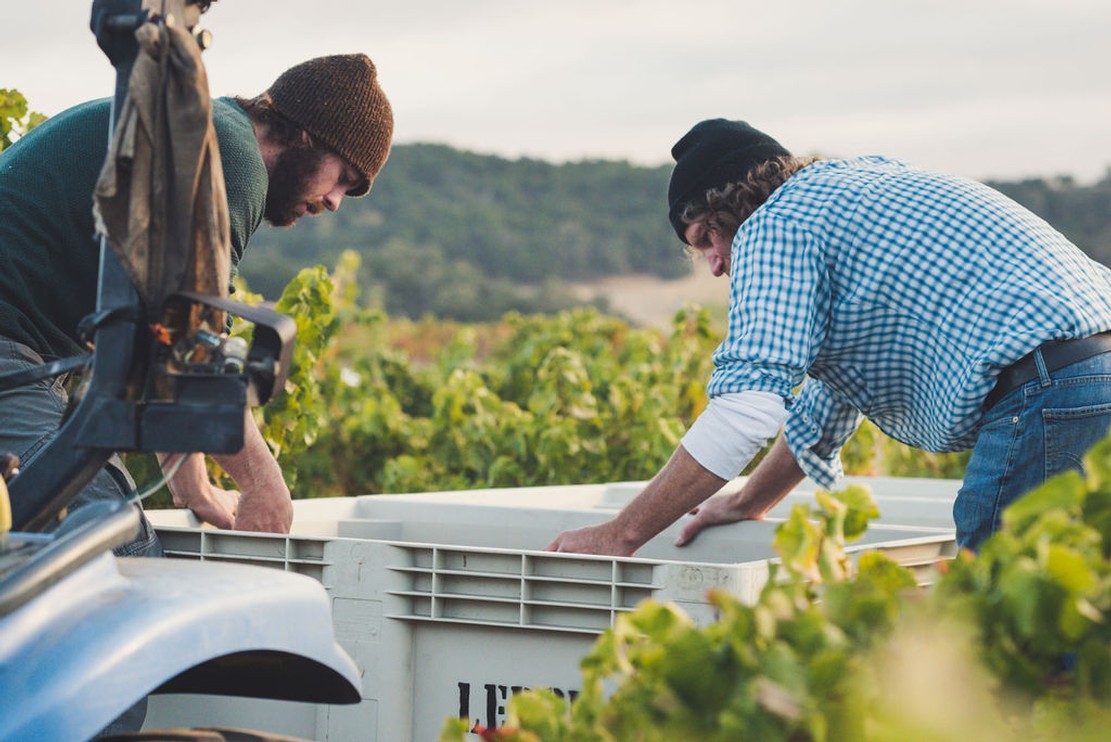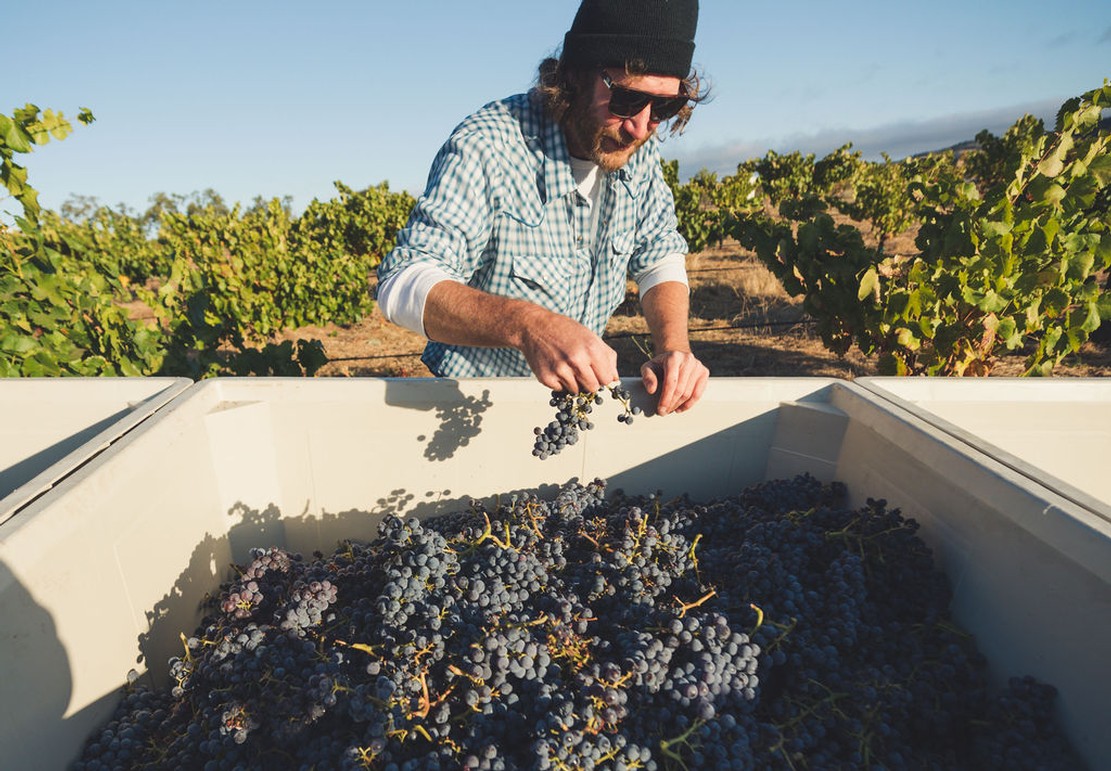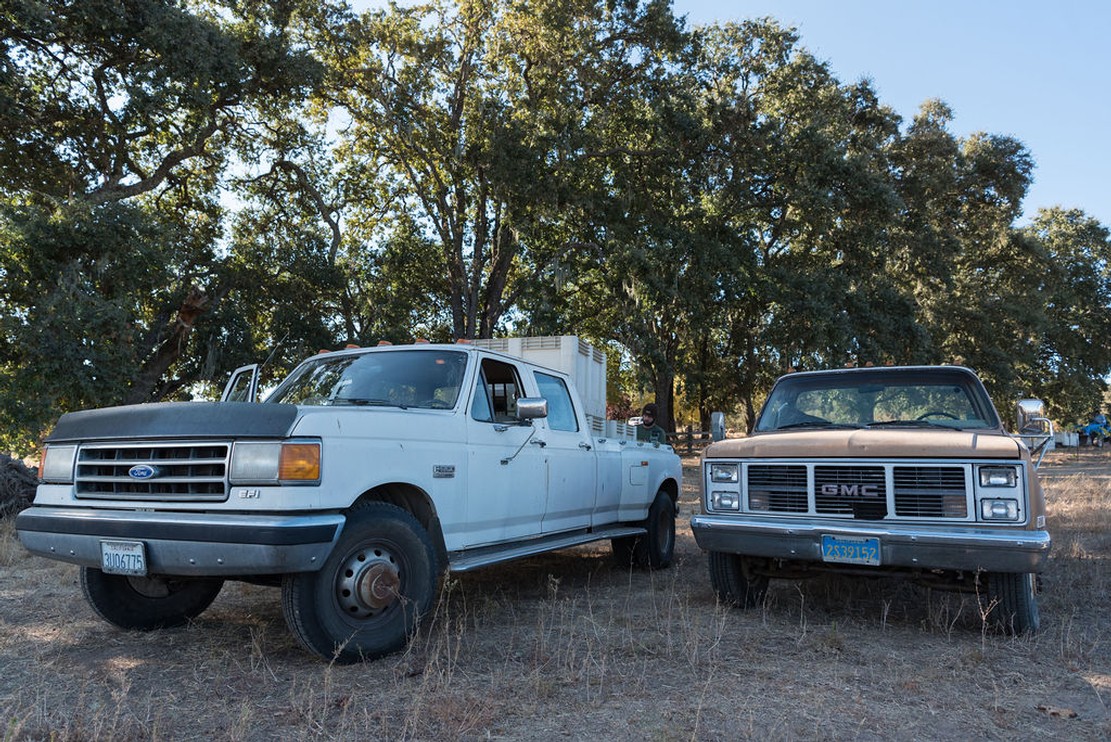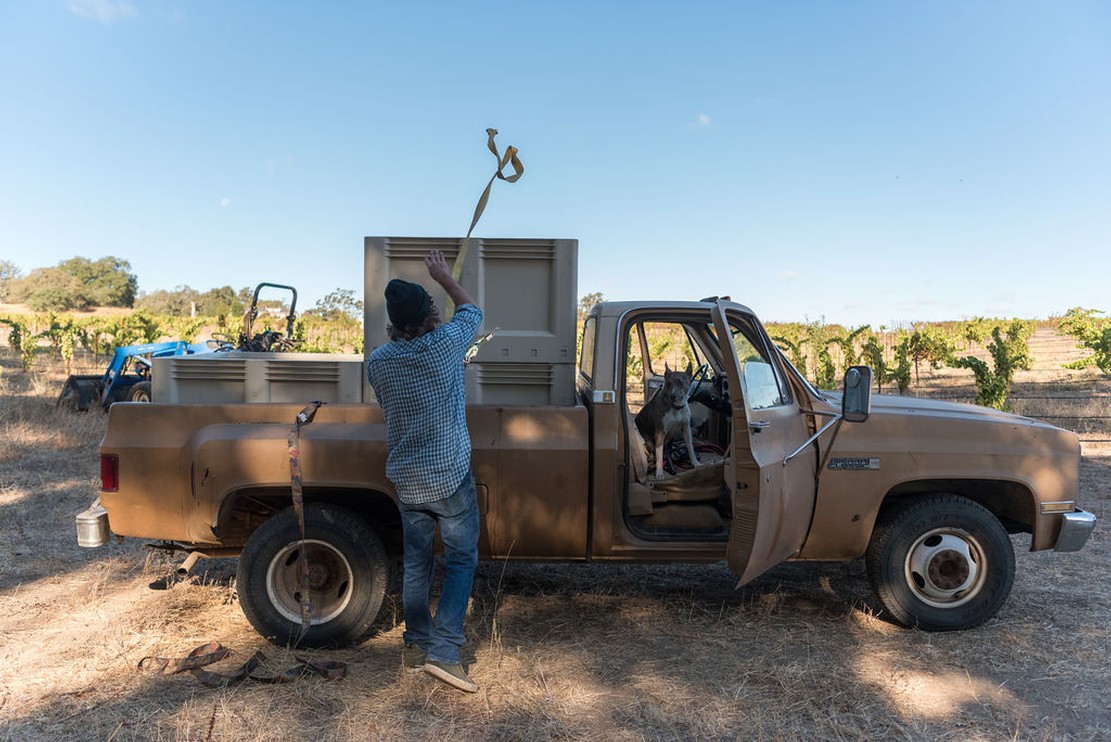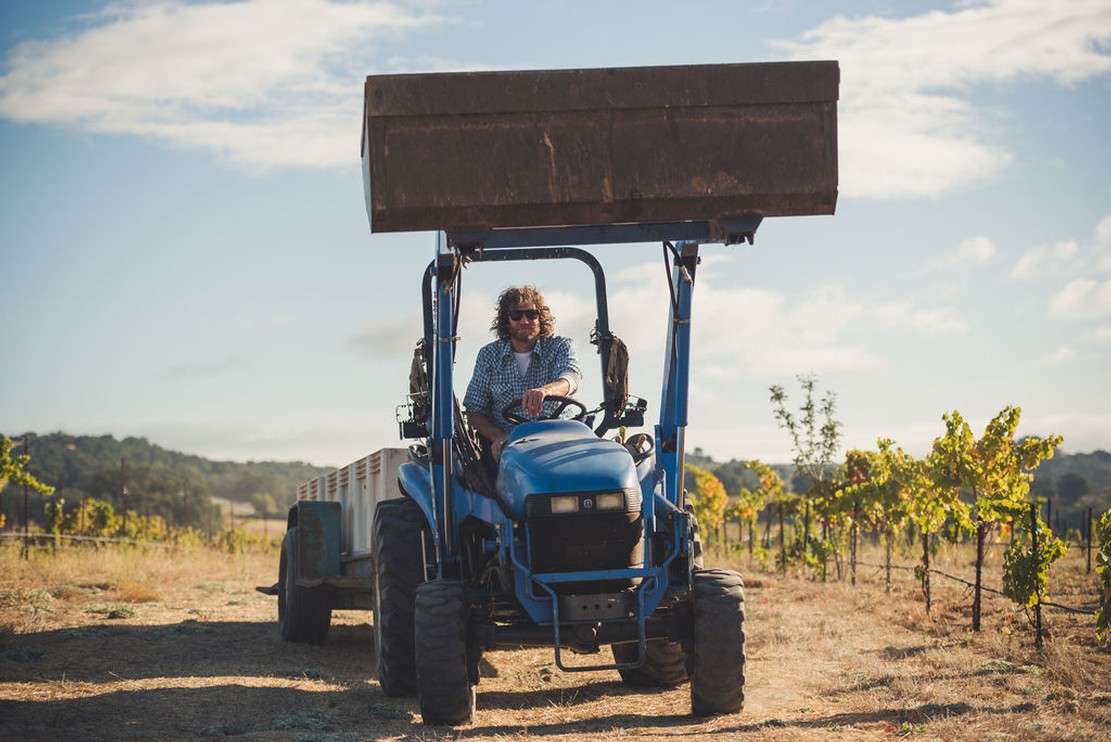 The stage is set.
Goldie and the White Lion (our two dually pick-up trucks) are ready to roll.

Tomorrow we pick the rest of our fruit up here on the Adams Ranch.

Grenache Day!

The Syrah / Roussanne blend that we brough in last week is happily fermenting in it's tank. The numbers were ideal and the ferment smells glorious. We could not be happier.

We released wine club today and we would like to thank all of you who are along with us on this fantastic ride. Email us if you want in. It's not too late. We have a special announcement coming soon for those of you who continue to invest in us. We appreciate your positivity and direct involvement in this adventure. Thank you.

Stay tuned for photos from the vineyard and winery.

Later Days,
MCA