BLOG

Greetings from Rainy Templeton,

No joke. It's May 15th and it's raining.

On with the show!

We usually base the titles of these blogs on songs.

We then try to tie them back into the story of Ledge Vineyards, the Adams Ranch or the wines.

This partcular excercise in reverse-storytelling is like an old-timey version of the game Six Degress of Kevin Bacon.

The following is what we learned tonight after choosing the title of this blog.

The number-one hit song "We've Only Just Begun" by the Carpenters debuted on a wedding-themed television commercial for Crocker National Bank in California in the winter of 1970.

The founder of Crocker National Bank, Charles F. Crocker, was also a Vice President of the Southern Pacific Railroad.

Southern Pacific was connecting the railroad between San Fancisco and Los Angeles in the late 1880's.

The town of Templeton, California was named for Charles Crocker's only son, Templeton Crocker.

Templeton, California was a bustling stage coach town before the railroad was completed.

Ledge Vineyards and the Adams Ranch Vineyard are based in Templeton, California.

Templeton Crocker wrote the first American Opera produced in Europe.

Ledge Co-Founder Ciera Lamborn (Adams) earned a Doctorate in Classical Music from UCLA and has performed in numerous professional opera productions.

She also likes trains.

Until next time.

Keep on Chugging,

Mark & Ciera Adams

---

Sharing horizons that are new to us
Watching the signs along the way
Talkin' it over, just the two of us
Workin' together day to day
Together
Together
---

Mark Adams at the Kimberly Jones Selections Portfolio tasting, Downtown Los Angeles 5/13/19
Photo: Ciera Adams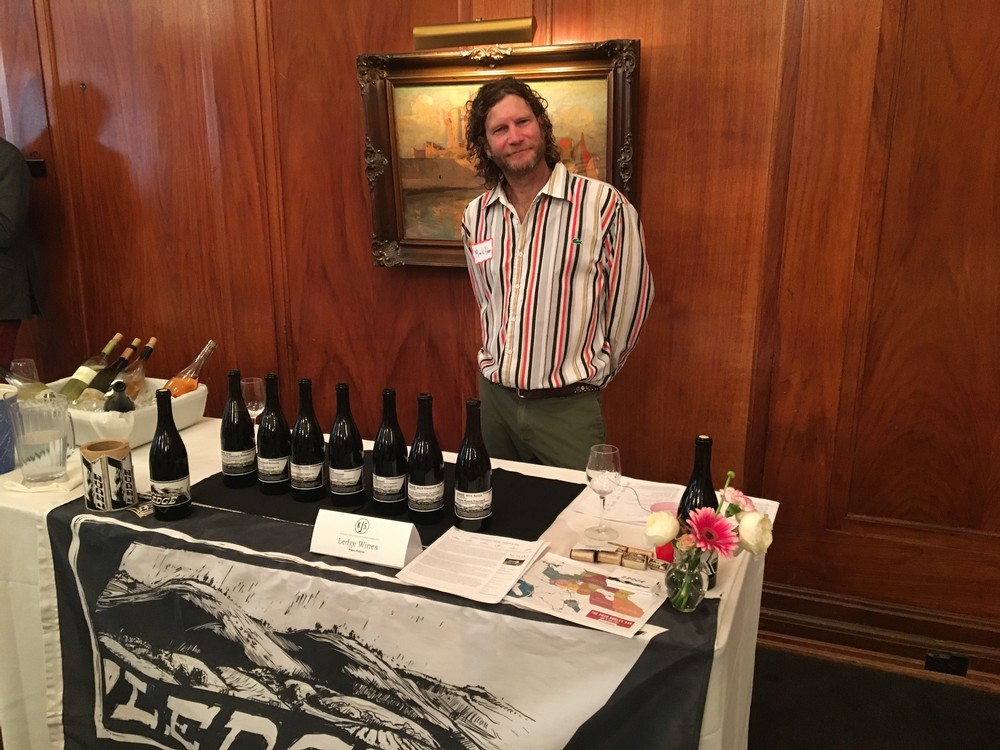 Lulu and I had an awesome walk.

The poor girl gets a bit tuckered in the tall weeds, so we rested often and took plenty of photographs.

The Templeton Gap influence is really something to behold, but there are at least two other chambers of Zeus-like winds howling from the west.

The Tablas Creek blog is a better authority.

Adams Ranch
May 8th, 2019 6pm-ish
Paso Robles, Willow Creek District

Looking toward Cambria, CA (time lapse)

Looking toward Cayucos, CA.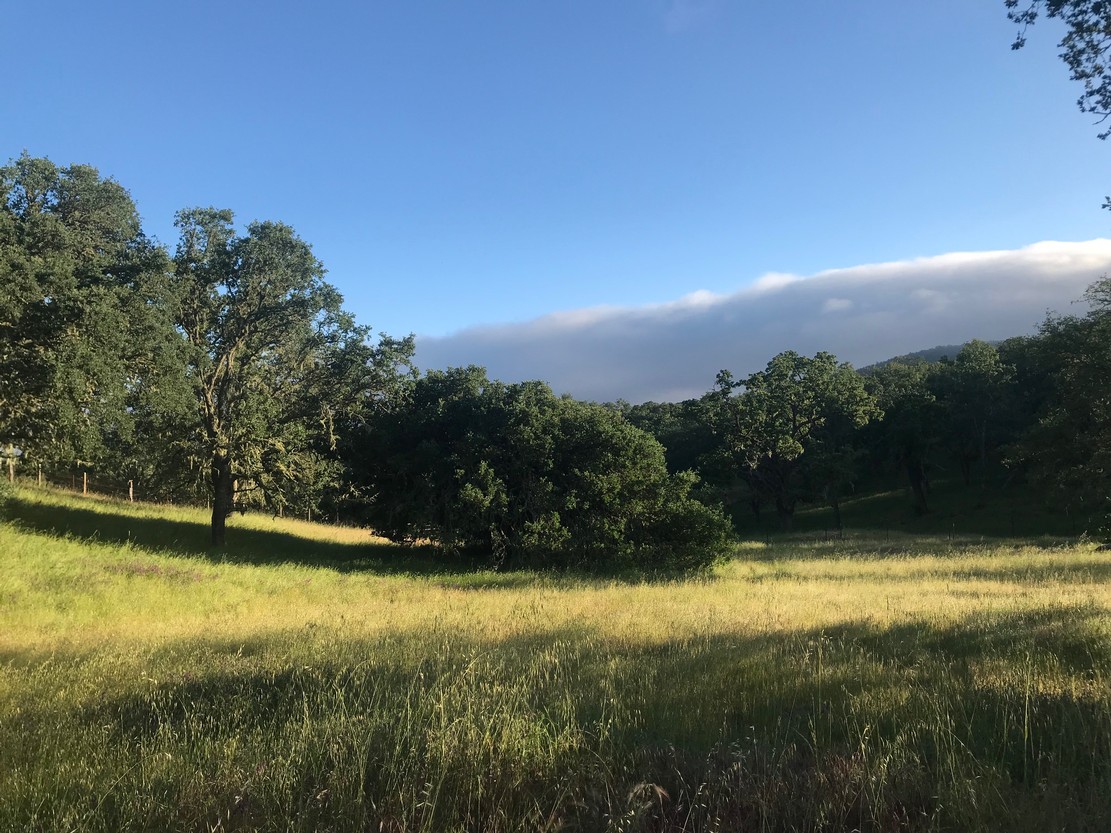 Looking toward Creston, CA.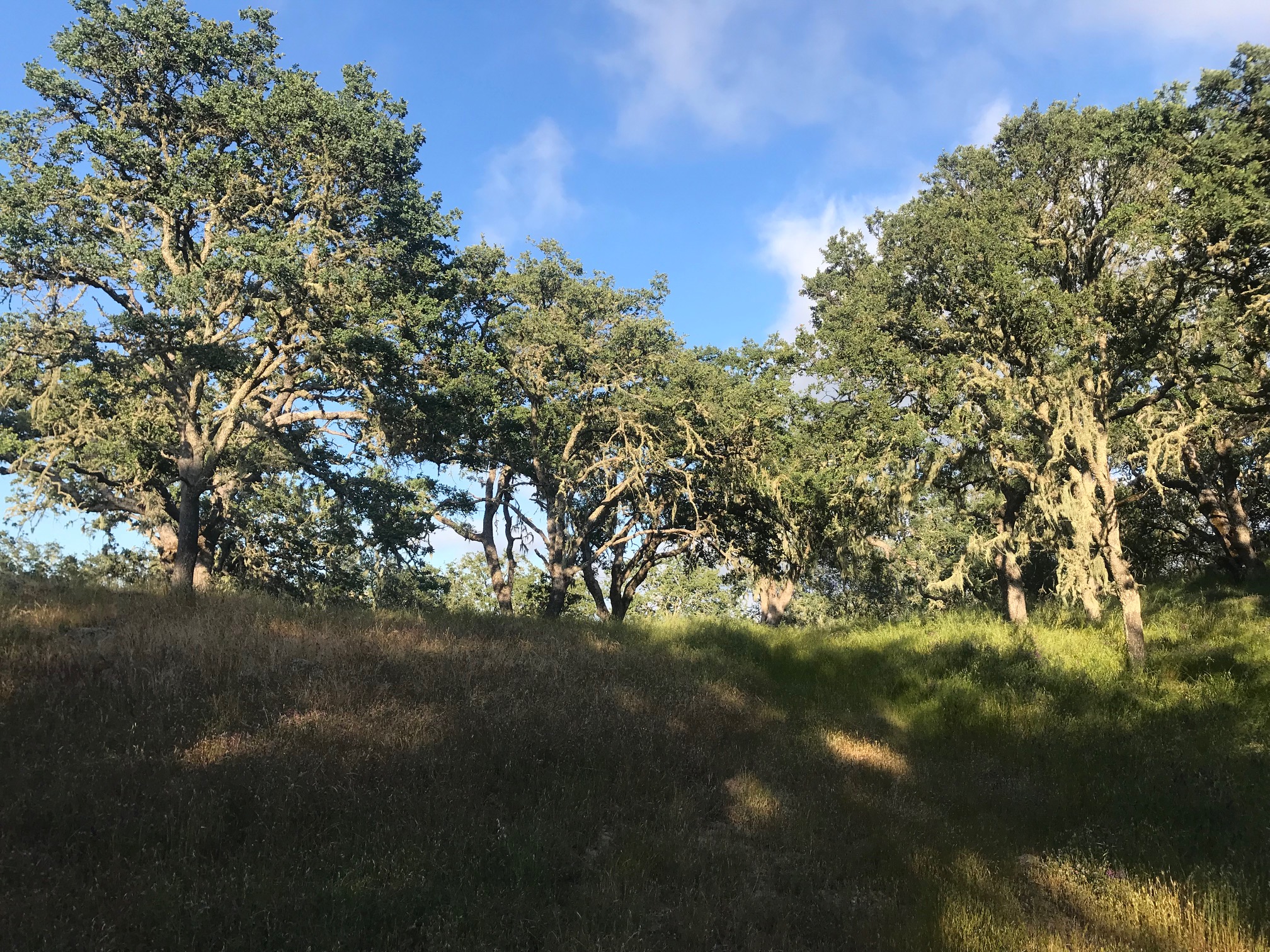 Aaaand they're off!
With 4 inches to 2 feet of shoot growth and fan-like leaves in all of our mature blocks, the vines are absolutely going off. The babies from the nursery are also taking well to their new homes in the vineyards. Their little solar panel leaves are out, but the shoots are yet to reach for the sky. By next week that will change.

In other news, on Monday I was honored to be a part of a round table at Saxum with Justin Smith and world-renowned French wine consultant Phillipe Cambie, who blended a wide array of Saxum barrel samples for the purpose of the Justin Smith / Phillipe Cambie project called Downstream, now in it's third vinatge. While I have been invited to the blending sessions for all three vintages, it is always an honor to taste through these (around 20) barrel samples and soak up the intelligence and experience of these two masters. This wine, like Saxum is a wine that will be incredibly difficult to procure, but let me not dissuade you. Seek it out. Get on the list. The final blend is other worldly, fresh, complex and elegant.
I've been meaning to open up comments on this blog, but the damn robots and spammers have me down. Let me know what you think via email here: info@ledgevineyards.com

I'll probably open up the comments soon anyway and fight the bots off like zombies.
I can take 'em.

Later days and better ways...
MCA

Estrella Clone Syrah Solar Panel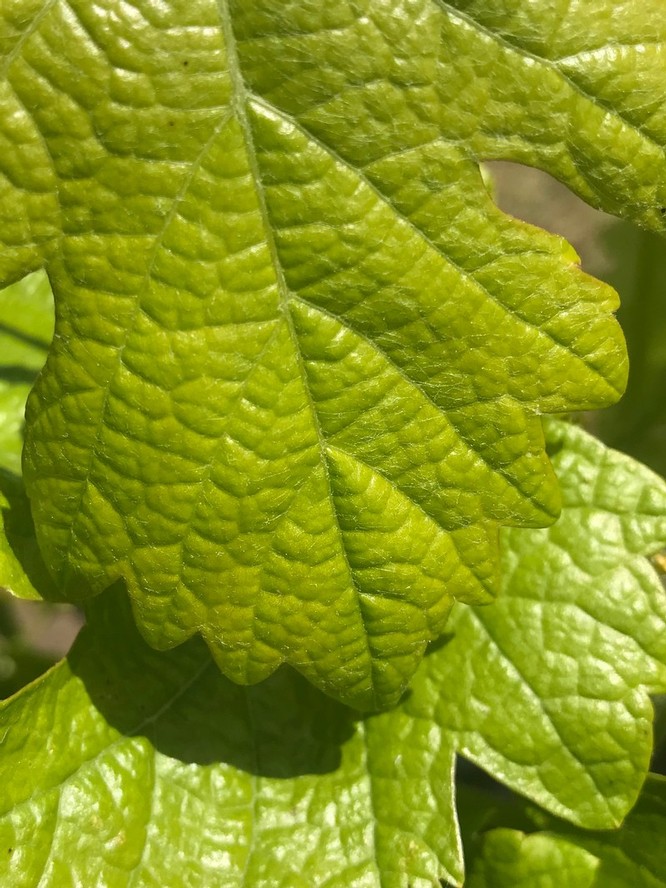 The Downstream Team, L to R: Phillipe Cambie, Justin Smith, Sasha Verhage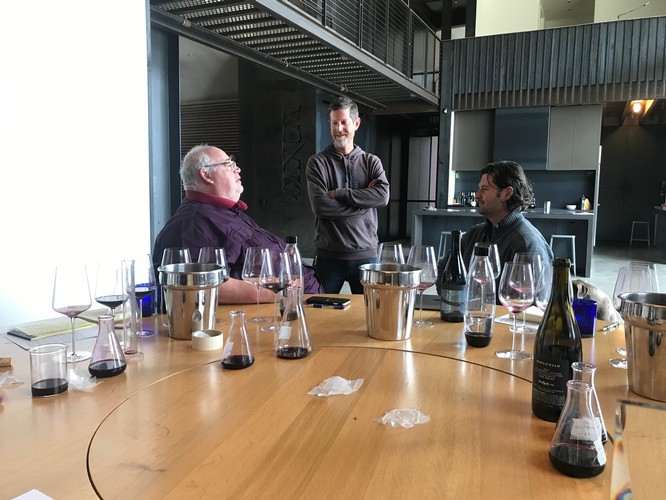 Below are two photos of our Meter by Meter block, currently undergoing a heavy-duty haircut. The first few rows are mostly covered in wild oats. As we delve deeper into this block we encounter a sea of Vetch. We're cleaning all of this up right now and training these rapidly maturing vines in a vertically staggered gobelet (head trained) manner. This is the 3rd leaf for this block (3 years old), and we should get a decent little harvest from these vines this year. This is own rooted Estrella Clone Syrah planted in extremely cramped-quarters. It will deliver smaller-than-usual berries with nuanced flavor.

Until next week,
MCA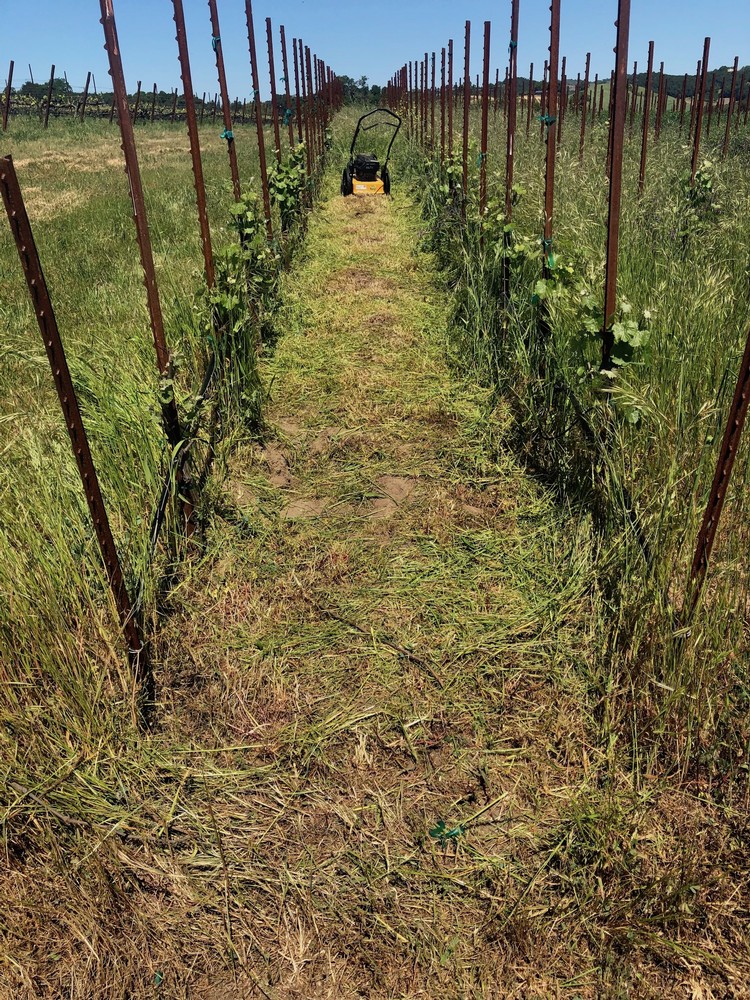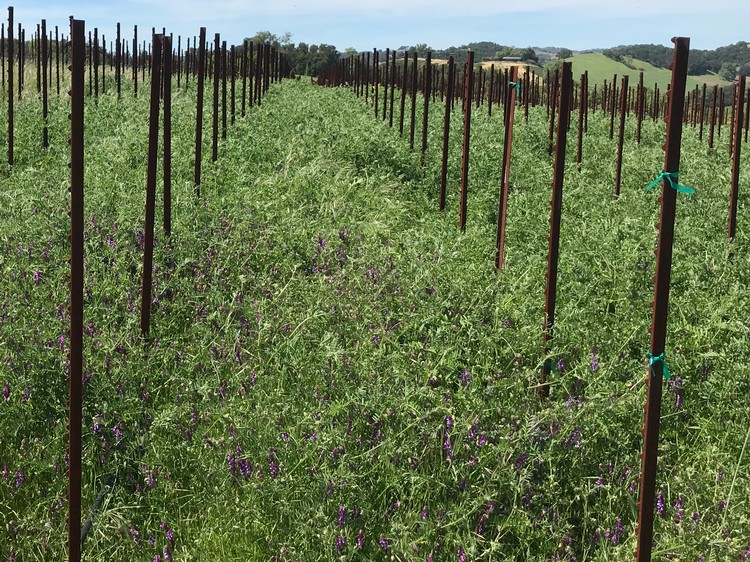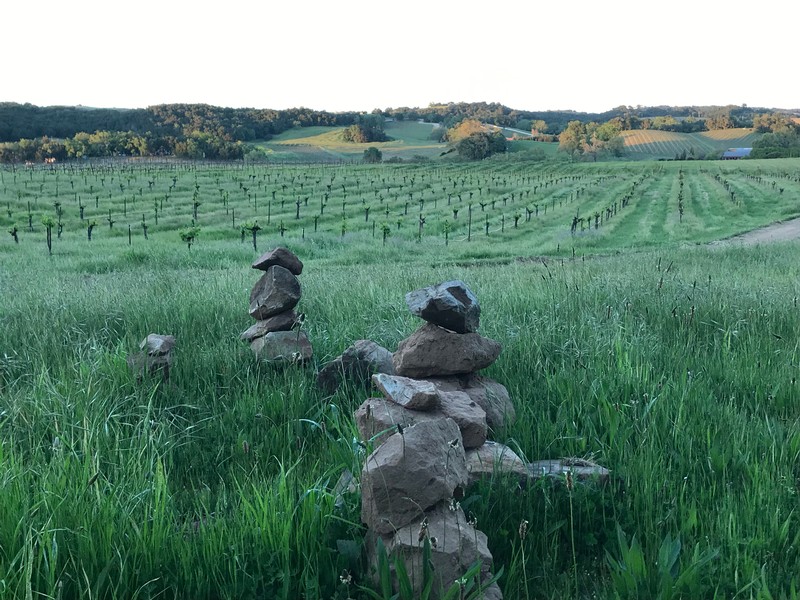 We've all heard the old adage, "Be careful what you wish for."

California and I were in cahoots for more rain and we got it.

The native plants and grasses on the ranch are happily going off, growing wild and free, while the vineyard is slowly being tamed. Our biggest challenge right now is addressing the explosion of Vetch in the Meter by Meter and Orchard blocks. Vetch loves it here here, and while sometimes considered a weed, this nitrogen fixing legume is great for vineyards. It's just a pain in the ass to navigate while organically tending to the baby vines underneath it.

As far as the rest of the vineyard is concerned, it's relatively smooth sailing. I've made several passes with the mower, alternating rows or blocks as the weeks go by in order to make sure the grasses can alternate as well. When the pattern changes, a fresh new swath of vegetation has popped up. Clover, Lupine, Yarrow, Vetch, Oat, Barley and dozens of other wonderful little plants rope though the rows with a vigor I've never seen in my 40 plus years on this property.

It's pretty cool.

More next week. We're hooking up the drip for our baby Syrah which has been transplanted from the nursery into the OG Ledge block.
Thanks for visiting.

MCA



Lulu and some other dogies in repose at the Adams Ranch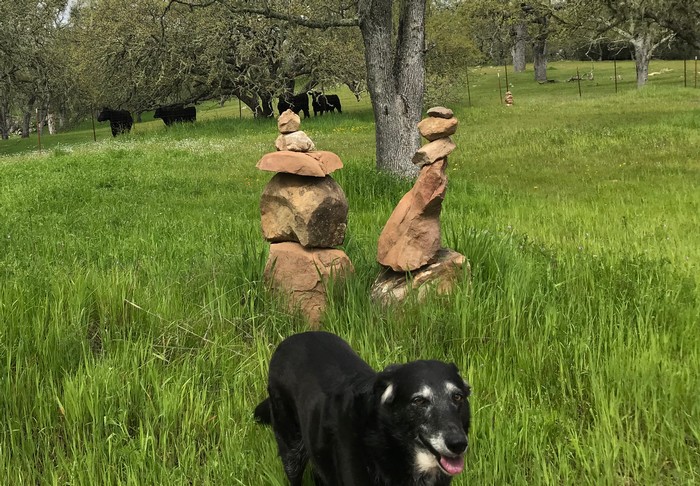 While I do enjoy the challenge of balance, I've taken to stacking these cairns mostly for the well being of our mower. I can't tell you how many times (especially while mowing the Lake Block) that the tractor has breezed past a football-sized hunk of stone only to hear a "ker-chlunk!" as it gets scooped up into the blades of the mower. Lulu has been wise to keep her distance. Shards of sandstone have gone whizzing past her head more than once. Good girl, Lulu.

I'll be heading cave side tomorrow to check in on the 2017 and 2018 Ledge vintages. We will bottle the Adams Ranch and James Berry 2017s soon. The 2018s have recently gone through malolactic ferentation and are really starting to shore up flavor wise. We are very excited to share these new wines with everyone. The 2017s will include the usual suspects: Adams Ranch Vineyard, James Berry Vineyard, Rolph Family Vineyard and the amalgamation of all of those vineyards in the MCA Cuvée, the only non-vineyard designate in the batch. The 2018s will see the same lineup with the addition of a Bien Nacido 100% Syrah. Stoked!

Ranch wise, the nursery has been transplanted and the vineyard soil is plenty saturated. We designated the Bunkhouse Block as a field blend, with Syrah, Grenache, Counoise, Cinsaut and Roussanne planted for the estate red blend, and Roussanne, Grenache Blanc and Clairette for the estate white blend. Ultimately we pick these grapes together in order to coferment them, but it is entirely likely that we will pick them seperately for optimum ripeness.

For those in the Los Angeles area, I will be pouring at Mission Wines in Pasedena this Friday the 12th. I look forward to seeing some old pals and of course making some new ones.

Arrivederci,
MCA




Whelp, we found our window of opportunity and took it.

The rains stopped for about a week and we were able to transplant thousands of nursery vines into our vacant vineyard infrastructure.

Not much else to tell you right now. The photos below show how magnificently the cover crop continues to flourish, as well as a comparison between baby, adolescent and mature, fruitful vines.

Little Blue & Owls Clover in "The Fin" (Grenache)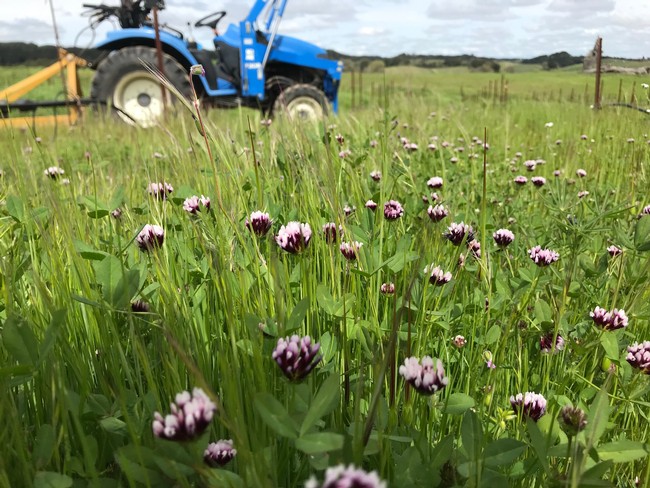 Grenache Blanc in the Nursery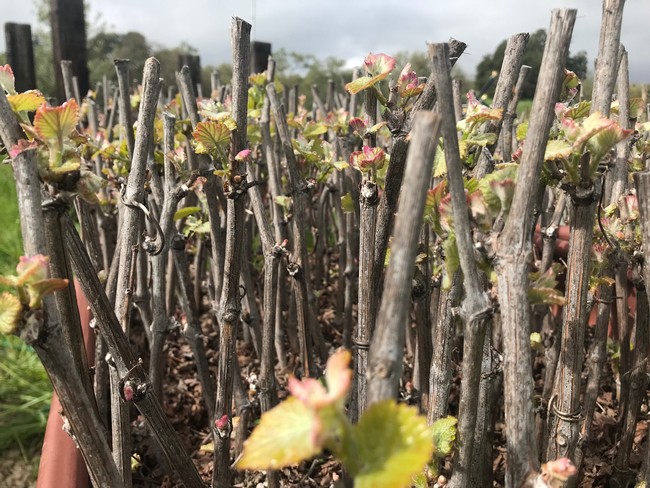 Newly Transplanted Syrah in the Upper Ledge Block (Syrah)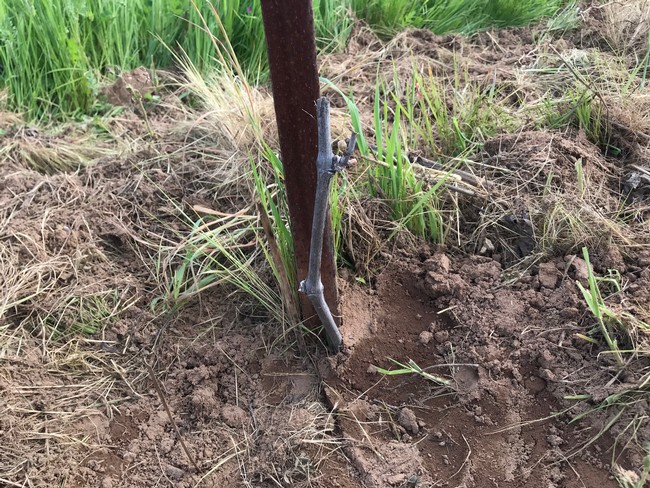 Lupine in the Orchard Block (Grenache)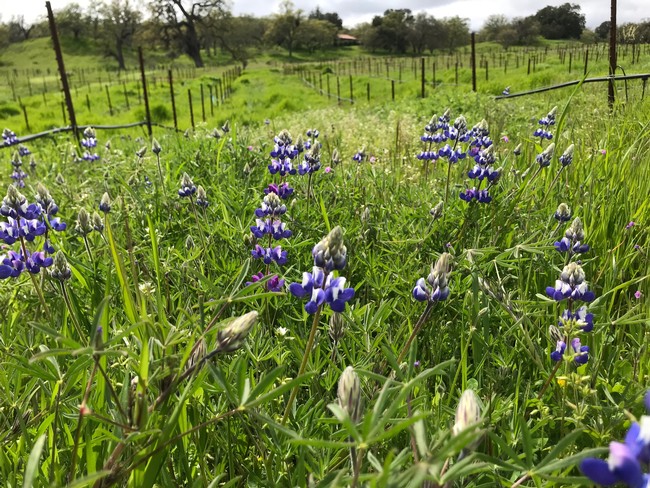 Vitamin B-1 Transplant Solution & Counoise in the Nursery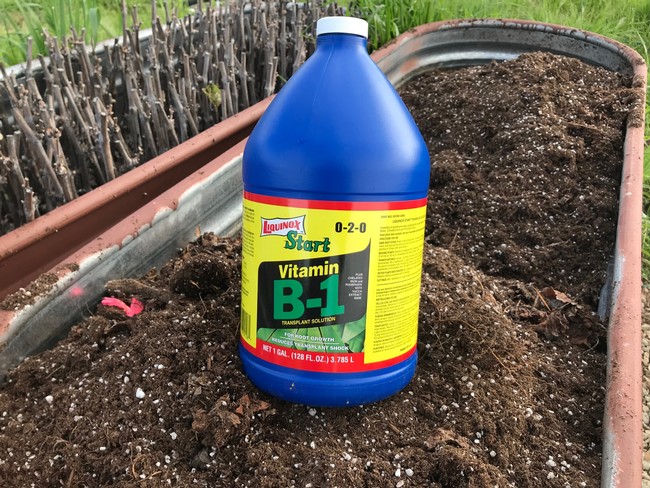 Owls Clover in The Fin (Grenache)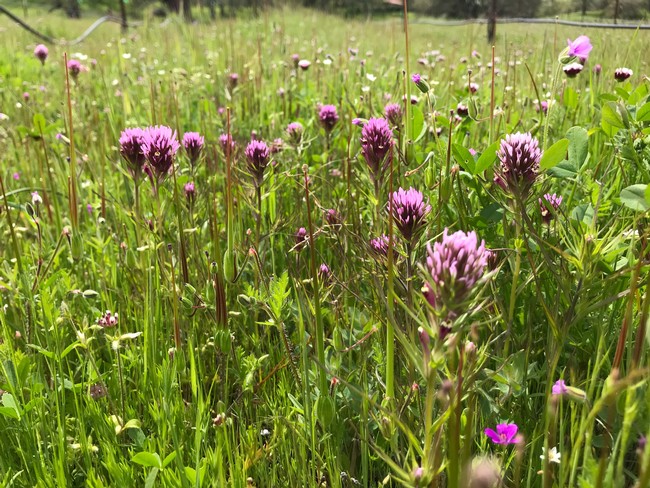 Syrah Cuttings in the Nursery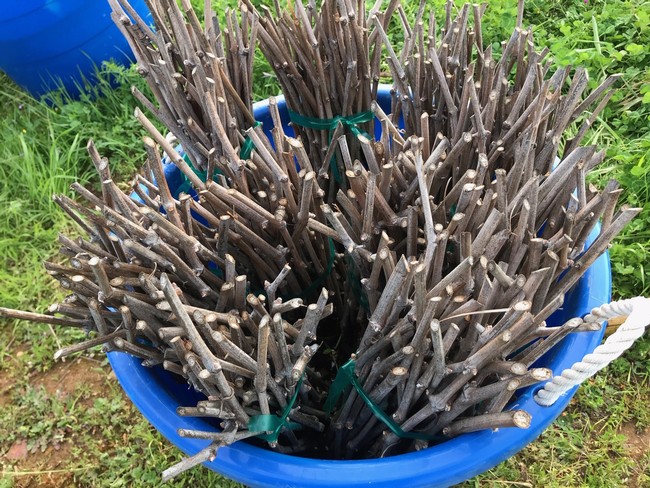 Pre-Gobelet Grenache in The Fin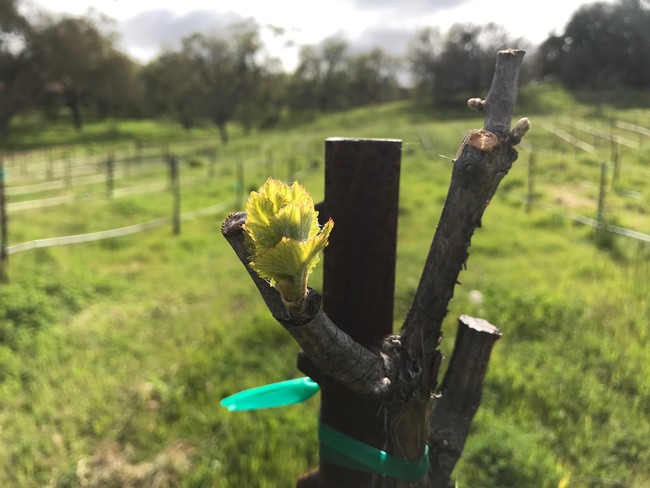 Gobelet Grenache in The Fin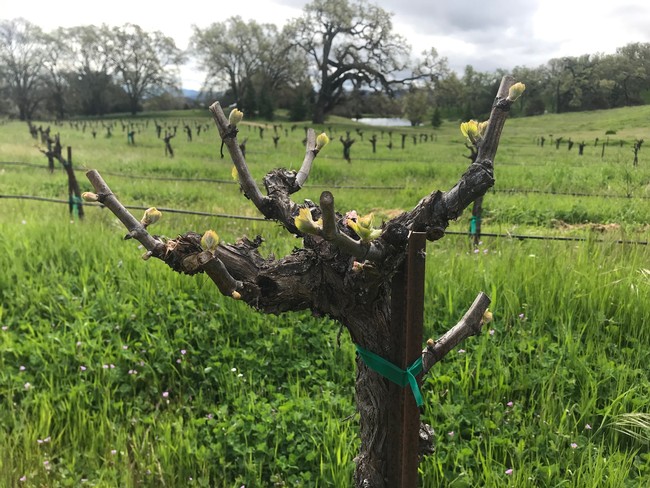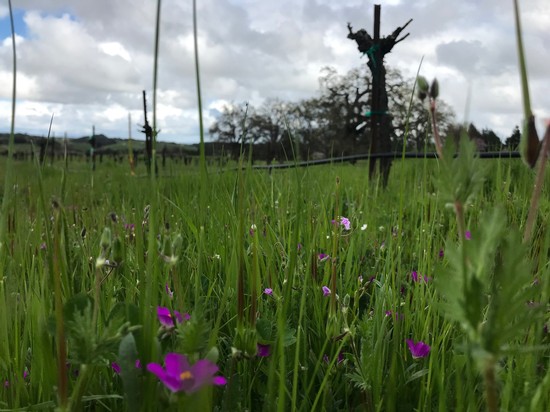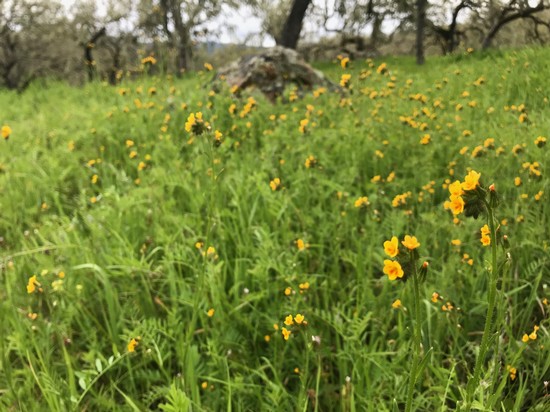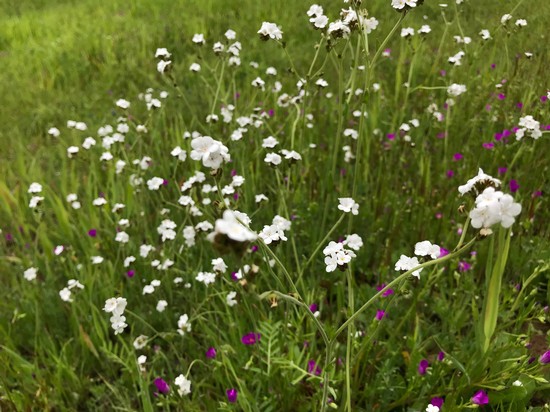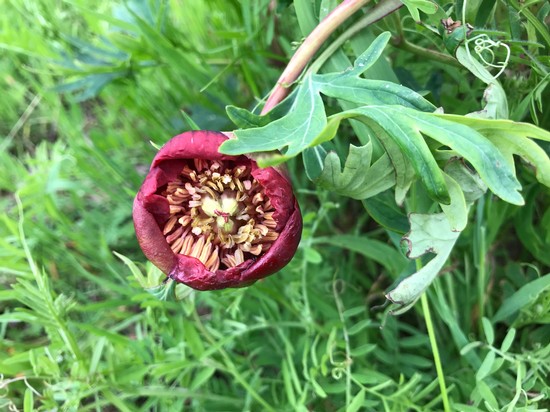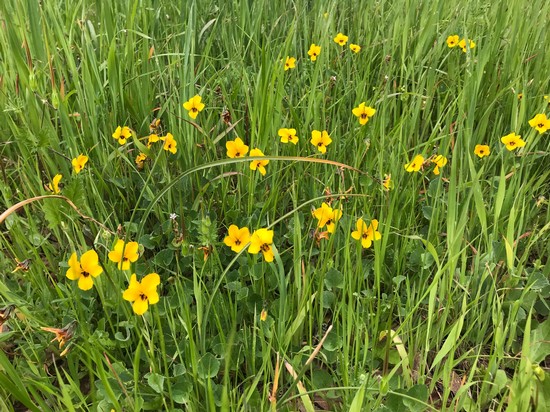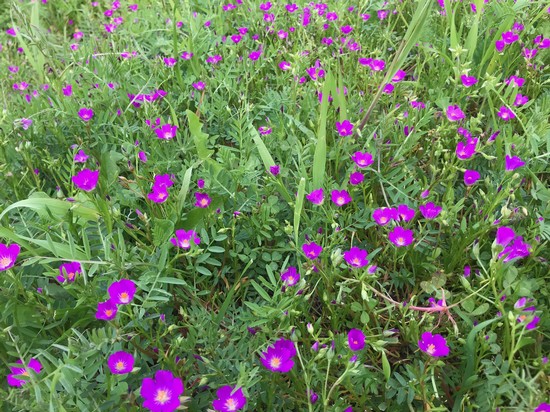 Happy Super Worm Equinox Moon!

We here at Ledge would like to wish you a happy first day of Spring, and guess what? It dumped a bunch more rain on the Adams Ranch Vineyard last night. As much as we hope for the safety and well being of those experiencing natural disasters due to inclement weather, we are thankful for the end to the drought.

The only pickle in this situation is that we are unable to get into the vineyard to replant our nursery until it dries out a bit. The nodes on our Grenache babies are starting to swell which means bud break can't be far behind.

We are excited to be revitalizing our first block of Syrah (planted in 2005), with updated hardware and the creation of an upper and lower section (see picture below). This will allow us to improve water pressure as we transplant and irrigate new baby vines for the first few years. The adult vines can continue to thrive in their usual dry farmed fashion.

Here are some photos of our happy, soggy rancho.

Coming up soon: transplanting the nursery!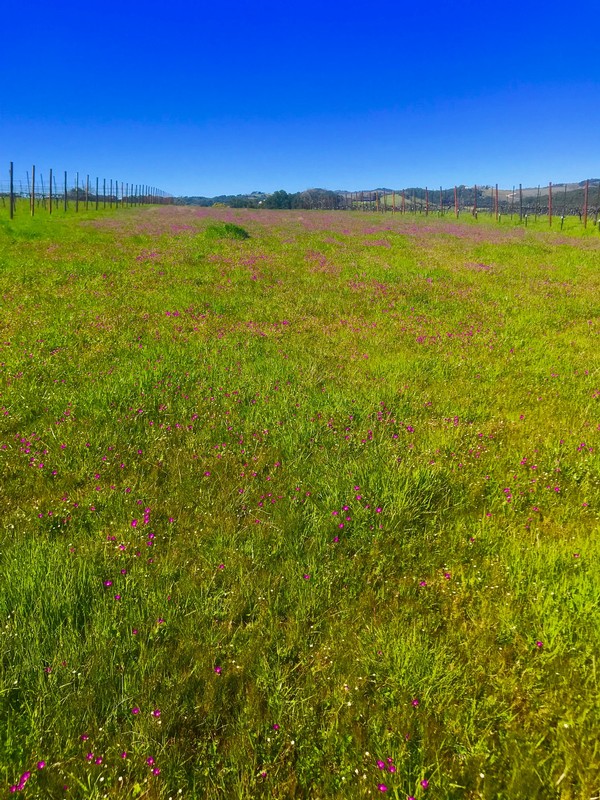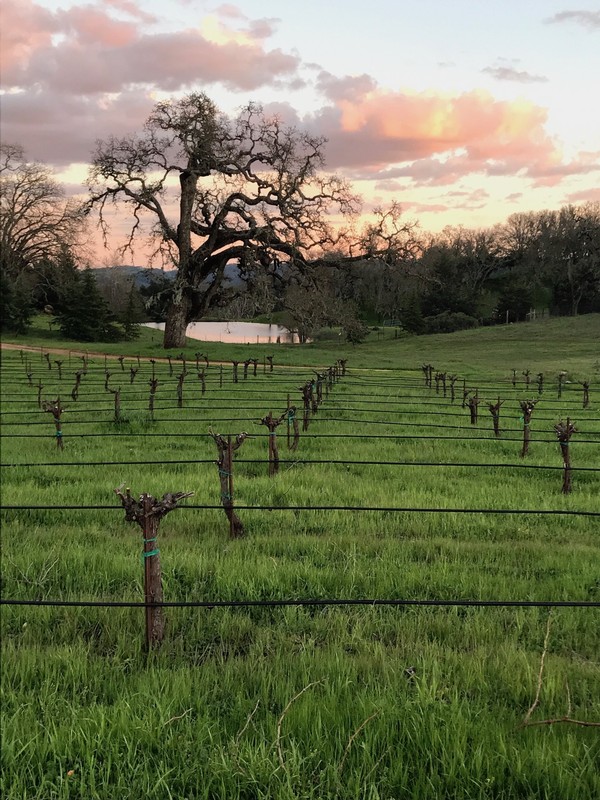 We tasted 27 barrel samples today at Halter Ranch.

The first sample was a neutral 2012 barrel.

The rest were brand new oak barrels from various cooperages.

What an awesome experiment!

The wine was an opulent blend of mostly Cabernet with 5% Malbec.

The neutral barrel was easily my favorite.

Brilliant wine.

Stunning actually.

Kevin Sass and Molly Lonborg are crushing it over there at Halter Ranch and we are big fans of the whole operation.

That said, our philosophy is, if it isn't broken don't fix it.

I relayed my findings back to the home office.

My message went thusly:

If you aren't packing heat, don't mess with wood.

Ledge wines lean torward toward subtlety and lots of new oak runs the risk of overpowering the fruit.

We are not going to put on muscle man outfits that don't suit us.

We like to coax things.

Spectate.

Applaud.

Love.

Snuggle.

Smoulder.

Lay around them.

Touch things.

Oh, wait, was I talking about wine or our last lovely vacation along the shores of the Danube?

More next week.

Planting time for the nursery!