BLOG

Salutations,

We completed our first pick on October 9th here at the Adams Ranch, bringing in all of our Estate Syrah and Roussanne. We harvested the Bunkhouse, Meter by Meter and Ledge Block Syrah vines and the Lake Block of Roussanne. The Meter by Meter and Lake Blocks were delivered with 100% whole clusters into the tank, where I stomped on the fruit (aka pigeage) to release their wonderful potential. The wine juice already smells amazing. Complex notes of sage brush and rhubarb are dominant, and the color is a deep, dark violet. It's the most wonderful time of the year! More photos to come...

-MCA

L to R: Jordan and Josie Processing Adams Ranch Vineyard Syrah and Roussanne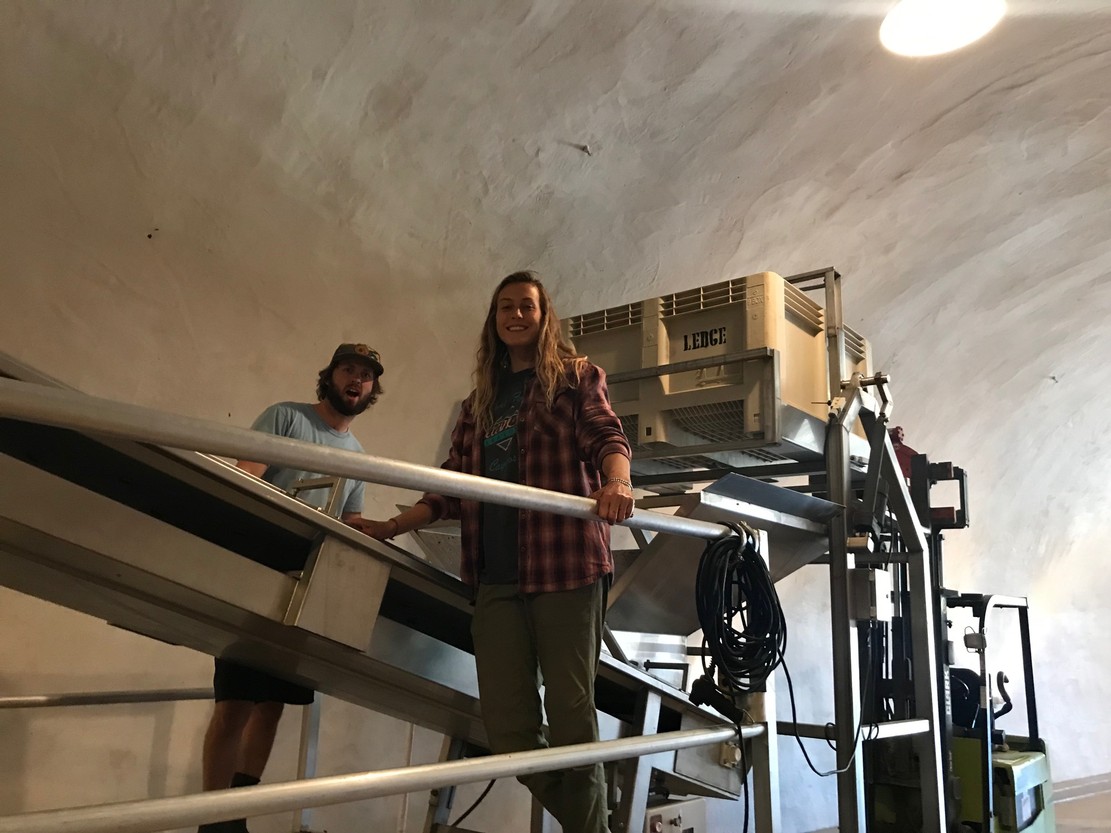 Hello Friends,
The weather has been amazing. We've had a nice cool down for about a week, and we will get a slight warm up as we head into harvest up here on the Adams Ranch. I'm excited to get this fruit into our brand spankin' new tanks, which will happen next week. Everything tastes great and it's possible that we will finish the Adams Ranch ferment prior to bringing in the Bien Nacido Syrah. Adams Ranch is looking something like this: 50% Syrah, 40% Grenache and 10% Roussanne. There is a little bit of Mourvédre and Cinsaut out there, but not much. The Cinsaut is only 2 years old, so we wont get any real fruit from that block until next year. The few remaining Mourvédre vines are mixed in with the original planting of Syrah and there aren't too many of them. The Counoise and Grenache Blanc are babies so they aren't bearing any fruit.
I'll be taking a sampling of all of the blocks for safety, to see what the numbers say and I'll report back. My instincs tell me that we are very close to the sweet spot - which brings our wines to the 14.5-15% alcohol range with pH around 3.5 and TA around .50. Those numbers have been pretty consistent over the years and there is no reason to believe they will be that much different for this vintage.

Enough nerd talk. Before I go I'd like to wish my Dad a very happy birthday! Mom's birthday is on the horizon as well and I look forward to hanging out with my family more when harvest is over. They're a pretty good lot.

Alrighty then. Catch you on the flip side.
MCA

Magic Hour Overlooking the Meter by Meter Estrella Clone Syrah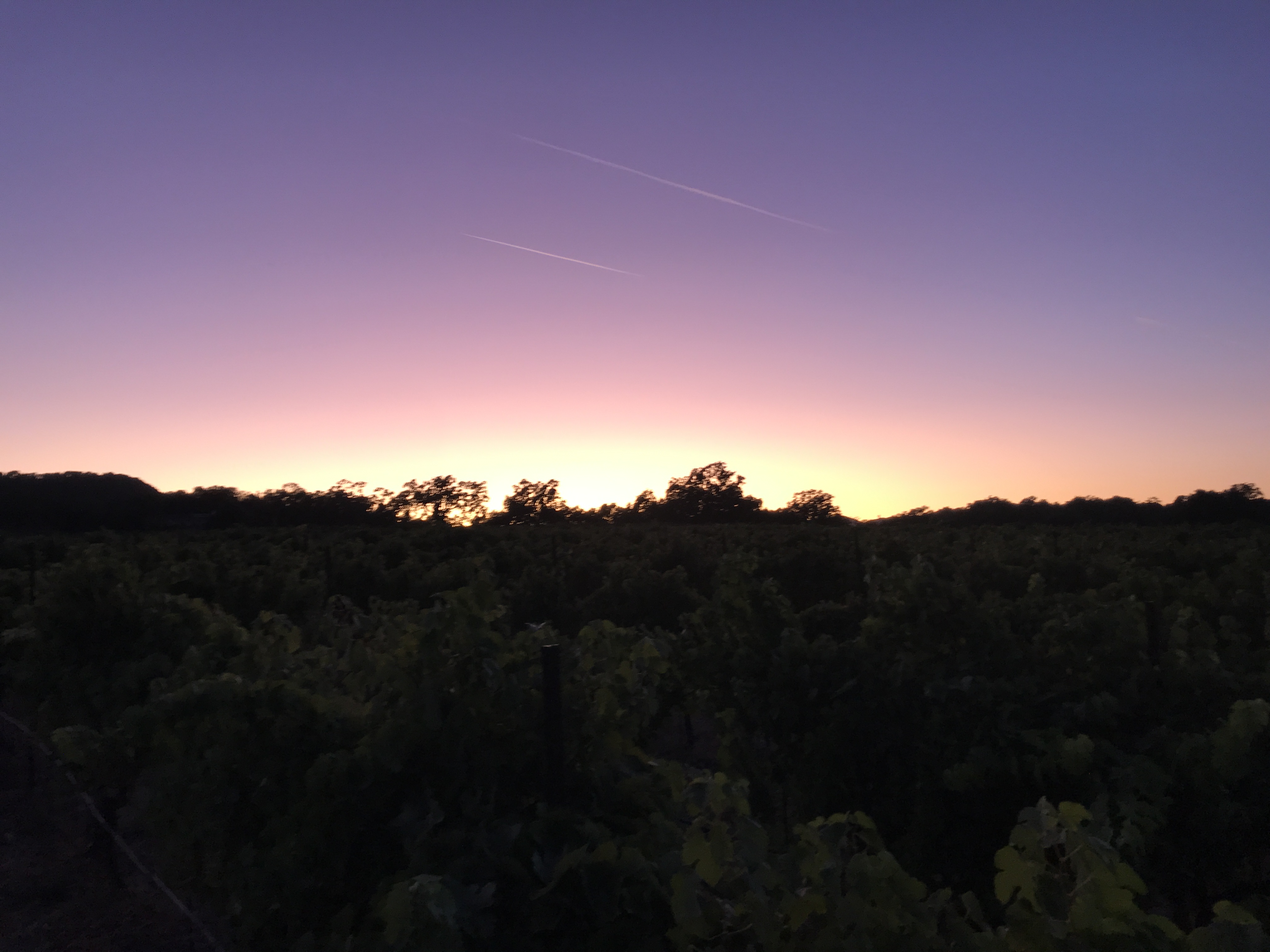 All wines are live info@ledgevineyards.com

Harvest time.

Let's make some wines.

While we are still a few weeks out from picking anything up here on the ranch, the grapes are ripening up nicely. As noted in previous posts, we have narrowed our focus to the Adams Ranch Vineyard, James Berry Vineyard (Paso Robles, Willow Creek District) and Bien Nacido (Santa Maria Valley, Santa Barbara County).

We are honored to be making wine from the latter two estates, which rank among the most famous and well reputed vineyards in the world of wine.

These days I am spending most of my time helping out over at Saxum and JBV, although they have assembled such a stellar crew, that I am practically resigned to flipping over records and stacking picking bins.

That's a good thing.

It is with a heavy heart that we pour out a pull for their dog Luna, one of the most beloved vineyard dogs to ever snarf a grape, who passed yesterday. We will miss you.
Bye for now,
Mark (Ciera and Elizabeth) Adams

Below: One of our oldest, own rooted vines, planted in 2005.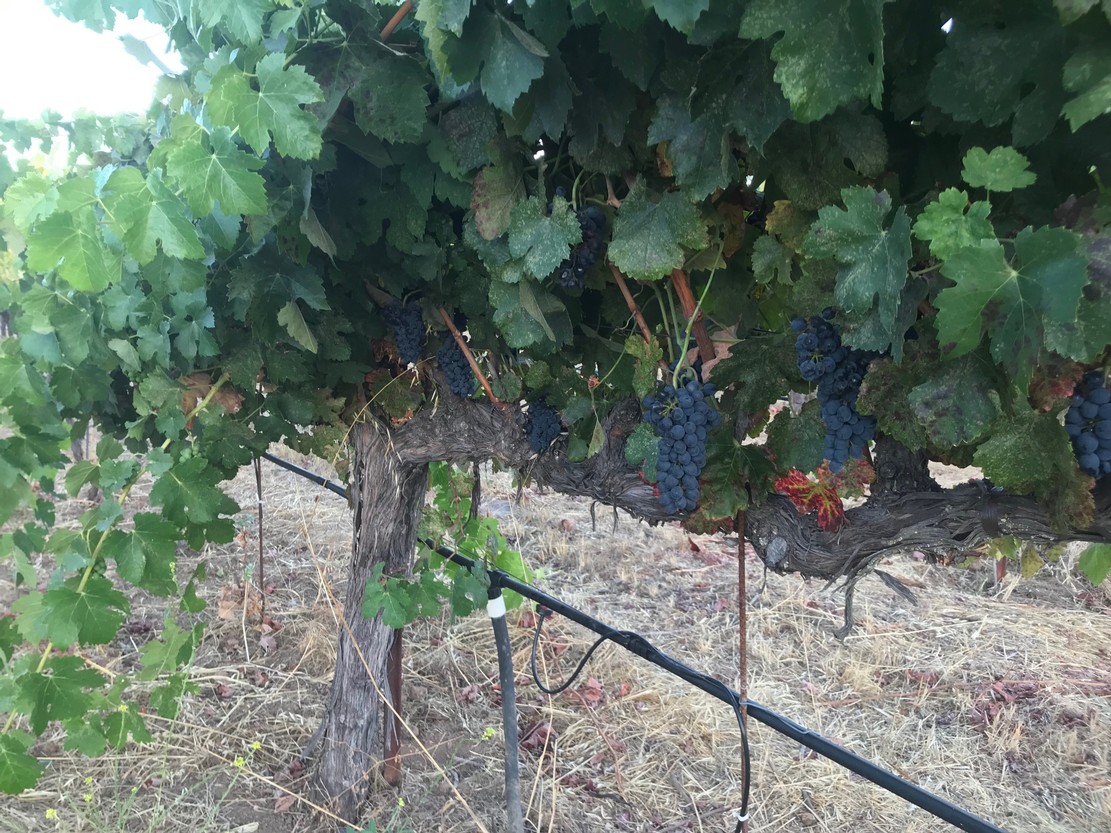 Exciting times.
We're going to purchase a used but sturdy picking trailer tomorrow up in York Mountain. That's a first for our humble farm.

I've been schlepping stacked up macro bins in our two "mature" pick up trucks since our first substantial harvest in 2010. This trailer will allow us to have our picking bins single-high while picking the whole ranch. This is muy bueno.

The fruit is looking good. Really good. We will have our first nice pull from the meter-by-meter Estrella Clone Syrah block, as well as the first real harvest from the Bunk House Block, which is our most geologically complex block. It also houses the widest variety of grapes: Syrah, Counoise, Cinsaut, Roussanne, Grenache and Grenache Blanc.

We are still looking at a mid-October Estate pick. The weather has been wonderfully mild, allowing the plants to rebound from what has been a pretty severe hot spell. The "Brix" or sugar readings around town have been high, but it's all a facade. The vines freak out and the numbers get all wonky when extreme weather happens.

This is one of the reasons why we rely heavily on how the grapes taste and not so much on what the numbers look like.

To quote Obi-Wan Kenobi, "Trust your instincts".

We do.

We have had an intense couple of days up here at the rancho. Some of our friends, who happen to be touring musicians, stayed with us and we proceeded to combine wine and music related actvities. Monday night the boys (Tim Buhm and The Coffis Brothers) performed for a music video shoot at Bethel Road Distillery, followed by a full blown rehearsal up here at the house. The next day we all went down to the Krush FM studio where we poured Ledge wines (2017 Adams Ranch and 2017 James Berry Vineyard) along with Jordan Fiorentini of Epoch wines on a radio show called Liquid Lunch with the "Cork Dorks", Adam Montiel and Jeremy West. The boys sang a few songs as well. The show is archived on their website.

After this show we popped in to say hello to our friends at Bristol's Cider House, where they have started picking apples and making fresh batches of cider. My brother and I are going to take a stab at making a small batch of our own cider (just for fun) here in a few days.

After Bristol's we moseyed up to Firestone Walker Brewery and participated in their annual Anniversary Ale winemaker blending session where we teamed up with our buddy from Saxum, Justin Smith. While we have "won" this friendly competition a few times in the past, this year's honor went to Sherman Thatcher of Thatcher Winery.

After the blending session we made our way to Morro Bay to hear the guys play some music at The Siren. They rocked it - and for a Tuesday night - the place was pretty packed. Way to deliver, Central Coast!

This morning the touring van left the ranch and headed to San DIego where the guys will be performing at The Casbah. You can hear them here at the ranch at our next "Ledge Fest", which is a thank you concert, dinner and tasting for our wine club members.

We are a little tuckered out, but very grateful for this community. It is really special to be able to show a group of wandering musicians how supportive we can be of eachother. My friends and neighbors made me proud to be a part of it all.

Many, many thanks to my wonderful wife and daughter for putting up with a few action-packed days. You rock.
Harvest is right around the corner. Exciting!

Hey, it's good to be back home again
Sometimes this old farm feels like a long lost friend
Yes, and hey, it's good to be back home again

One of the sweetest thing about going away for extended periods of time is missing home.

I sure missed this place.

That isn't to say that I didn't have an absolute blast showing Ledge wines out the road - or river and Bayou as it were. Both the Idaho wilderness and the Louisiana trips were amazing. It is fair to say that I fell in love twice in two weeks.

Apologies for the lack of blog updates. This one is going to be short as well. The main thing to report is that the wines are absolutely firing and we look forward to releasing them to you next month. We are available to wine club to taste here at our home. As many of you know, our personal phone and email are printed on the bottle. Inquire within.

As far as harvest is concerned, the heat kicked things into gear and some of my neighbors have started picking. We are still looking at mid October but things are ripening nicely.

I'm still getting back into the swing of my "Farmer Mark" role, as my wife likes to call me.

To quote Frank Black of the Pixies, "I've been tired".

Thanks to the wine club folks who came up and tasted at Adams Ranch Vineyard. We sure enjoy meeting you all.

Photos and whatnot to come.

I've got half a mind to get this blog back to regular Wednesday updates.

Make that a full mind.

We'll check in with you all next Wednesday.

Stay Classy San Diego,
MCA

Happy Birthday to my big sister!

You have always been a good influence and a path paver in my life and you are appreciated more than you know.

In other news, the Idaho River Adventure was a resounding success and I intend to take some of you with me next time. The wines paired brilliantly with widely varied, top-notch cuisine. We brough the 2017 Adams Ranch Syrah Blend, 2017 JBV Grenache Blend, 2017 JBV Counoise Rosé, 2017 G2 Grenache Blanc, 2016 MCA Cuvée, 2016 Rolph Family Grenache, 2014 Vineyard Drive Zin/Petite Sirah Blend and the 2013 Vineyard Drive GSM. They are all showing great and with the exception of the 17s (which will be in the upcoming fall release) are available via email request.

A few photos are included below, although they do not do the scenery justice. We were in 200 million acres of wilderness with no way through except for the river. We made some new friends and established what will likely be a continuing relationship with the outfitter. In fact, please do not hesitate to reach out to me about next year's trips.

Veraison is cruising right along, with the Syrah leading the way. Much of the Syrah is close to 100% colored up, which means we are on track for the usual mid-October harvest window. There will enough damn grape photos in the upcoming blogs to make your head spin. I'll spare you those this week.

Off to New Orleans on Monday - so if you or someone you know lives in the area, feel free to reach out to me. We have a sold out dinner Tuesday night, but I will be out Monday night and working the market during the day Tuesday. I definitely plan to hit Tipitina's for live music and I'd love to connect with anyone down there over some crawfish, gumbo and beignets.

Laissez les bons temps rouler!
MCA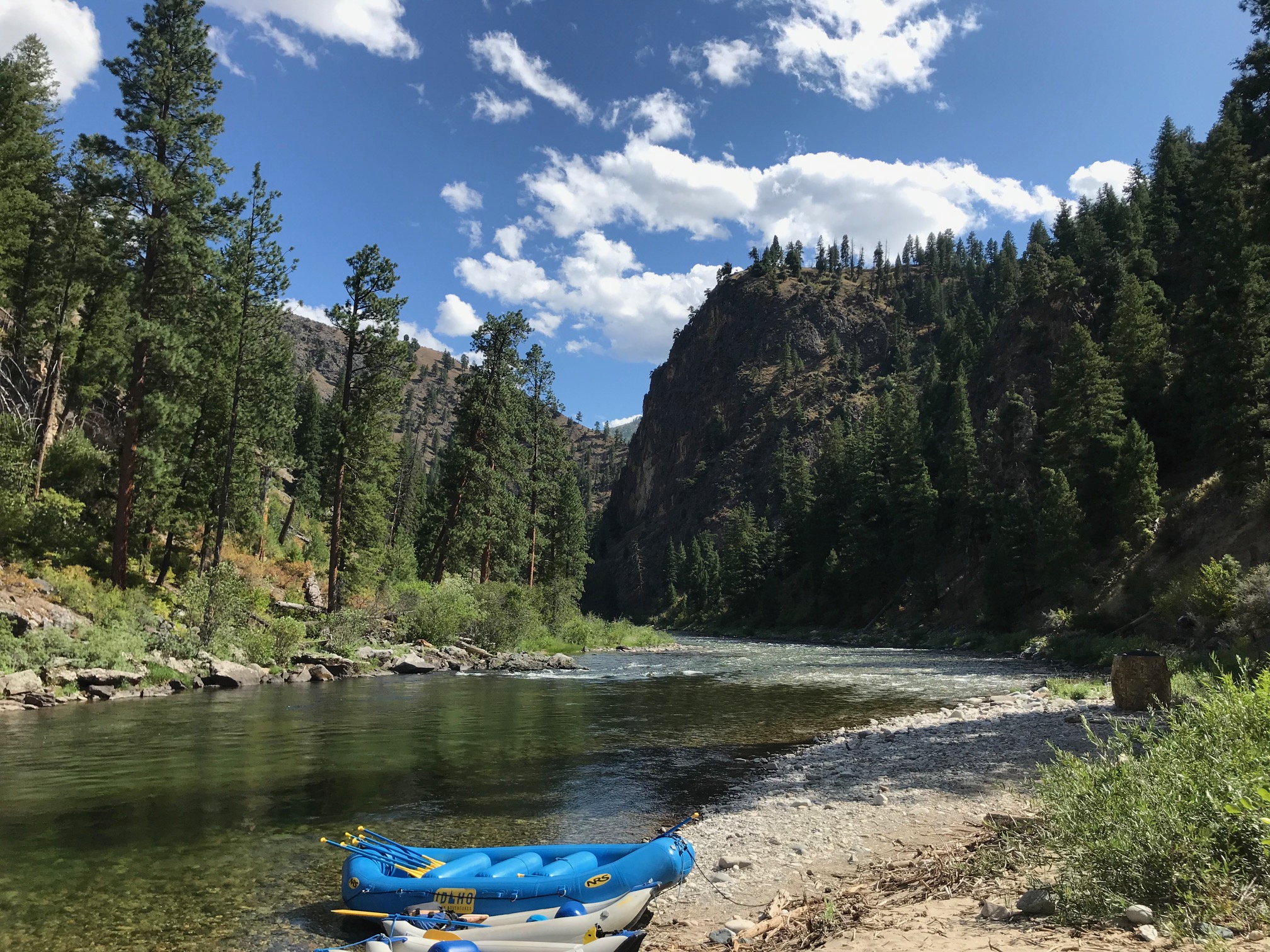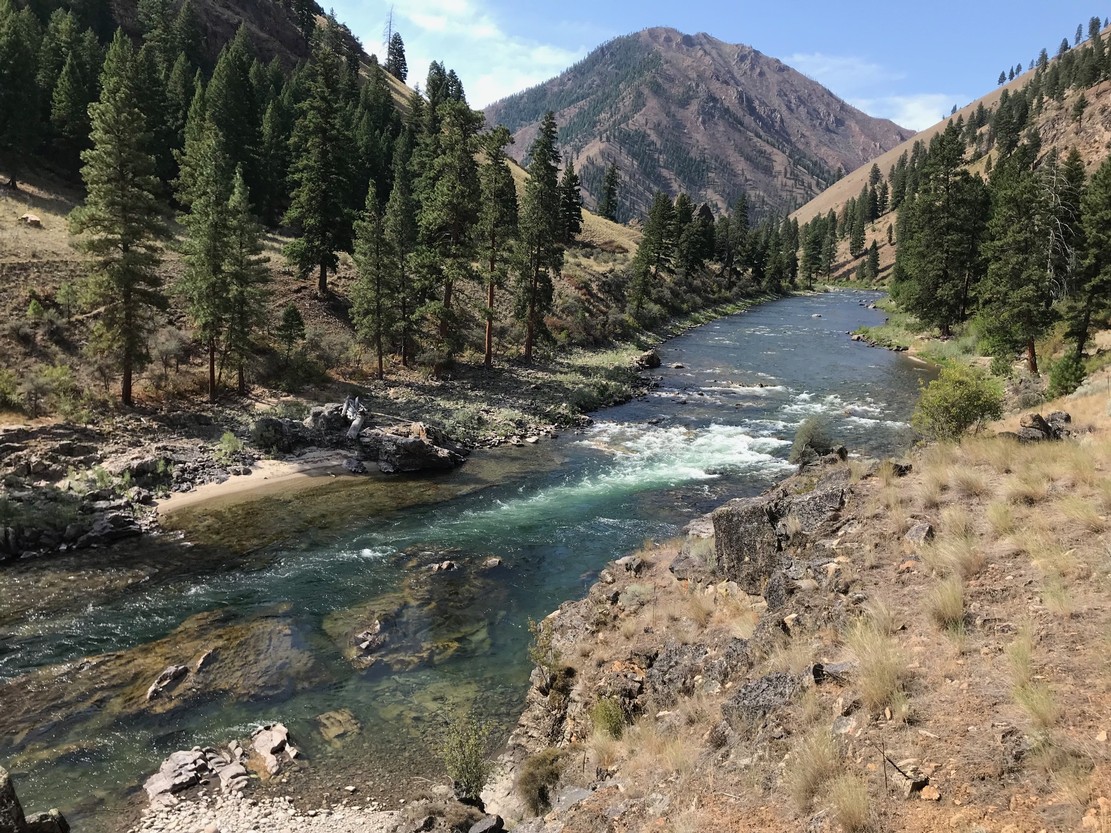 As some of you may know, I am off of the grid for a week pouring and discussing Ledge wines with a group of river adventurers in Idaho.
Back at the homestead, veraison has started coloring up our grapes and we are getting charged up for harvest.
A full report will be forthcoming when I am back home and in cell phone range.
Until then,
Esto Perpetua,
MCA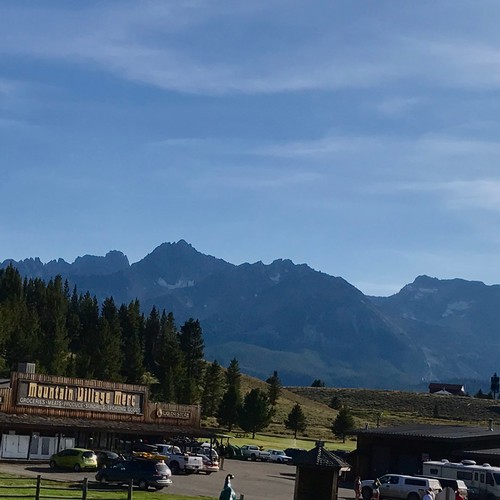 Our family has been playing lots of Gin Rummy.

Lightnin' Hopkins is the preferred soundtrack.

I won't get into which version we play, but up until bedtime we play as a family and share the day's news, gossip and of course "smack talk" as is common in many parlor games.

Our butternut squash, pride and joy and the most skillful smack-talker has gone to bed and it's time for a husband and wife game.

I'm about 90 points behind and need to focus.

We'll talk to ya later.

MCA







July 31, 2019
Paso Robles, CA


"Almost all absurdity of conduct arises from the imitation of those whom we cannot resemble."
― Samuel Johnson, The Rambler


I haven't read a lick of Samuel Johnson outside of the quote above. That said, me gusta.

My friend Michael, a sommelier in Los Angeles, asked me if I could name a musical equivalent to the Adams Ranch wines from Ledge.

"Ugh" I'm thinking, "Enough with these exercises." but I bit.

With surprisingly little hesitation I offered up Yma Sumac and sent him a video.

"What did I just watch?" He quipped, 15 seconds into "Chuncho".

""Listen to the whole thing." I say, "She is a revelation. Completely different, experimental and yet with an absolute sense of place."

A while later he picked up on her sound and saw where I was coming from.

So, yeah. Yma Sumac. Chuncho makes me smile. Takes me places. The other answer would have been Lou Reed.

"Hey Mark, if your wine was an architectural period, which one would it be?"

Seriously? I can't even-

Byzantine probably.

Cuisine?

There is no way you could expect me to-

Basque seems like a good one.

Michael really only asked about musical comparisons, and I actually love to compare and contrast wine with other universal curiousities.

---

In other news, I will be curating the wine program for an upcoming river adventure in Idaho. We are bringing 4 wines, the JBV Counoise Rosé, the G2 Grenache Blanc, MCA Cuvée and Rolph Family Vineyard Grenache. Should be a hoot.

We had a delightfully informative visit and tasting with Josh Raynolds of Vinous, a human being who is intimidatingly well-versed in just about everything. Bone up on the Genius Edition of Trivial Pursuit if you intend to give him audience. Prepare backup. Seriously.

Thank God for Ciera when Josh is around. She can occupy him with things like the history of Bayreuth while I look up who in the heck Frederick Law Olmsted was. It was a joy to see him again.

Hey, before I forget, James McMurtry is playing in Tin City this Friday, August 2. His song Choctaw Bingo is something to check out if you are unfamiliar.

The next stop for Ledge is the Idaho River Adventures trip followed by a winemaker dinner and market visit down in New Orleans, where we just picked up distribution. Pumped about those events. Last I checked there were a pair of seats still available on the rafting trip, August 15-20 on the middle fork of the Salmon River.

After that harvest will be nigh which means a ridonkulous hairdo is in order. This year it will be a mullet. I haven't had a haircut in a while, so the results should be downright horrifying.

Stay tuned and thanks for reading!

MCA