BLOG

North wind about to break
On footprints in the snow
Silence down below
You're beautiful beyond words
You're beautiful to me
You can make me cry
Never say goodbye...

--

Hello Again,

Quick report from our trip to Michigan: We had a few excellent wine dinners and caught up with a great many friends up there. We had one dinner at The Wrought Iron Grill in Owosso, and another at The Soup Spoon in Lansing. Thanks to all who participated. The below photo is on Reeds Lake in east Grand Rapids, where if you look closely you can see a light green hue. That there is a golfing green. I thought we were crazy playing tree golf back on the ranch. These guys play on this frozen lake and use ice-fishing devices to carve out the holes. Unfortunately I didn't get to play, but the visit was a good one and I look forward to visiting you all again.

Stay Tuned for Ledgefest updates and more. Our next update is March 4th. Bien Nacido is in bottle and wine club is OPEN. Email us for details on how to get the wines.

Until next time, stay cool.
MCA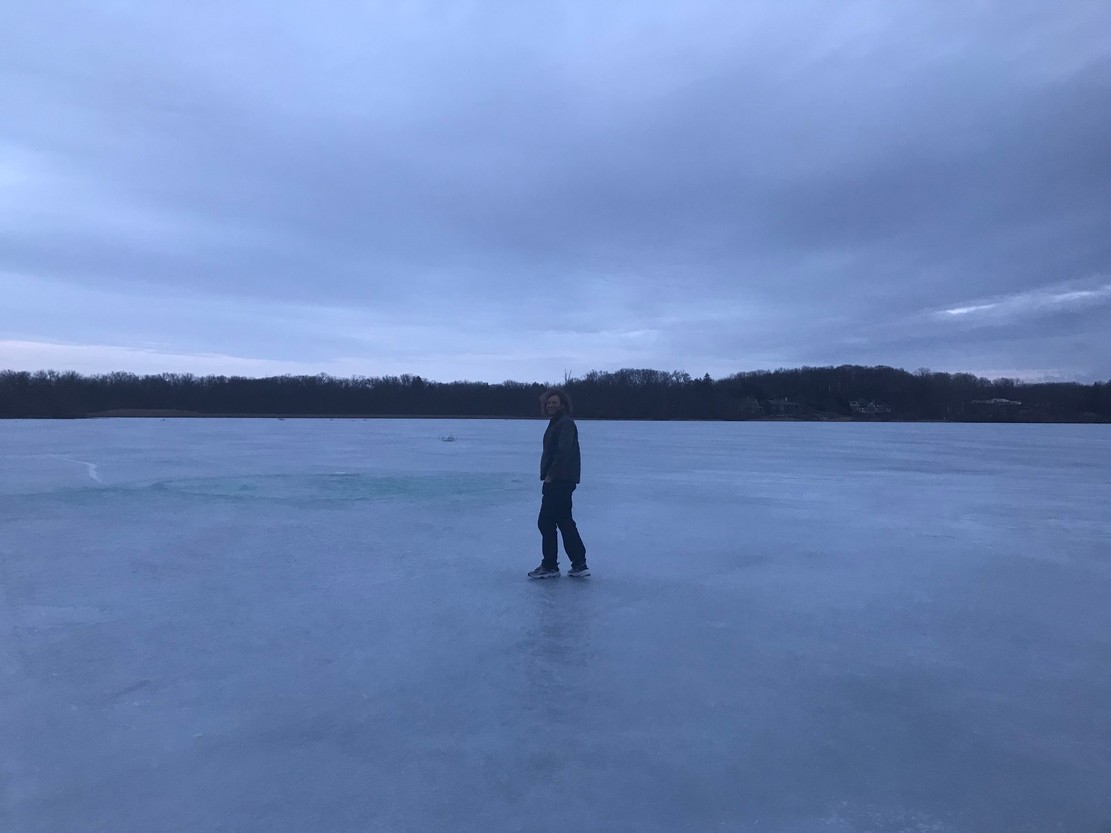 Get ready for a boat load of sheep and alpaca photos. These guys rule. Mom took the photo below. We were preparing our wine club offer today, so we need to put the sheep photos on the back burner for now. Rest assured there are many, many more to come. I'm thinking about starting a separate sheep blog with an emphasis on alpacas. We don't own them (they are here to graze for the season), but we are going to name them. I'm seriously thinking about doing a Barbara Walters style feature on every one of these furry fellers. Stay tuned!

In other news:
Wine Club opened today. Here is what we are sending out.
2018 LEDGE - Bien Nacido Block 11 Estrella Clone Syrah (95-97+ pts. Jeb Dunnuck)
2017 LEDGE - James Berry Vineyard Grenache Blend (95+ pts Jeb Dunnuck, 95 pts Vinous)
2017 LEDGE - Adams Ranch Vineyard Syrah Blend (94+ pts Jeb Dunnuck, 95 pts Vinous)
2017 LEDGE - MCA Cuvée Red Blend (Grenache, Cinsaut, Tannat Blend)
2019 LEDGE - James Berry Vineyard MCA Rosé (Counoise, Cinsaut)
There is still a little time left if you want to try to secure any of the above releases. They will sell out.

We'll see ya later.
MCA

P.S. I see a Clive, an Elton and a Blythe. More soon...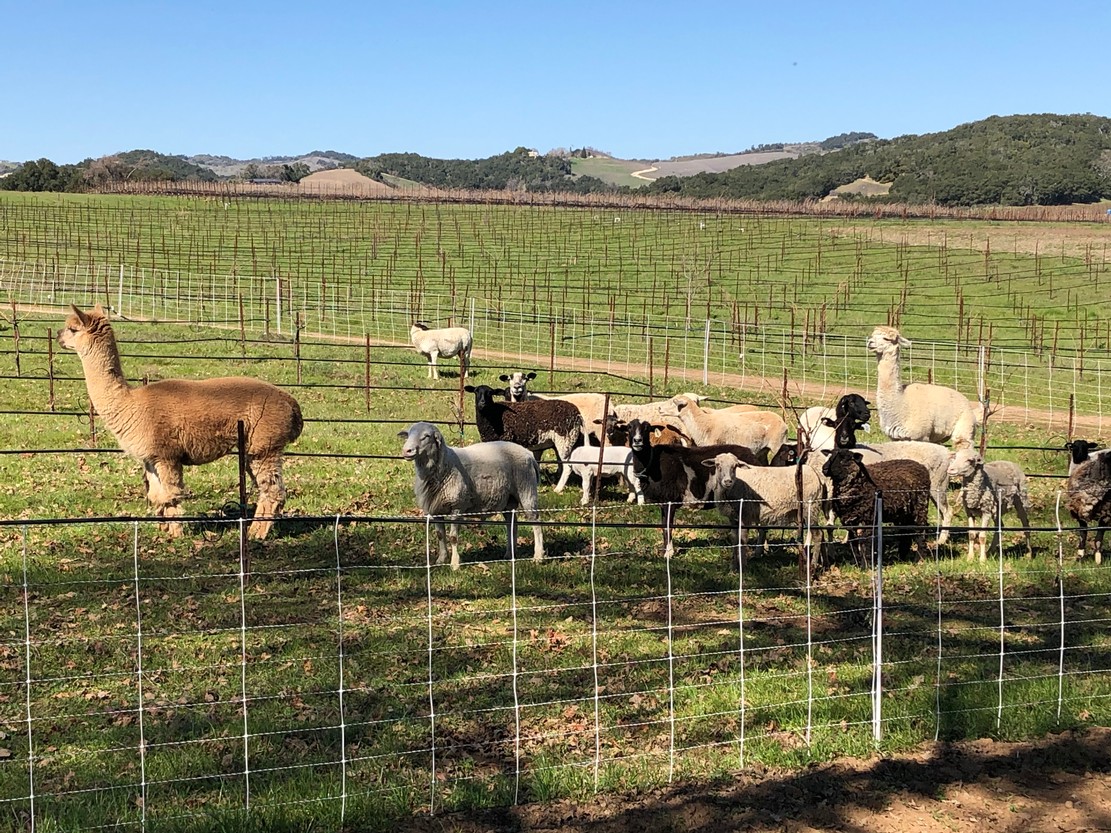 Every once in a while we like to put up rare bottles in the store for purchase.

The online store is open and has some surprises. SHOP HERE

The Ovis are coming, The Ovis are coming!

Next week we will have a flock of sheep grazing and fertilizing the vineyard. Baaaaaaa'd to the bone.

Photos to come next week.

Ledgefest 2 is April 18th.

This is a Private Ledge Vineyards Wine Club Event here at the ranch. Wine Club has priority, followed by mailing list. This will sell out, so jump on the club, or at the very least the mailing list if you wish to attend. Food, drinks, music, games and camping. Five dollars from evey ticket will go to Must Charities and we will be joined by our friends at Bristols Cider House and TDNE Brewery for some beverage variation. Etto Pastificio will be there to keep people fed. Kid and dog friendly, as long as your dogs and your kids are friendly. For more information contact info@ledgevineyards.com or leave a message at the number on the poster. RSVP notices will go out via email next week. Make haste.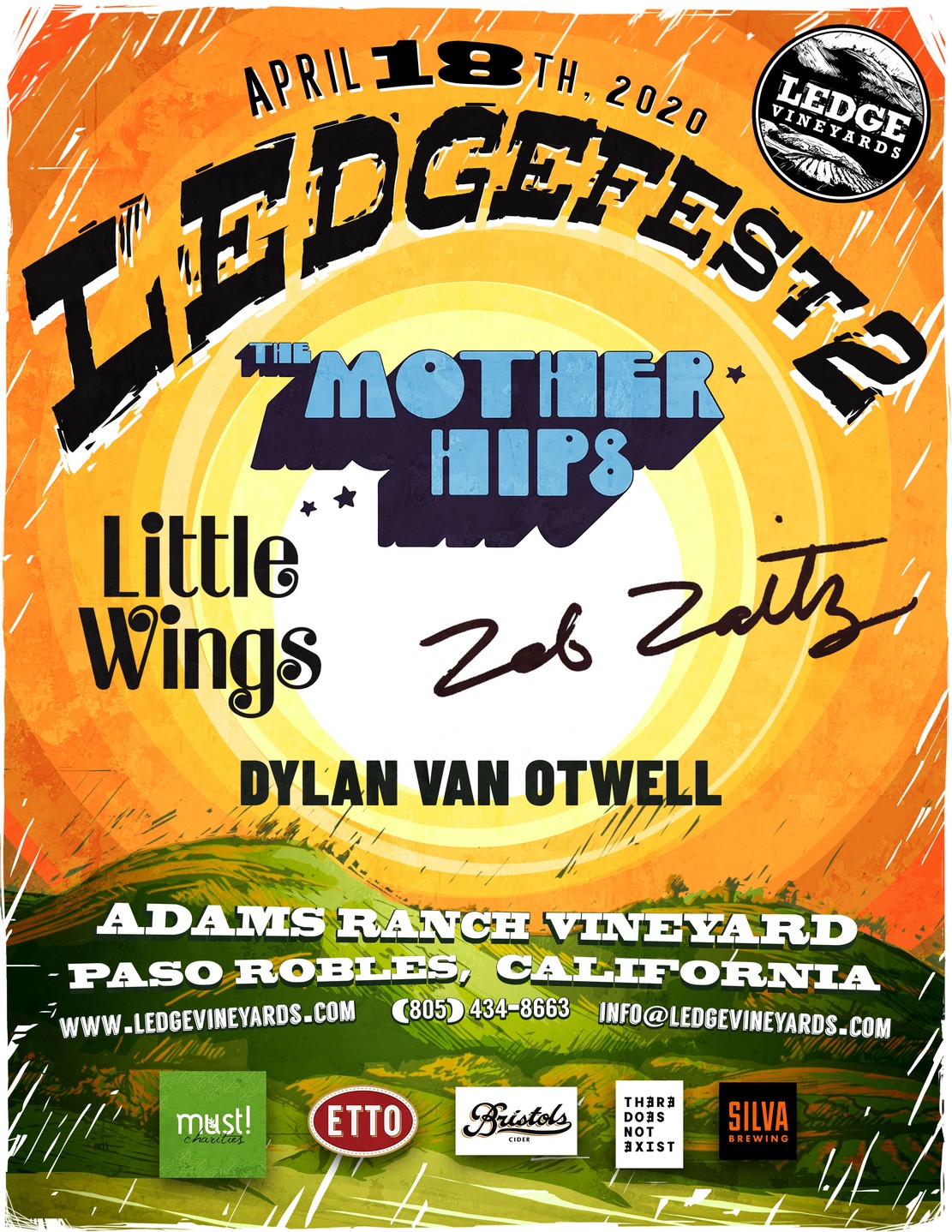 Vinous
Exploring All Things Wine
February 4th, 2020

Paso Robles Can't Stop Winning
by Josh Raynolds

Ciera and Mark Adams' wines are delivering, by my estimation, some of the best bang-for-the-buck wines in Paso Robles. They draw fruit from some of the top vineyards in the region as well as from their own, 40-acre estate, which sits at 1,230 feet in the Willow Creek District and which they have been steadily planting since 2005. The style here straddles richness and energy, even in warm vintage, and the wines are deceptively forward, especially in 2017, which Mark said is "a hallmark of the vintage," while adding that "even if they're less rich than the 2016s, they are still plenty big." Lots of whole clusters are used here, which is no doubt the reason that the Ledge wines are typically highly and exotically perfumed, with distinct spice and floral character. New oak is always used judiciously, if at all, and I have never noticed it expressed in the slightest manner; on the contrary, even at their ripest these are always among the most elegant and unadorned wines of region, vintage in and vintage out.

2017 Adams Ranch Vineyard - 95pts
2017 James Berry Vineyard - 95pts
2016 Dante Dusi Vineyard - 94pts
2016 MCA Cuvée - 93pts

Please click the Vinous link above for full reviews. Click below to purchase the wines.

WINE CLUB

REMINDER:
The winemaker dinner this Sunday 2/9/2020 at Decker Kitchen is almost sold out. RSVP HERE.

In This Issue:

1. Can't Stop Won't Stop
2. Getting Ready to Bottle Our First Bien Nacido Syrah
3. The Lineage of Ledge Vineyards
4. Get Your Rosé On
5. MCA Cuvée is in the House
6. LedgeFest is ON
7. Today's Photos From the Adams Ranch Vineyard


CAN'T STOP WON'T STOP

Two new releases have been bottled already this year and next month we will bottle one more. A Decker Kitchen winemaker dinner is scheduled for February 9th. You best giddy up if you want a seat. They are going fast. Giddy up you say? Lone Ranger? No, it's the Rhone Rangers Paso Robles wine tasting event on February 16th at the Paso Robles Event Center. Will Ledge be there? Yes. Hi Yo Silver, Away! Any Angelenos in the house? We love LA! California Wine Stars is an already sold-out event February 19th at LaBrea Bakery. Come at us oenephiles. Do you copy Michigan? Talk to me goose. We're coming for you February 25th-28th. Grand Rapids and beyond. Ledge is going to cover that mitten like a smitten kitten. Inquire within for details on February happenings.

GETTING READY TO BOTTLE OUR FIRST BIEN NACIDO SYRAH

It's as simple as that. The 2018 Ledge Bien Nacido Syrah tastes spectacular and is ready to be transferred from barrel to tank and from tank to bottle. Our first foray into Santa Barbara County, we will bottle 168 cases of this dazzling fruit juice in the middle of February just in time for our Spring release.

THE LINEAGE OF LEDGE VINEYARDS

This has been mentioned before, but we all know how long the current humanoid attention span lasts.

Look! Squirrel!

This is a very special thing for us, the source of our vines. We are working to perfect our message to accurately express the soul of our little enterprise. The Adams Ranch Vineyard (hence Ledge) was planted from Estrella Clone Syrah that originated from the Bone Rock terraces at James Berry Vineyard (hence Saxum). The Bone Rock vines were sourced from Bien Nacido's Estrella Clone Syrah (and back to Ledge). The triangle is complete. Our Block 11 Estrella Clone Syrah is our Grandparent, so to speak. Where it all began and where it is now returning. We couldn't be more excited about bottling up our grandparents and sharing them with you.

GET YOUR ROSÉ ON

The 2019 Ledge - James Berry Vineyard Rosé of Counoise is in bottle and selling faster than fireworks on the 1st of July. This isn't a sales pitch, it's the truth. Go to the shop and buy now if you want any for Spring or Summer time. If Terry or Pebble are reading this, I've got some saved for you. For the rest of you, get it while the getting is good.

MCA CUVÉE IS IN THE HOUSE

Hailed as the "Value play" from Jeb Dunnuck, the 2017 MCA Cuvée is bottled but not available until we release it to wine club. This is a blend of Grenache, Cinsaut, Tannat, Syrah, Petite Sirah and Zinfandel. All of those grapes come through, believe it or not. We bottled less than 70 cases. Wine club gets dibs. Sign up for wine club here.

LEDGEFEST IS ON

Four bands, kid friendly fun, comfort food, Ledge wines, local beer and cider and more in the Field of Dreams at the Adams Ranch. LedgeFest II is a private extravaganza meant to say THANKS to our wine club, friends and family who have supported Ciera and my dream to deveop a small, sustainable farming project and business. Unless you know the name of my dog and where I hide the chalice of Nogramoor, you are unlikely to attend this event unless you click the wine club button here.


TODAY'S PHOTOS FROM THE ADAMS RANCH VINEYARD

Now, for the visual learners amongst us, photographs!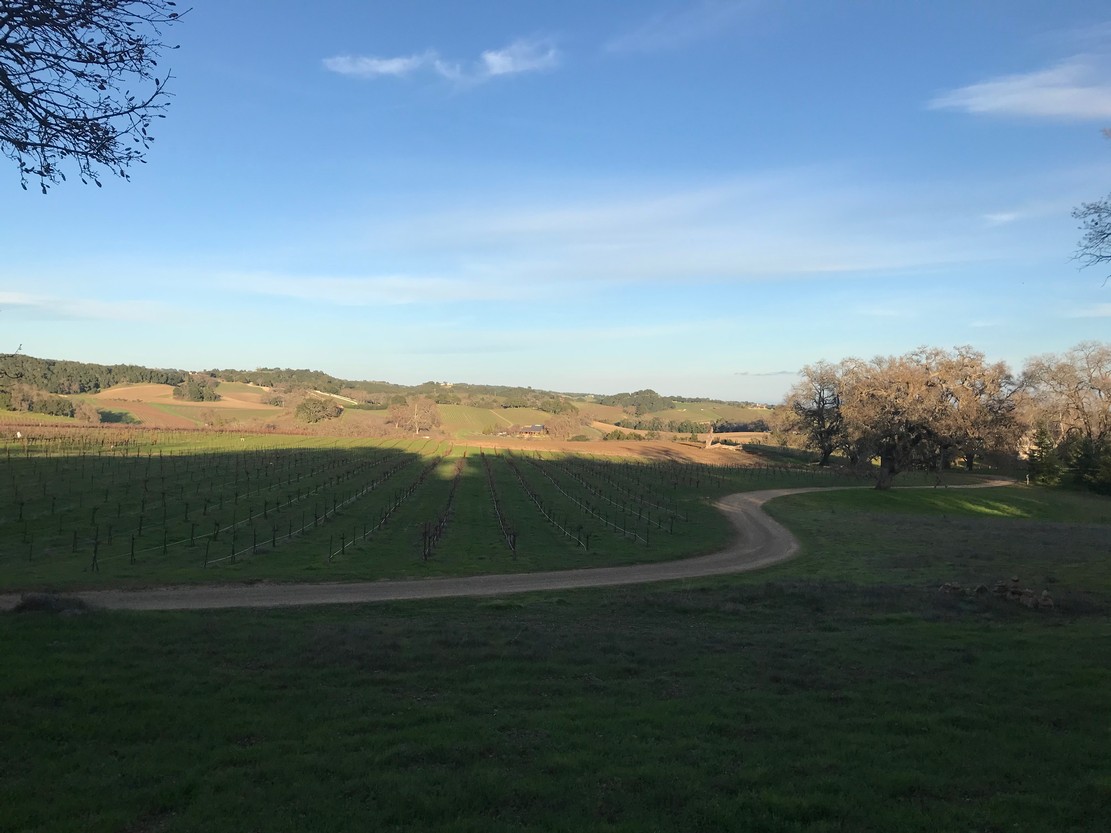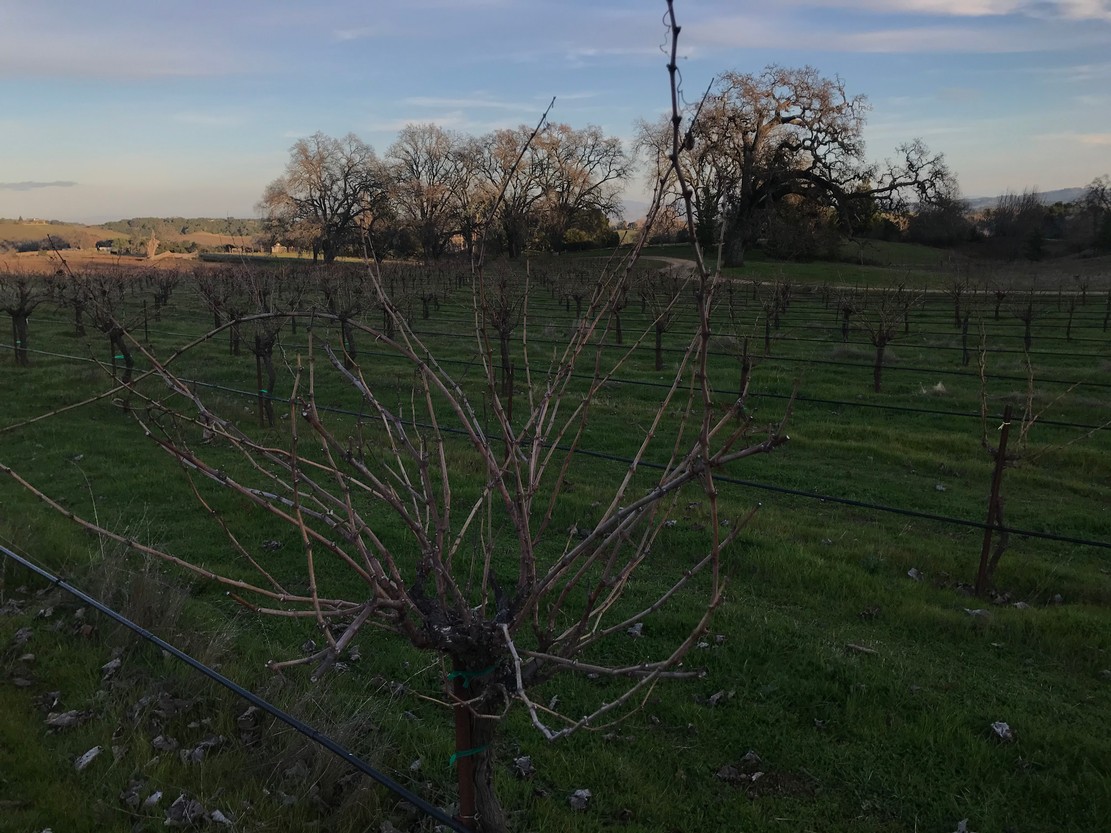 To quote Neil Diamond, "Hello again, hello..."

We'd like to thank everyone who showed up for our pop up at 15C Wine Shop in Templeton last Sunday. Wow, what a showing! There was a moment there at about 2:10pm (the event was from 2-5pm) when Ciera and I said to shop owner Ali Carscaden, "Whelp, looks like it's just going to be us."

And then... BAM!

The place was packed within minutes and remained that way until well after 5pm. It was our pleasure to taste with so many of you and we were overwhelmed with the amount of wine that was purchased. So, on behalf of ourselves and 15C Wine Shop in Templeton, thank you!

We have wine for sale CLICK HERE

The other highlight of last Sunday was meeting and tasting with Dodger All-Stars Joc Pederson and Austin Barnes who came through Paso Robles on a weekend holiday. Super nice guys and very complimentary about the wines (Saxum hosted at the caves and Turtle Rock was poured as well). Thanks to Justin Smith for including me in the tasting and also to Eric Jensen who put them up at the Booker Estate and recommended our wines. Gracias!

This place is getting downright fancy.

KEEP READING FOR MORE POP UP NEWS!!!

FEBRUARY 9th IN WESTLAKE VILLAGE, CA
LEDGE WILL BE HOLDING ANOTHER WINEMAKER DINNER AT DECKER KITCHEN
THERE WILL BE TWO SEATINGS, 5:30 and 7:30
CLICK HERE TO MAKE AN RSVP

Finally, I am pleased to report we are all in ship-shape health-wise here on the ranch. Ciera and Elizabeth managaed to avoid the worst of the winter bug going around. Hooray!

Stay well everyone and as always, feel free to reach out to us with any questions!

Mark


G'day,

I hope most of you haven't gotten it, this nasty cold that's going around. I came down with it hard yesterday and my head feels like it's going to explode. What's worse, my kid got a hover craft for Christmas and the rumble it makes as she tears around the house is not helping the aching in my head. It's wonderful really, this motorized scooter thing that her Grandparents got for her, but she does everything but bathe on the damn thing. I'm not certain that she doesn't bring it into the bathroom with her. I'm sitting here, trying to write about our big James Berry Vineyard Rosé bottling tomorrow, and it sounds like a damn earthquake is going to hit. Nope, it's Elizabeth headed to the pantry for a snack. Once her treat is chosen, she will then swivel on a dime to the microwave to warm up said treat. Once the treat is toasty, she realizes she wants to snack and do her homework at the same time. So, she does a few 360 degree turns for style points and zips down the hall, with our two cats and the geriatric dog all diving for safety as she makes like Mario Andretti to fetch her books.

I can't complain, so I won't. The cold is beginning to subside and my excitement for bottling day is overwhelming my desire to belly ache. I am so proud of this rosé and I know my wife Ciera will be thrilled when she gets to taste it for the first time. So there you have it. Tomorrow is rosé day, and if you would like to buy some, it's up in the shop. This is the 2019 James Berry Vineyard Rosé of Counoise and with a total bottling of 85 cases, it's not going to be in stock long.

Until next time, I'll leave you with this quote from Doc:

"The way I see it, if you're gonna build a time machine into a car, why not do it with some style?"

-MCA

Below: one of the last few bottles of our last vintage of JBV Rosé.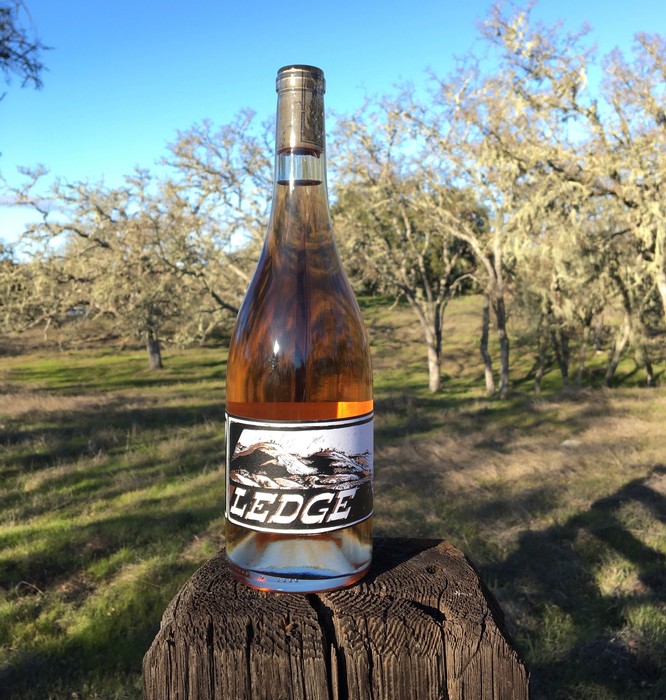 Well folks, here we are again. Another Wednesday has come and gone. Welcome to the weekly Ledge Vineyards blog-o-rama!

It was a lovely day for us here on the rancho. We blended a few small lots of wine and delivered them to a couple of restaurants in Southern California: Decker Kitchen in Westlake Village and We're Pouring in Glendale. Both of these fine establishments will have Ledge Grenache by the glass every day. We don't make many kegs but are having fun with it. It's a neat way to get our wines out to a wider audience. Perhaps exposing Ledge wines those who haven't heard of us, aren't really Rhône varietal afficianados, or folks who aren't aware that Paso Robles is an exploding wine region.
It's big. green country.
Look at the greenery!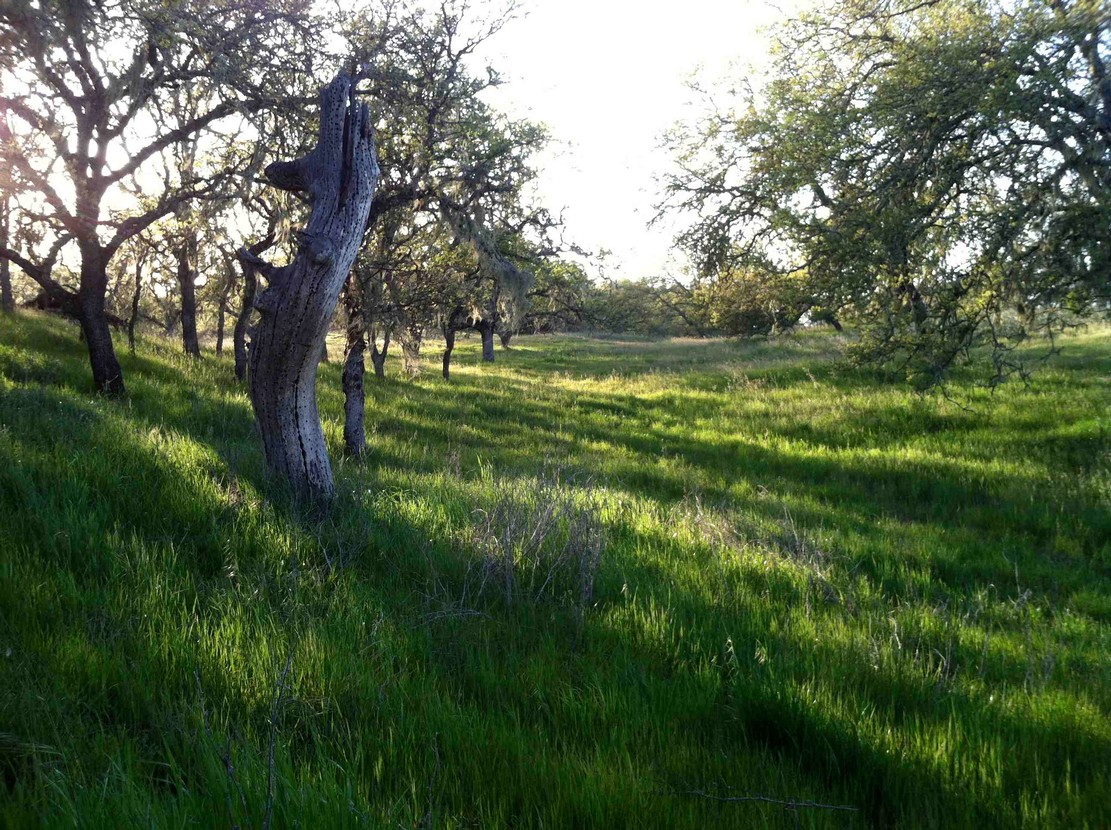 Whelp, that's it for me tonight. You see, my daughter and I are going to film a bunch of silly videos with computer generated backgrounds like the Eiffel Tower, Hawaii, Under the Sea, Rollercoaster... you get the picture.

Stay tuned, I am going to start recording farmer and winemaker videos that relate to all of our releases as well as the practices employed here on the estate vineyard.

TTFN and see ya later aligators.

MCA



Hello Reader,

Welcome to a new year and the bottom of a new decade. We have exciting things to report, so let's jump right into it.

January will bring us closer to the release of two new wines, the 2017 MCA Cuvèe and a limited bottling of the 2019 James Berry Vineyard Rosé. MCA Cuvèe is a blend of Syrah, Grenache and Cinsaut, and the Rosé is from Counoise. We will be offering select establishments kegs of the red blend, so ask for it in wine bars that carry wines on tap. This is an exciting and fun move for us, since we can offer very special and sometimes even single barrel selections of delicious Ledge wines.

POPUPS POPUPS POPUPS

We will be hosting a Ledge Pop Up Tasting at 15 Degrees C Wine shop in Templeton, California on January 19th from 2-5pm. Ciera and I will be on hand to discuss the wines, the farming and how to join us at the estate for private tastings.

DECKER KITCHEN

Due to the overwhelming success of our December dinner, Decker Kitchen in Westlake Village will host another event on February 9th. Stand by for RSVP information on that one.

LEDGEFEST LEDGEFEST LEDGEFEST

Mark your calendars for April 18th. Wine club members will get the first chance to RSVP for this private event, which will feature select Ledge wines, food, live music and overnight camping in our vineyard meadow. This is an invitation only situation, so please email us with questions about wine club membership for the festivities.

We are making a move to host three such festivals annually. One here at the Adams Ranch, one in Northern California and one in Southern California.

We are alsways available to discuss winemaker dinners, private tastings and pop up tastings, no matter the size. Music is always fun for us to organize and incorporate into these tastings, so let us help you make it memorable. Contact us for details.

BIEN NACIDO SYRAH

We are very excited to release our first vintage of Bien Nacido Syrah. As we develop the Adams Ranch Vineyard we will be focusing on three estates: James Berry Vineyard, Bien Nacido Vineyard and Adams Ranch Vineyard. Stay tuned for release details.

More next week.

Happy New Year to you and yours!

Sincerely,

Mark & Ciera

Greetings snd salutations from our cabin on the hill.

We hope this update finds you well. We have a few updates to share with you during these holiday times.

The Ledge / Decker Kitchen winemaker dinners were a resounding success, both the 5:30 and 7:15 seatings were sold out and the wines paired brilliantly with the food. If you are in the Thousand Oaks area, don't hesitate to pop in for a bite and some wine. We have Grenache Blanc on tap (they bought our last keg) and several Ledge wines by the glass and bottle. For some reason our G2 Vineyard Tannat is enjoying an upswing in popularity, and we have been fielding a ton of requests for this wine. Decker Kitchen purchased the last case of the 2015 vintage and we are blasting through the last 7 cases of the 2014. It is not up in the store, but it is available by request via email by clicking here.

In other wine news, we are preparing to bottle our 2019 James Berry Vineyard Rosé, which is 95% Counoise and 5% Cinsaut. We picked it for the purpose of rosé and will be bottling about 80 cases of this wine, so keep your ear to the rail for this release. As for the reds, our 2018 Bien Nacido Syrah is on the horizon for a 2020 spring release, as well as the new MCA Cuvée, which will be a blend of Grenache, Syrah and Cinsaut. We are getting more ande more Rhône-ly, and beginning with the 2019 vintage, Ledge will only producing Rhône varietal wines.

On the vineyard front, rehabilitation is in effect, as we are preparing to fill in damaged and gopher gobbled vines. We have a hefty chunck of Syrah, Grenache, Roussanne Cinsaut and Counoise on order and will be working hard to get the estate vineyard back to it's full potential.

Ciera has been working hard on the administrative front, streamlining wine club options and making things more efficiant in general for you all. We will be hosting LedgeFest again this April 18th for all wine club members, complete with library wine offerings, new releases, live music, food and panoramic views of the Willow Creek District from the comfort of our "field of dreams", which is a large meadow just beyond our Grenache vines.

We hope to see you soon.

I'll check in with you again on January 1st, 2020.

Peace be with you!

Mark