Whelp, thats a wrap on harvest for Ledge Vineyards.

Adams Ranch Vineyard (Paso Robles, Willow Creek):
Syrah, Grenache and Roussanne red blend

James Berry Vineyard (Paso Robles, Willow Creek):
Grenache, Mourvédre, Syrah, Roussanne red blend
plus
Rosé of Counoise

Bien Nacido (Santa Barbara, Santa Maria Valley):
Syrah

MCA Cuvèe (Paso Robles / Santa Barbara):
A red blend of Adams Ranch Vineyard, James Berry Vineyard and Bien Nacido Vineyard

A big thank you to Jordan Collins who assisted me in the vineyard and in the cellar. Jordan is a hard working and knowledgeable young man who also happens to be the son of Neil and Marci Collins of Lone Madrone, Tablas Creek and Bristols Cider House, fine establishments all. Thank you Jordan as well as my wife Ciera and daughter Elizabeth for your patience during these long days. Hip hip. Hip hip. Hip hip.

I would also like to thank the Academy, my agent Ari Graepsenstüff, my dog Fifi, my stylist Roberto, my trainer Gustavo, our vineyard manager Clavo, the House of Ways and Means on Winding Creek, Señor Ramirez our varmint slayer, pedal steel consultant Bob Hamilton, Barbara my editor, Roderico of Red Ale, Daryl Von Chardonwah, my personal chef Celine, Pablo the B-Bender, our archivist Timmer and last but not least Mom and Dad.

Some of the above are in jest, some not. Saxum gets a huge shout out for granting us a corner of their amazing space. Hello Senator.

Now a little rest and family time, after which I get to focus on the real winners, the vines. We are spreading organic compost in the vineyard and praying for rain. Some dormant time will be followed by some tilling and more nutrients, cover crop prep, pruning, bud break, flowering, fruit set, veraison, shoot thinning and fruit dropping...

Holy shit, then it's harvest again!

Hindsight is 2020.

Stoked.

MCA




...and then there were three.

The final ferments for Ledge are happily ticking away:

Bien Nacido Syrah (two tanks) and a James Berry Vineyard Rhône blend (co-ferment) of Grenache, Syrah, Mourvèdere and Roussanne.

Adams Ranch Syrah, Roussanne and Grenache are tucked away in barrel and our JBV Counoise rosé is undergoing a slow cold ferment which will gently ferment away for a few months.

More next week,
MCA

Vineyard Photo Credit: Kyla Rudd
Cellar Photos: Mark Adams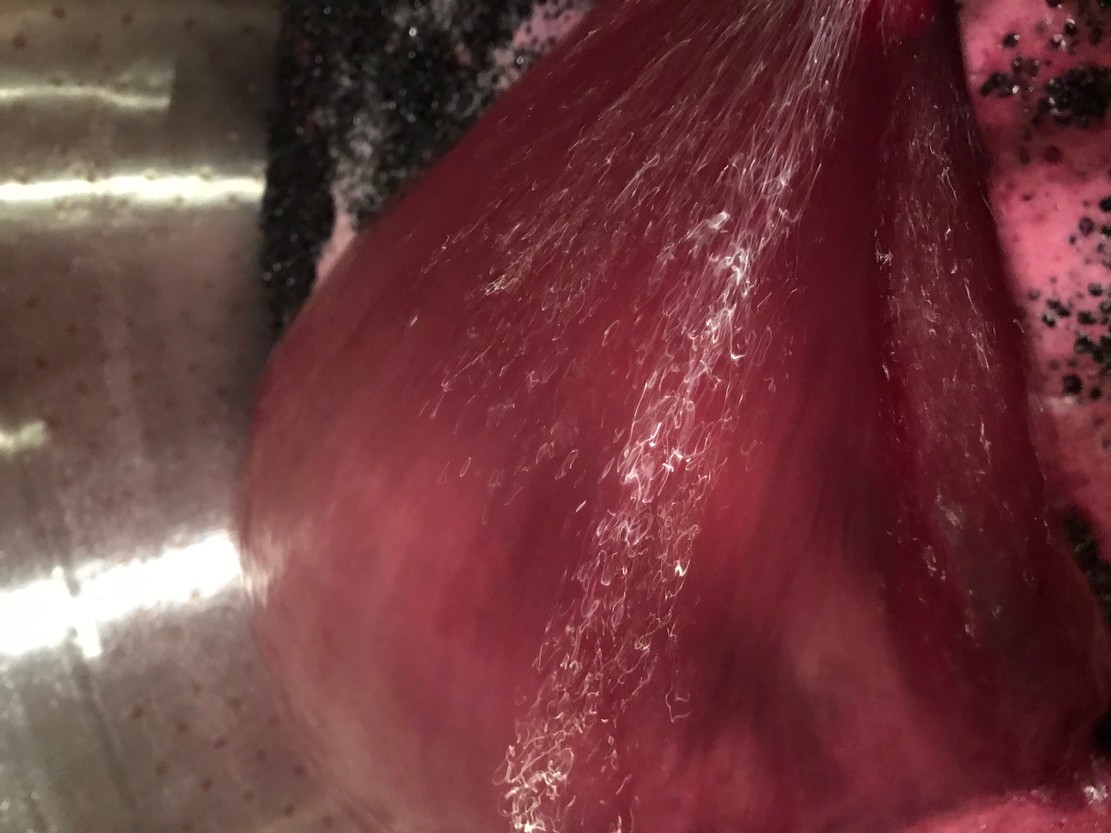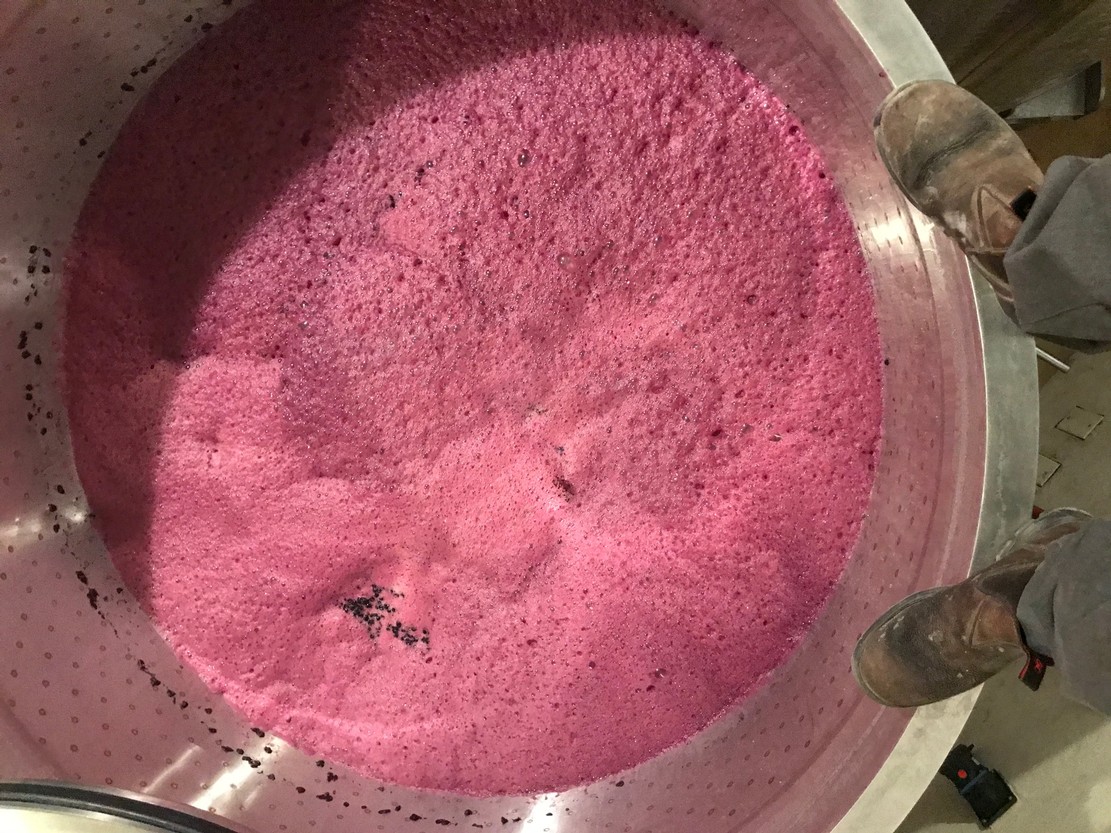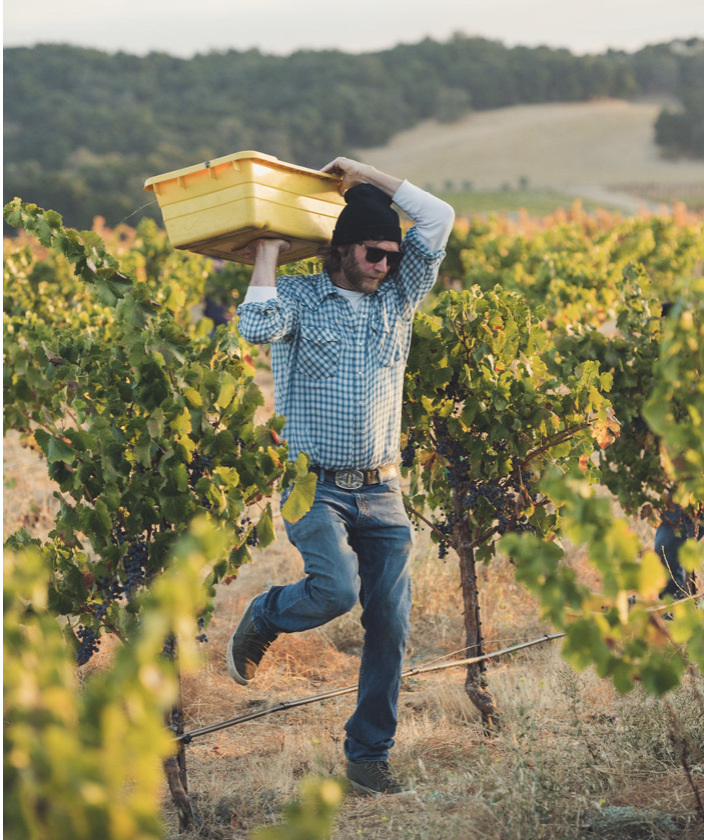 Happy Birthday Mom!

It's actually on the 7th but since I will be in the cellar, I thought this would be a good opportunity to send my wishes here.

Wine wise everything is rollin' away!

The Adams Ranch Grenache has finished fermenting and is ready to be pressed and barreled down. The James Berry Rhône blend is doing it's thing quite nicely and the Bien Nacido Syrah started ripping today. It was little slow to start (just like last year), but it's gassing now.

That's the update.

Oh, wait. We will be preparing Holiday wine packs which are available on the website. A four pack, a three pack and a two pack. The 4 pack is a red blend verticle, the three pack is a Dusi Zin vertical the two pack is two vintages of Grenache. Yum! Check it out.

That's it for now.

Catch you on the flip side.


MCA

Wake up!

The show is about to begin.

Here is a quick, weary-eyed harvest update.
Wines in barrel or in tank:

2019 Adams Ranch Vineyard - Syrah / Roussanne coferment is finished fermenting and is safely in barrel.

2019 Adams Ranch Vineyard - Grenache is almost finished fermenting and will be safely in barrel by the end of the week.

2019 James Berry Vineyard Syrah, Mourvedre, Grenache, Roussanne coferment is safely in tank and very, very happy chemistry wise.

2019 Bien Nacido Syrah also delivered very sound numbers and has been delivered to two tanks.

Easily my favorite harvest ever. I am beyond happy.

Oh, in other news, we will be crafting another rosé from James Berry Vineyard. Picked for the purpose of rosé, Provence style. JBV Counoise rosé.

Bam!

Life is good.

Photos on the way.

MCA




the ranch has been picked and the vines are resting.

we have been blessed with another year of incredible fruit.

the quality is better than ever. the smells and the flavors are spot on.

the syrah / roussanne coferment (which is still in tank) has nearly gone dry and will be pressed and transferred into barrels within the week.

the grenache was picked on the 17th and just started fermenting this morning.

it smells glorious.

aye.

---
All Photos by Kyla Rudd
---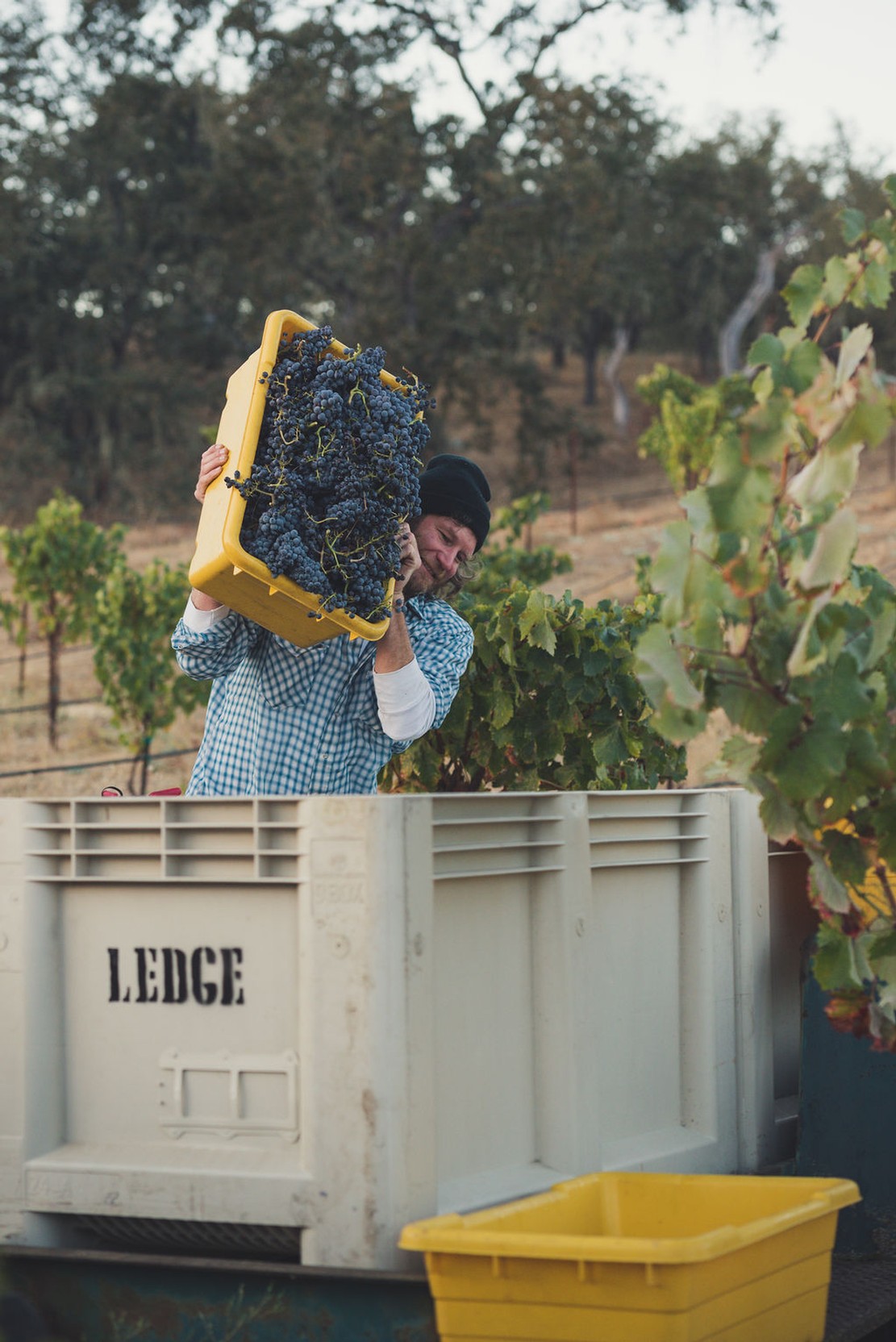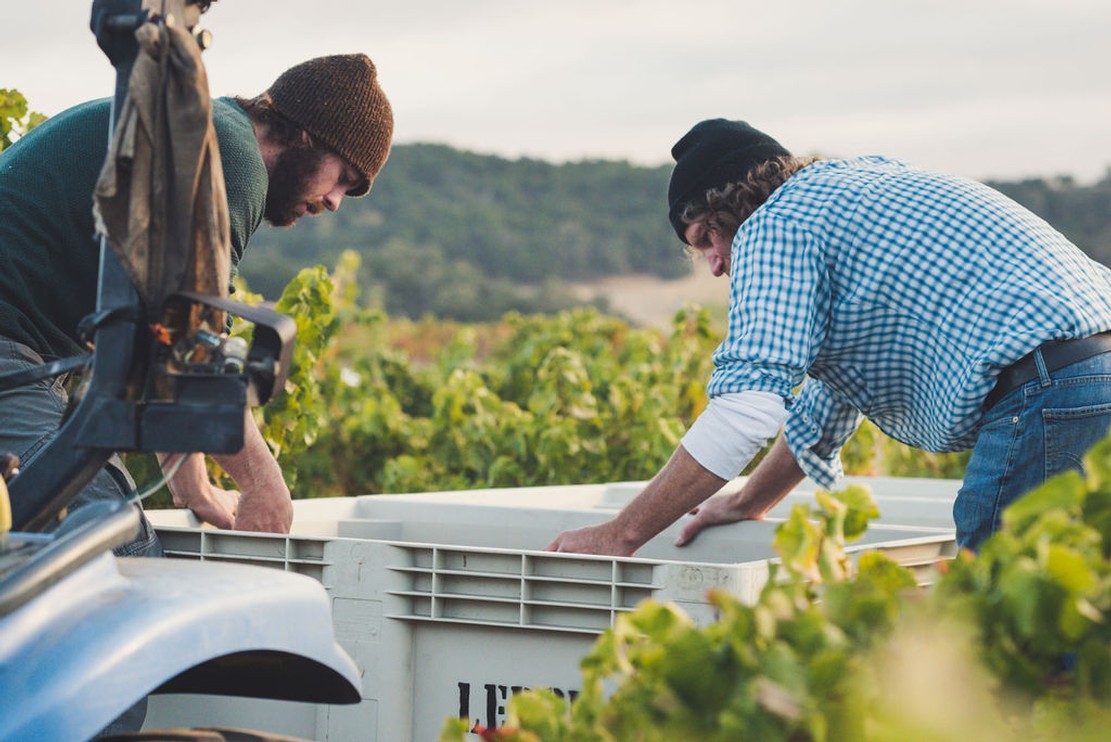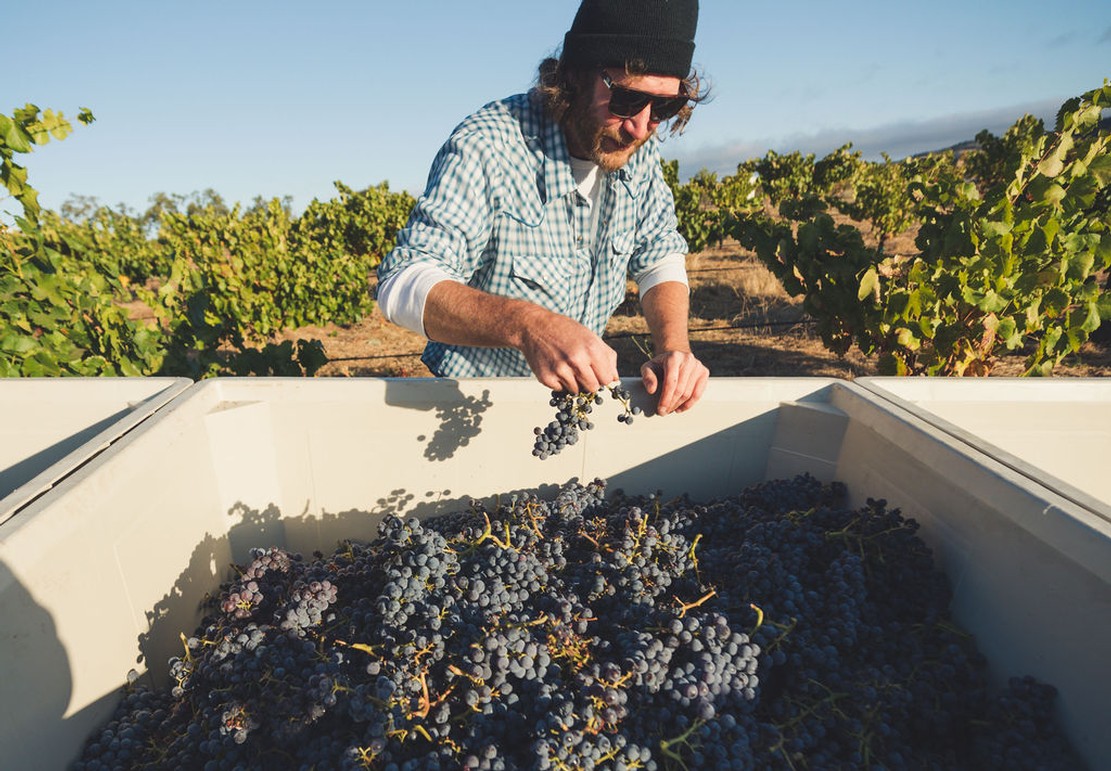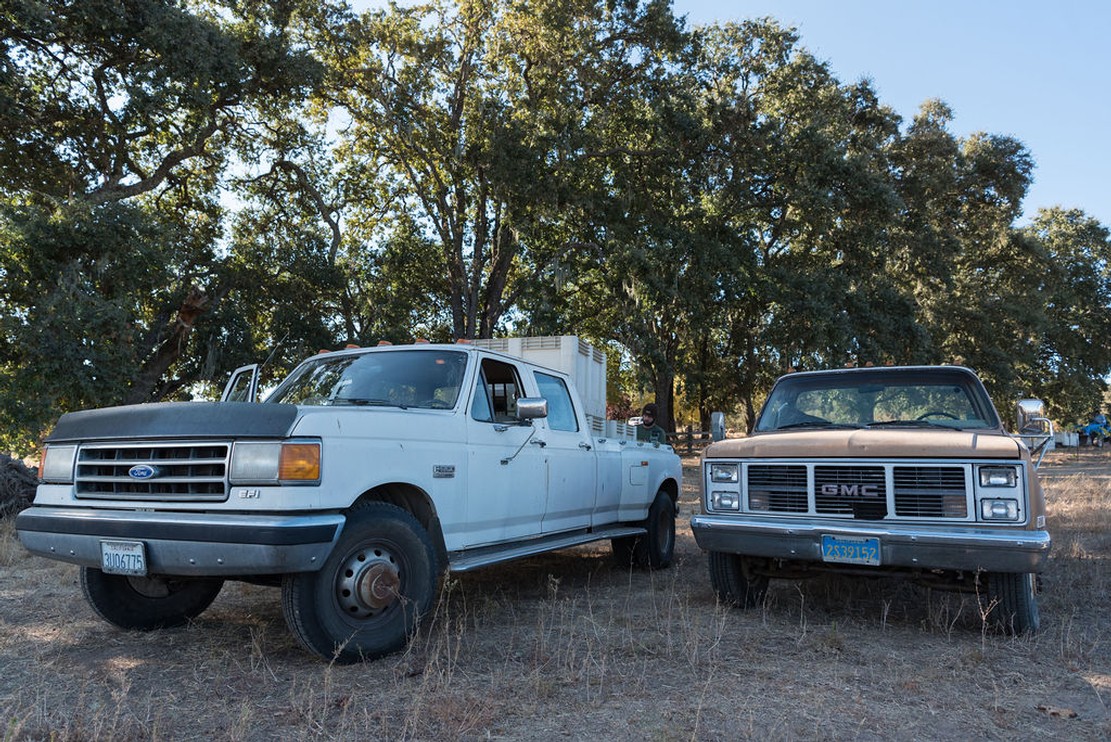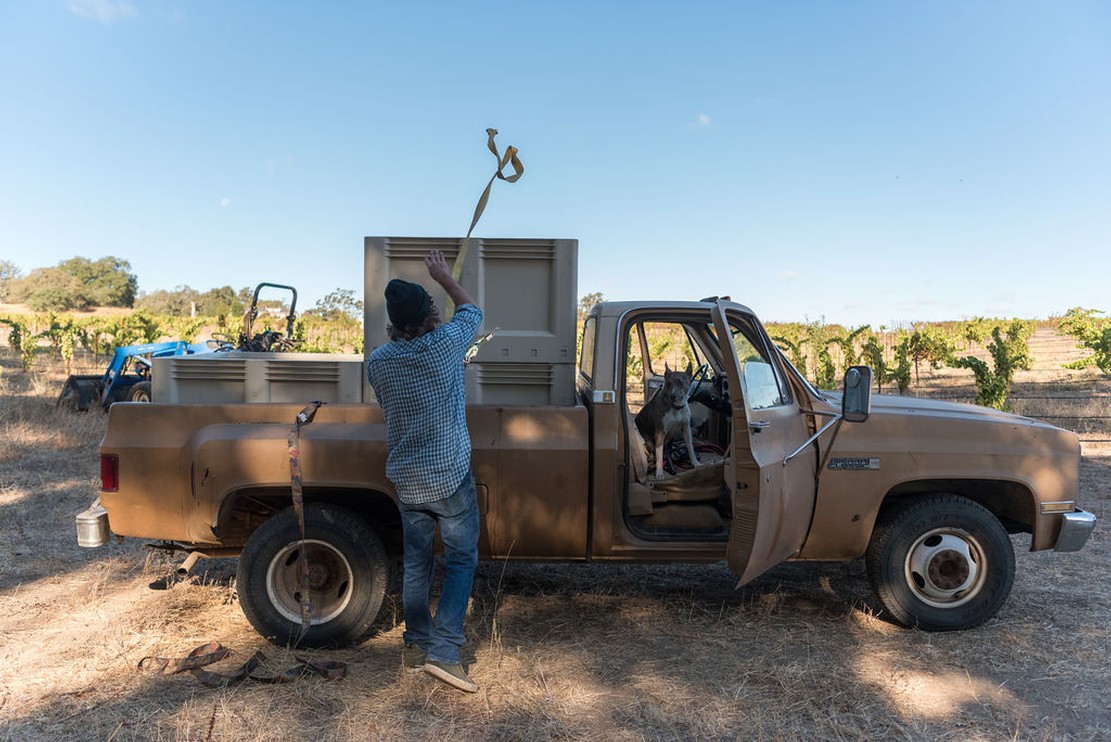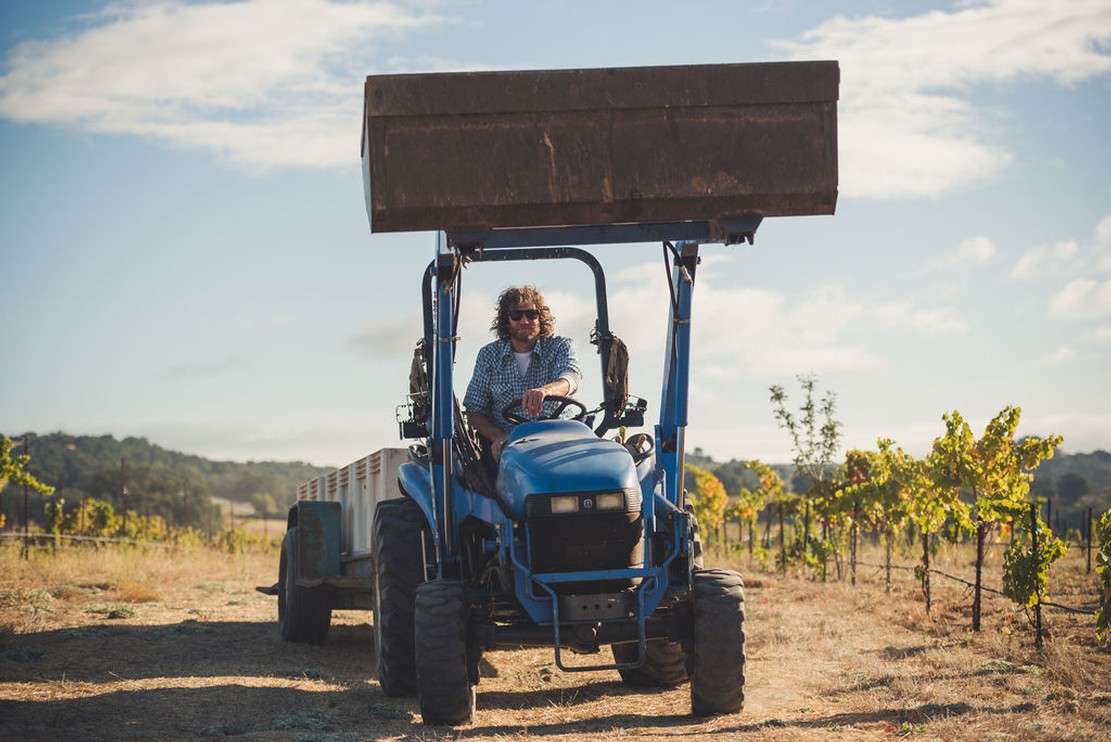 The stage is set.
Goldie and the White Lion (our two dually pick-up trucks) are ready to roll.

Tomorrow we pick the rest of our fruit up here on the Adams Ranch.

Grenache Day!

The Syrah / Roussanne blend that we brough in last week is happily fermenting in it's tank. The numbers were ideal and the ferment smells glorious. We could not be happier.

We released wine club today and we would like to thank all of you who are along with us on this fantastic ride. Email us if you want in. It's not too late. We have a special announcement coming soon for those of you who continue to invest in us. We appreciate your positivity and direct involvement in this adventure. Thank you.

Stay tuned for photos from the vineyard and winery.

Later Days,
MCA



Salutations,

We completed our first pick on October 9th here at the Adams Ranch, bringing in all of our Estate Syrah and Roussanne. We harvested the Bunkhouse, Meter by Meter and Ledge Block Syrah vines and the Lake Block of Roussanne. The Meter by Meter and Lake Blocks were delivered with 100% whole clusters into the tank, where I stomped on the fruit (aka pigeage) to release their wonderful potential. The wine juice already smells amazing. Complex notes of sage brush and rhubarb are dominant, and the color is a deep, dark violet. It's the most wonderful time of the year! More photos to come...

-MCA

L to R: Jordan and Josie Processing Adams Ranch Vineyard Syrah and Roussanne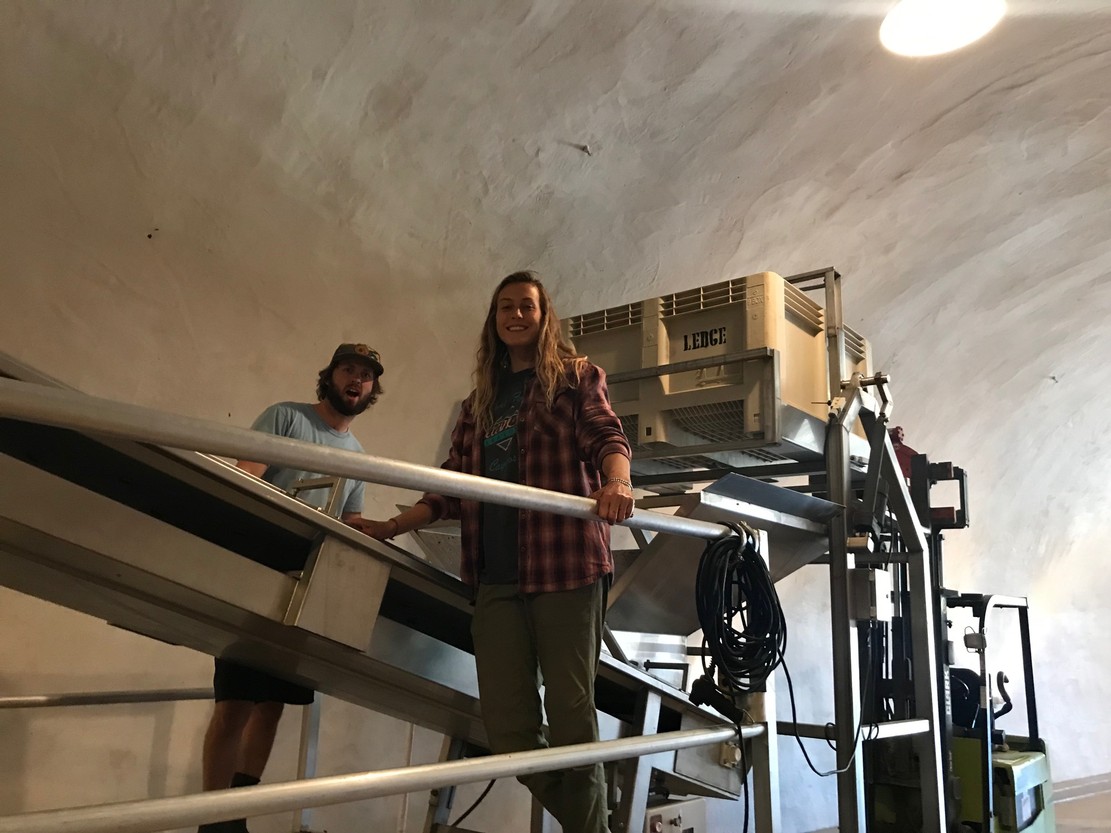 Hello Friends,
The weather has been amazing. We've had a nice cool down for about a week, and we will get a slight warm up as we head into harvest up here on the Adams Ranch. I'm excited to get this fruit into our brand spankin' new tanks, which will happen next week. Everything tastes great and it's possible that we will finish the Adams Ranch ferment prior to bringing in the Bien Nacido Syrah. Adams Ranch is looking something like this: 50% Syrah, 40% Grenache and 10% Roussanne. There is a little bit of Mourvédre and Cinsaut out there, but not much. The Cinsaut is only 2 years old, so we wont get any real fruit from that block until next year. The few remaining Mourvédre vines are mixed in with the original planting of Syrah and there aren't too many of them. The Counoise and Grenache Blanc are babies so they aren't bearing any fruit.
I'll be taking a sampling of all of the blocks for safety, to see what the numbers say and I'll report back. My instincs tell me that we are very close to the sweet spot - which brings our wines to the 14.5-15% alcohol range with pH around 3.5 and TA around .50. Those numbers have been pretty consistent over the years and there is no reason to believe they will be that much different for this vintage.

Enough nerd talk. Before I go I'd like to wish my Dad a very happy birthday! Mom's birthday is on the horizon as well and I look forward to hanging out with my family more when harvest is over. They're a pretty good lot.

Alrighty then. Catch you on the flip side.
MCA

Magic Hour Overlooking the Meter by Meter Estrella Clone Syrah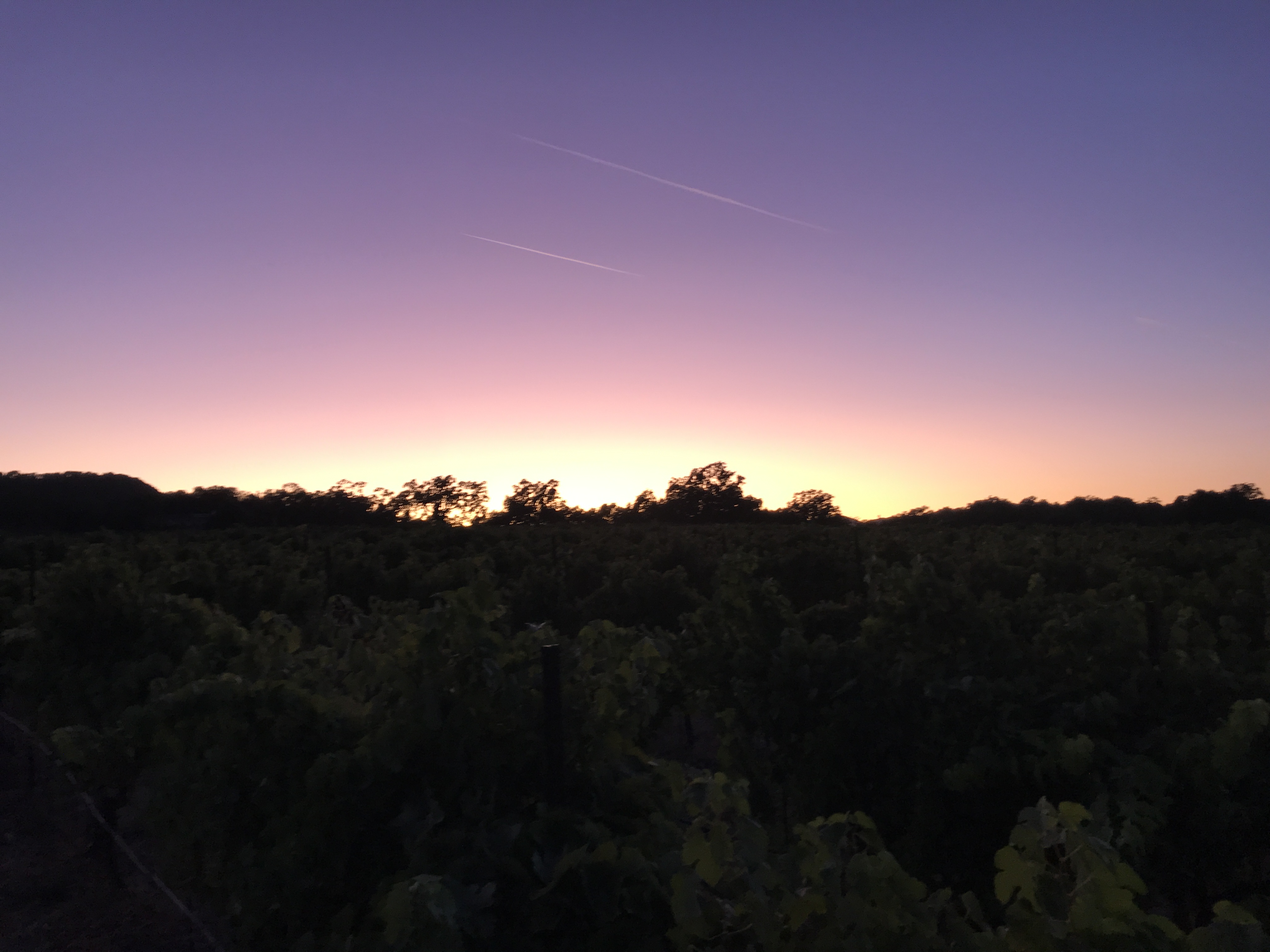 All wines are live info@ledgevineyards.com

Harvest time.

Let's make some wines.

While we are still a few weeks out from picking anything up here on the ranch, the grapes are ripening up nicely. As noted in previous posts, we have narrowed our focus to the Adams Ranch Vineyard, James Berry Vineyard (Paso Robles, Willow Creek District) and Bien Nacido (Santa Maria Valley, Santa Barbara County).

We are honored to be making wine from the latter two estates, which rank among the most famous and well reputed vineyards in the world of wine.

These days I am spending most of my time helping out over at Saxum and JBV, although they have assembled such a stellar crew, that I am practically resigned to flipping over records and stacking picking bins.

That's a good thing.

It is with a heavy heart that we pour out a pull for their dog Luna, one of the most beloved vineyard dogs to ever snarf a grape, who passed yesterday. We will miss you.
Bye for now,
Mark (Ciera and Elizabeth) Adams

Below: One of our oldest, own rooted vines, planted in 2005.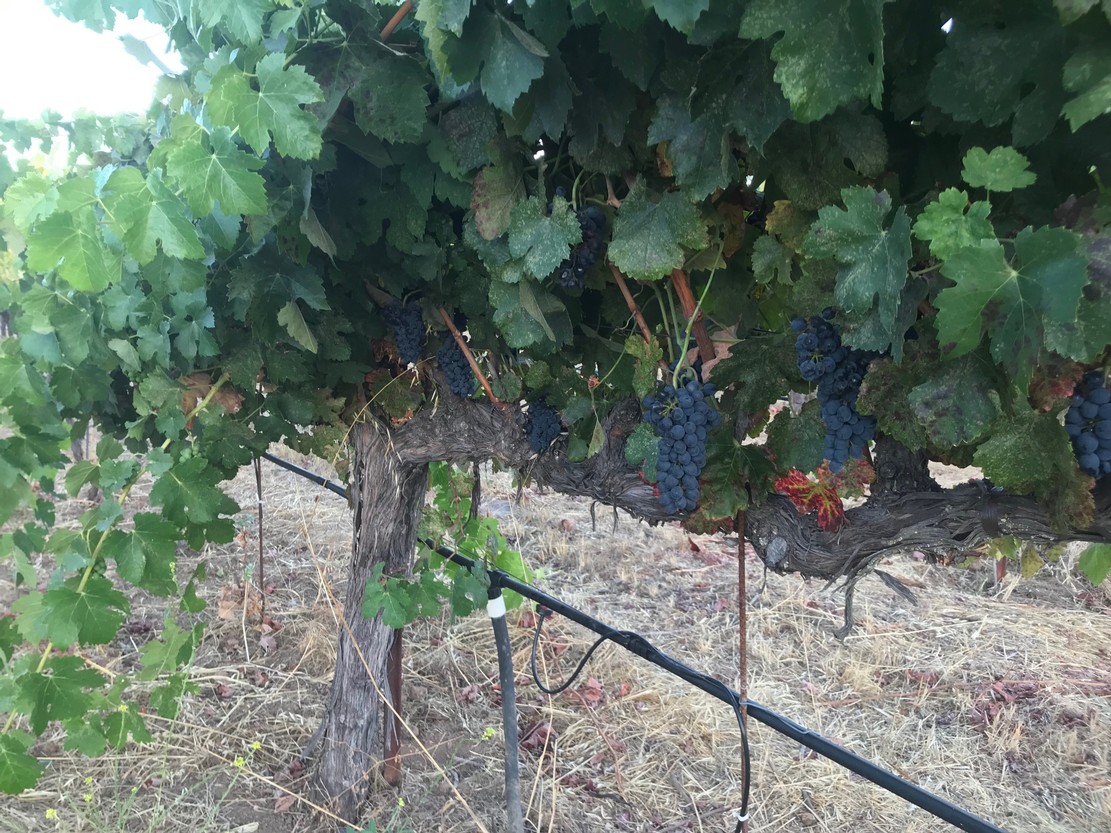 Exciting times.
We're going to purchase a used but sturdy picking trailer tomorrow up in York Mountain. That's a first for our humble farm.

I've been schlepping stacked up macro bins in our two "mature" pick up trucks since our first substantial harvest in 2010. This trailer will allow us to have our picking bins single-high while picking the whole ranch. This is muy bueno.

The fruit is looking good. Really good. We will have our first nice pull from the meter-by-meter Estrella Clone Syrah block, as well as the first real harvest from the Bunk House Block, which is our most geologically complex block. It also houses the widest variety of grapes: Syrah, Counoise, Cinsaut, Roussanne, Grenache and Grenache Blanc.

We are still looking at a mid-October Estate pick. The weather has been wonderfully mild, allowing the plants to rebound from what has been a pretty severe hot spell. The "Brix" or sugar readings around town have been high, but it's all a facade. The vines freak out and the numbers get all wonky when extreme weather happens.

This is one of the reasons why we rely heavily on how the grapes taste and not so much on what the numbers look like.

To quote Obi-Wan Kenobi, "Trust your instincts".

We do.