BLOG

Today I missed my brother.
So I called him.

Looks like we are golfing soon.
Hooray!

---

Mom and Dad took us to see Kenny Loggins at the California Mid-State Fair back in the 80s.

Danger Zone.

Good times.

We saw Alabama that same fair.

Those dudes kicked ass.

Thanks Mom and Dad.

MCA

---

I'm alright
Don't nobody worry 'bout me
You got to gimme a fight
Why don't you just let me be

-Kenneth Loggins & Clark Loggins
___



Popular culture outlets generally describe the lifestyle of wine-farmers as delectable, romantic, intellectual, chic, luxurious, bacchanalian, worldly, artisinal, earthy, elite or in any number of other glossy magazine terms.

Sometimes it is none, one, many, or all of these things.

For me, familial sums it up best.

One of the most worldy people I have ever encountered in my life comes from this little town of Templeton.

A neighbor since before kindergarten, he barely socializes outside of church and gets by grazing a few cattle, making charcoal, fixing tractors and doing a few other simple but devoted tasks.

He is content in his Willow Creek shack (tin roof and all), eating simple foods and keeping to himself, even though he is reportedly worth a fortune in real estate. None of his lands are planted to grapes and nothing is for sale. He drives the same shitty little truck I have seen him driving for decades.

Pretty sure he is a bachelor.

Always joyful. Always friendly.

Knows the going rate for diesel and tractor work every day.

His parcels mostly lay fallow as far as I know.

I don't ask.

I'm buying a used tractor from him sooner than later.

We exchange happy waves every time we pass on these country roads, which is almost daily.

I am too tired to continue tonight.

I'll be back to the bachannalian bounce of the tractor tomorrow.

Night Ma, night Pa.

Night brother dude.

Night Sister lady.

Night sweet wife and yer folks.

Nighty lil' bean bag daughter-girl.

---

Trumpets and violins I can hear in the distance
I think they're calling our names
Maybe now you can't hear them, but you will
If you just take hold of my hand

Ah but Are You Experienced
Have you ever been experienced

Not necessarily stoned, but beautiful

(Jimi Hendrix, Are you Experienced)



Summer is officially here!

The weather on the ranch this week has been pretty wild. Running hot and cool. It was i the 100s earlier this week but today was quite pleasant. This grape growing region benefits from extreme diurnal shifts, which are especially dramatic in the Willow Creek sub AVA. We often experience days in the 100s followed by evenings in the 60s. The vines love these blasts of heat and sun in the daytime, maximizing growth and ripeness follwed by a cooling ocean-influenced recharge overnight.

We are doing irrigtion repairs in the vineyard to make sure all of our younger blocks get the water needed to thrive. We've already done our shoot thinning and preliminary fruit drop, ensuring maximum, even ripenning and allowing for air to flow through the canopy. This is especially helpful to prevent mildew and rot which can be brought on by foggy socked in mornings.

We've bottled the Adams Ranch and James Berry Vineyard 2017s which will ship to wine club in the Fall and are enjoying having the little one around during the day. We made a Sunday trip to Lake Nacimiento for some boating and rock diving and Ciera took Elizabeth to The Ravine water park yesterday fo some dare-devil watersliding fun. We hop you all are enjoying your Summer. Good time of year for rosé and Grenache Blanc.

Taker Easy,
MCA

Keeping it short tonight as it is bottling day tomorrow.

Coming down the line:

2017 James Berry Vineyard (Grenache, Syrah, Mourvedre, Roussanne)

2017 Adams Ranch Vineyard (Syrah, Grenache, Roussanne, Mourvedre)

Below are some snaps promised to you last week.

Until next time,
Git 'er done.

Meter by Meter Block (Syrah), Adams Ranch Vineyard. June 5, 2019, 8:15pm.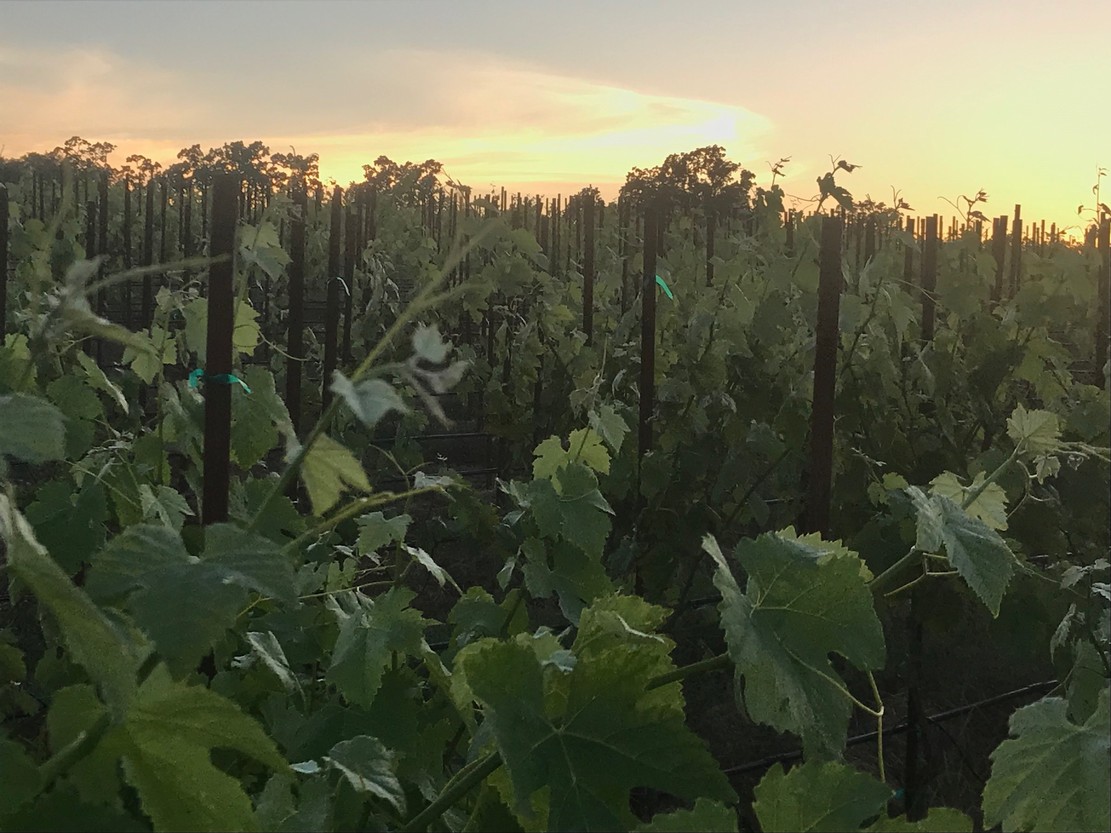 The Fin (Grenache), Adams Ranch Vineyard. June 5, 2019, 8:20pm.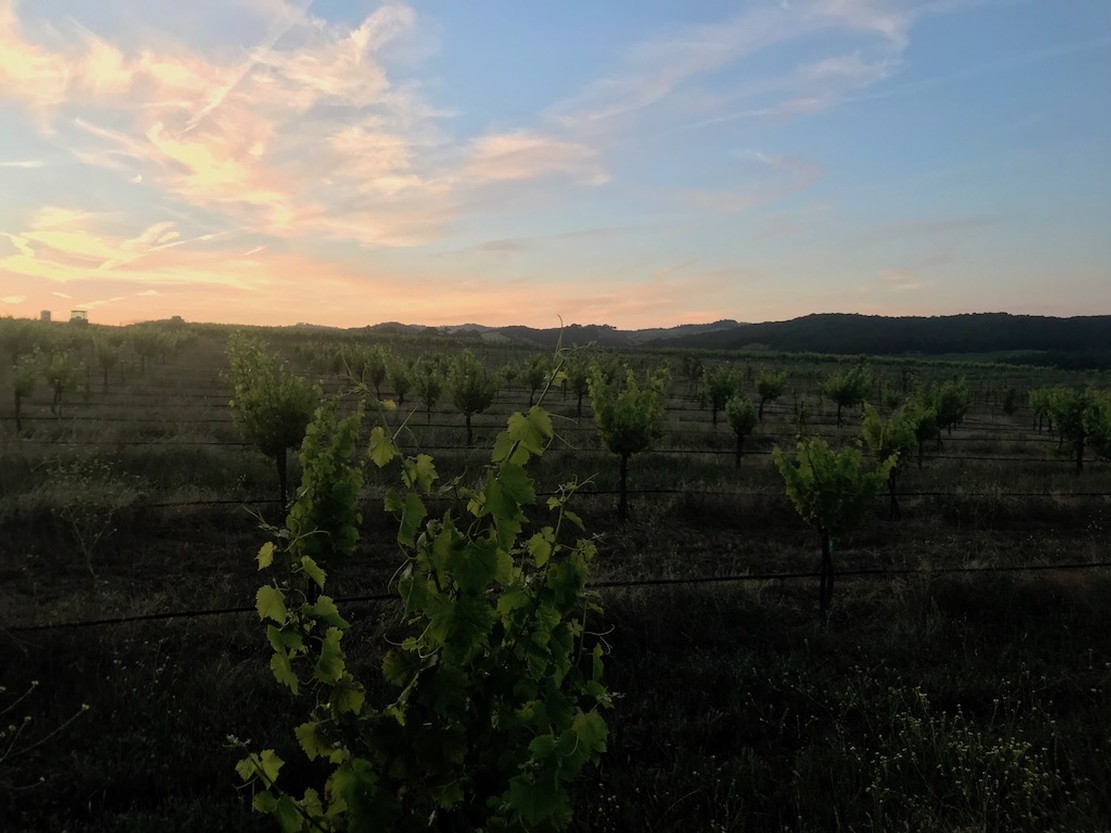 Baby Block (Cinsaut), Adams Ranch Vineyard. June 5, 2019, 8:05pm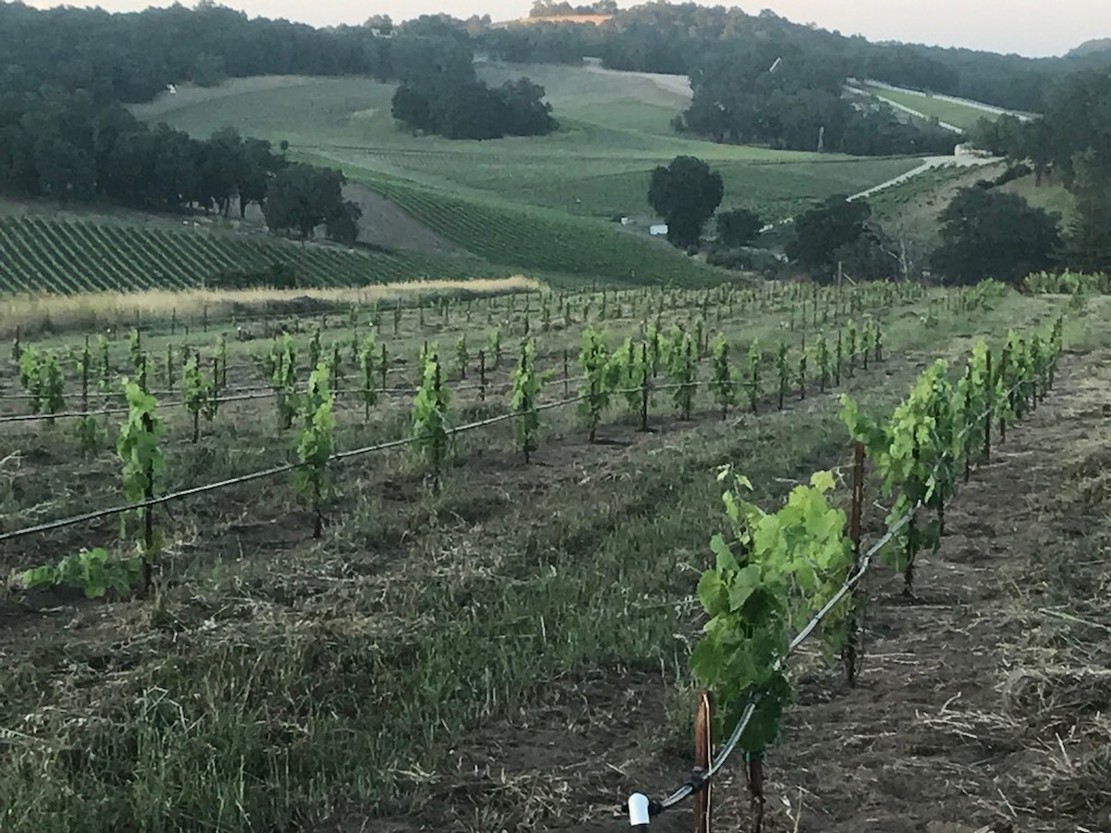 There have been spinning blades a'plenty here at the Adams Ranch.

I've been mowing the vineyard like a bat out of hell almost weekly and today I thought it would be a good idea to lube up the the ol' chainsaw and and clean up massive sections of a recently injured valley oak.

The branches that fell are bigger than many of the trees on the property.

My back is angry with me.

My blood pressure is high and I am an insomniac.

I sprained my eye, your honor.

I have tractor butt.

Do you mind if I belly ache some more?

I won't do it.

Life is too good!

While I am feeling my age, the vineyard is looking better than ever.

My wife is a total rock star who runs the business like a champ.

She answers almost all of your emails.

God bless her.

Be nice to her.

To top it all off we will be bottling the 2017 James Berry Vineyard and the 2017 Adams Ranch Vineyard wines next Thursday.

More and better pictures next week.

Oh, and for the record, we are both readily available by phone and email.

My cell phone is on the bottle and we both receive the emails that go to this inbox:

info [at] ledgevineyards.com

Talk to me goose.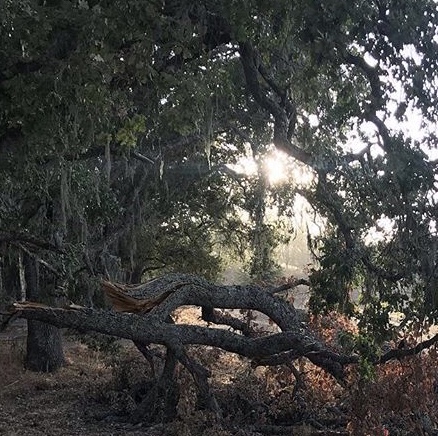 Where are all of our grapes grown? See the map below!
Please note that the varietals listed are grapes that have been included in current or past vintages of Ledge wines.
Most of these vineyards grow a wide range of varietals, not only those listed.

James Berry Vineyard (Syrah, Grenache, Mourvédre and Roussanne):
Southwest quadrant of the Willow Creek District

Adams Ranch Vineyard (Syrah, Grenache, Roussanne, Cinsaut, Counoise, Roussanne, Grenache Blanc):
Southwest quadrant of the Willow Creek District

G2 Vineyard (Grenache Blanc and Tannat):
Southwest quadrant of the Willow Creek District

Dante Dusi Vineyard (Zinfandel):
Central Templeton Gap District

Rolph Family Vineyard (Grenache, Syrah, Petite Sirah, Zinfandel):
Central Adeliada District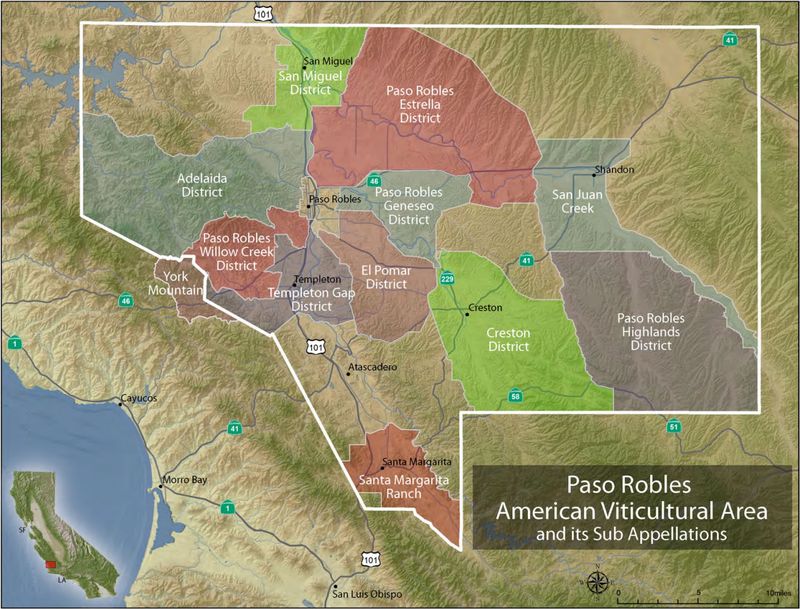 Bien Nacido Estate (Syrah):
Santa Maria Valley AVA
SANTA BARBARA COUNTY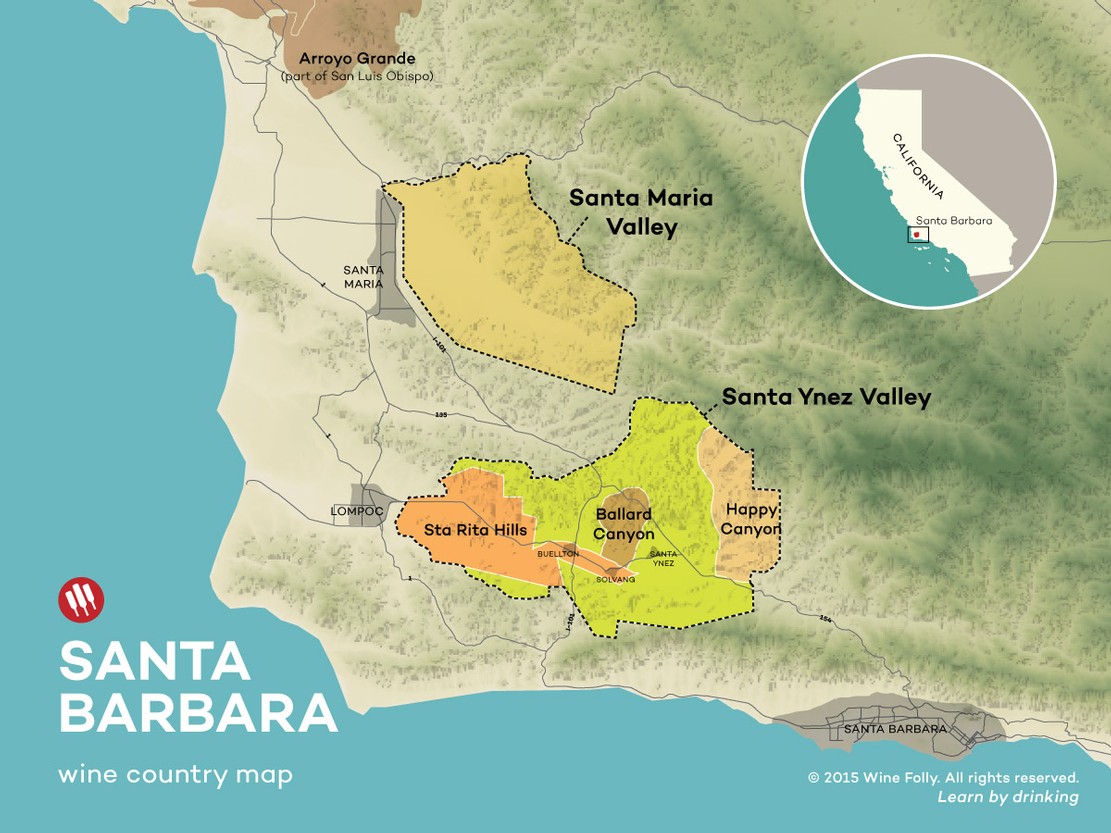 Greetings from Rainy Templeton,

No joke. It's May 15th and it's raining.

On with the show!

We usually base the titles of these blogs on songs.

We then try to tie them back into the story of Ledge Vineyards, the Adams Ranch or the wines.

This partcular excercise in reverse-storytelling is like an old-timey version of the game Six Degress of Kevin Bacon.

The following is what we learned tonight after choosing the title of this blog.

The number-one hit song "We've Only Just Begun" by the Carpenters debuted on a wedding-themed television commercial for Crocker National Bank in California in the winter of 1970.

The founder of Crocker National Bank, Charles F. Crocker, was also a Vice President of the Southern Pacific Railroad.

Southern Pacific was connecting the railroad between San Fancisco and Los Angeles in the late 1880's.

The town of Templeton, California was named for Charles Crocker's only son, Templeton Crocker.

Templeton, California was a bustling stage coach town before the railroad was completed.

Ledge Vineyards and the Adams Ranch Vineyard are based in Templeton, California.

Templeton Crocker wrote the first American Opera produced in Europe.

Ledge Co-Founder Ciera Lamborn (Adams) earned a Doctorate in Classical Music from UCLA and has performed in numerous professional opera productions.

She also likes trains.

Until next time.

Keep on Chugging,

Mark & Ciera Adams

---

Sharing horizons that are new to us
Watching the signs along the way
Talkin' it over, just the two of us
Workin' together day to day
Together
Together
---

Mark Adams at the Kimberly Jones Selections Portfolio tasting, Downtown Los Angeles 5/13/19
Photo: Ciera Adams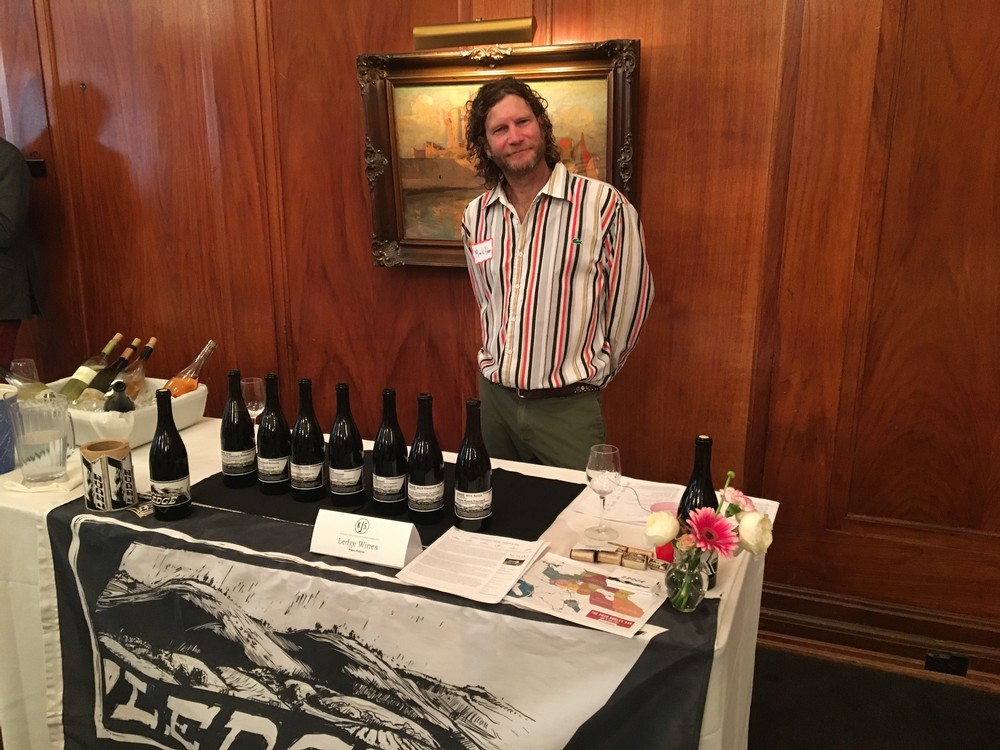 Lulu and I had an awesome walk.

The poor girl gets a bit tuckered in the tall weeds, so we rested often and took plenty of photographs.

The Templeton Gap influence is really something to behold, but there are at least two other chambers of Zeus-like winds howling from the west.

The Tablas Creek blog is a better authority.

Adams Ranch
May 8th, 2019 6pm-ish
Paso Robles, Willow Creek District

Looking toward Cambria, CA (time lapse)

Looking toward Cayucos, CA.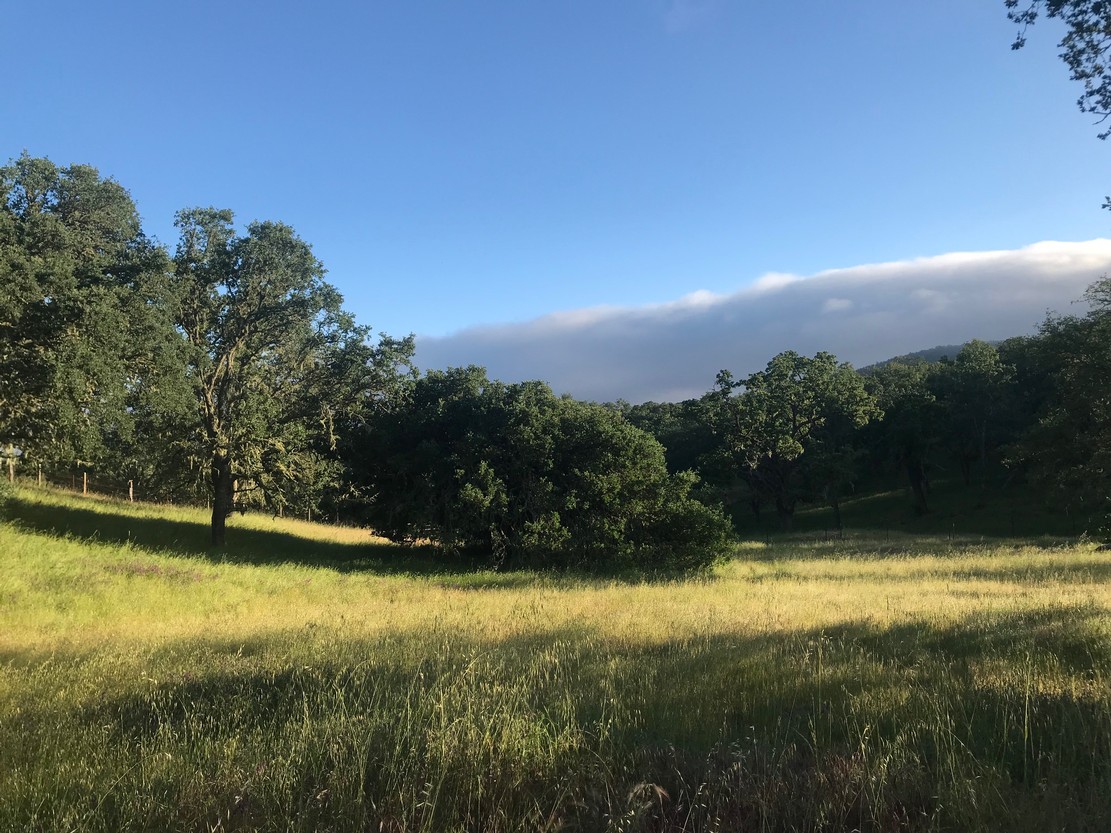 Looking toward Creston, CA.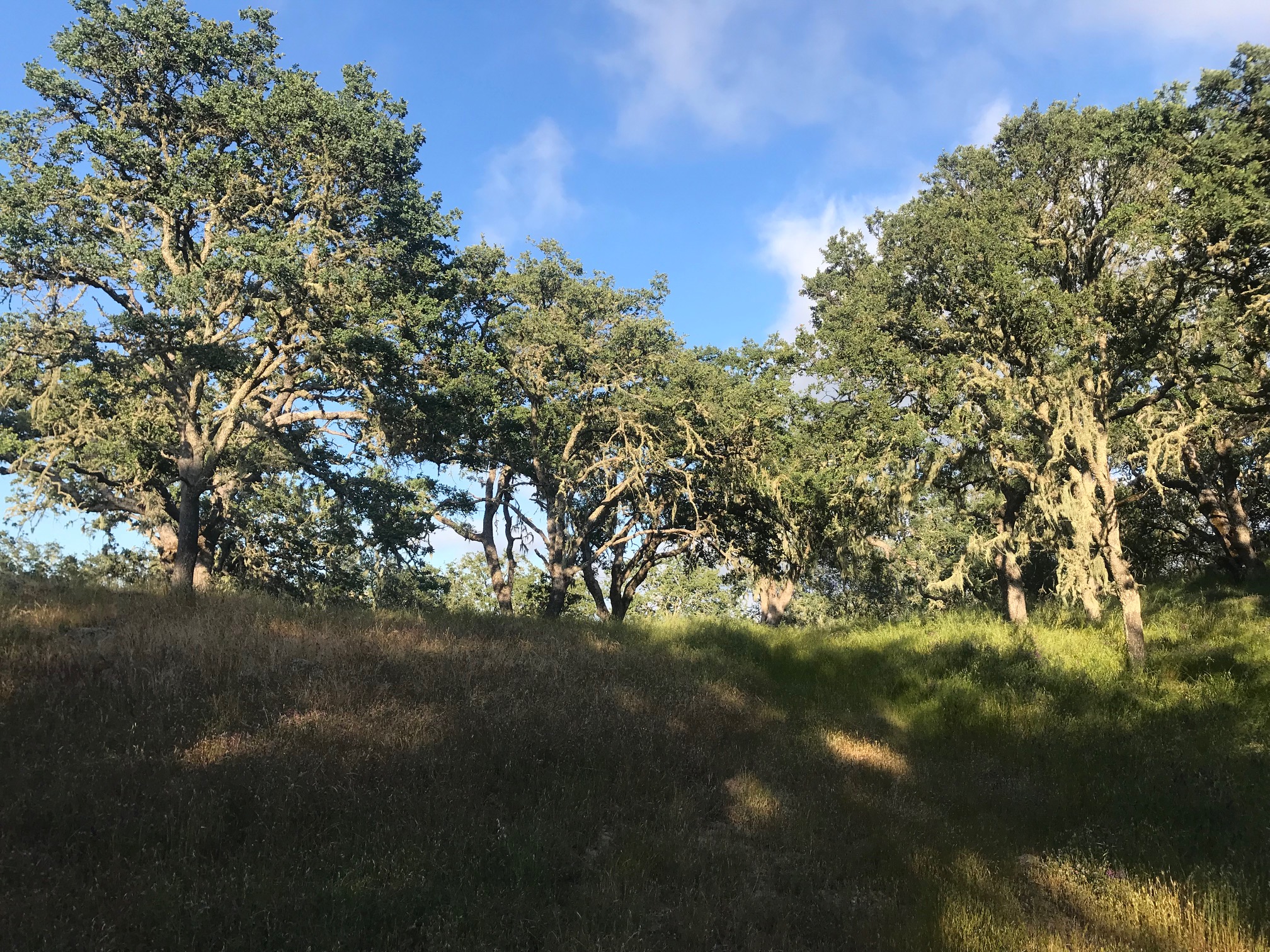 Aaaand they're off!
With 4 inches to 2 feet of shoot growth and fan-like leaves in all of our mature blocks, the vines are absolutely going off. The babies from the nursery are also taking well to their new homes in the vineyards. Their little solar panel leaves are out, but the shoots are yet to reach for the sky. By next week that will change.

In other news, on Monday I was honored to be a part of a round table at Saxum with Justin Smith and world-renowned French wine consultant Phillipe Cambie, who blended a wide array of Saxum barrel samples for the purpose of the Justin Smith / Phillipe Cambie project called Downstream, now in it's third vinatge. While I have been invited to the blending sessions for all three vintages, it is always an honor to taste through these (around 20) barrel samples and soak up the intelligence and experience of these two masters. This wine, like Saxum is a wine that will be incredibly difficult to procure, but let me not dissuade you. Seek it out. Get on the list. The final blend is other worldly, fresh, complex and elegant.
I've been meaning to open up comments on this blog, but the damn robots and spammers have me down. Let me know what you think via email here: info@ledgevineyards.com

I'll probably open up the comments soon anyway and fight the bots off like zombies.
I can take 'em.

Later days and better ways...
MCA

Estrella Clone Syrah Solar Panel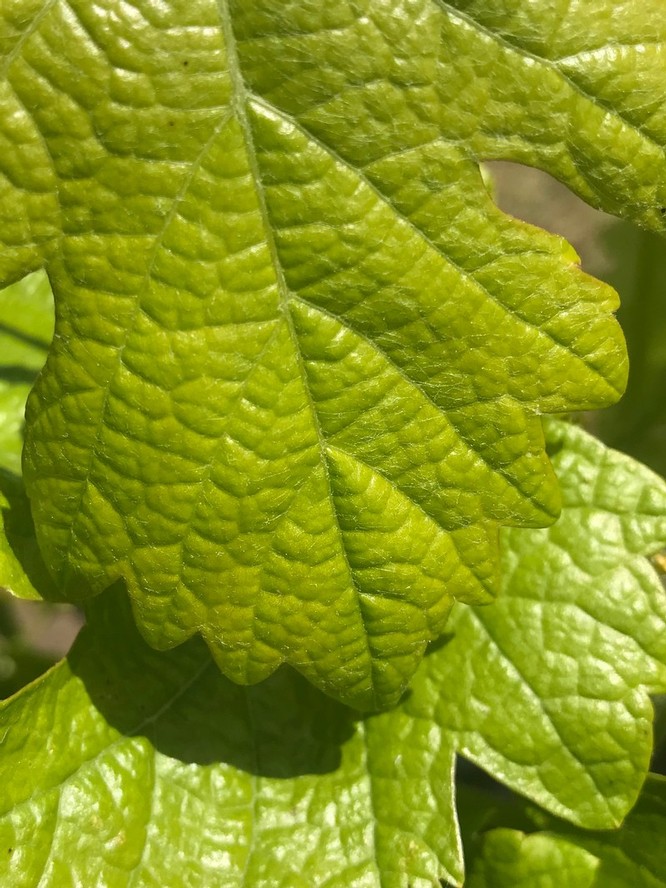 The Downstream Team, L to R: Phillipe Cambie, Justin Smith, Sasha Verhage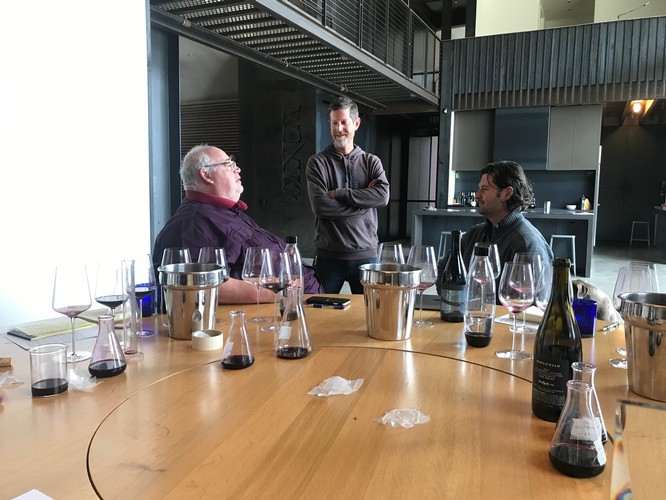 Below are two photos of our Meter by Meter block, currently undergoing a heavy-duty haircut. The first few rows are mostly covered in wild oats. As we delve deeper into this block we encounter a sea of Vetch. We're cleaning all of this up right now and training these rapidly maturing vines in a vertically staggered gobelet (head trained) manner. This is the 3rd leaf for this block (3 years old), and we should get a decent little harvest from these vines this year. This is own rooted Estrella Clone Syrah planted in extremely cramped-quarters. It will deliver smaller-than-usual berries with nuanced flavor.

Until next week,
MCA