April 29, 2020 | Mark Adams
Sending Out An SOS
Friends,

We have been dipping in to a few of our library wines at home and feel that it is high time we share these wines with you. Your orders keep streaming in and we thank you for your patronage.

Click on the WINES section to view our updated shop. We are excited to offer you not only our current releases, but selections that are on fumes and will simply not last long. We are also covering the shipping on certain orders.

A friend texted me today who wanted to buy more of the 2015 MCA Cuvée. I was certain we had a few more cases remaining. I was wrong.

We are putting the 2013 and 2014 Vineyard Drive in the shop along with the 2016 and 17 MCA Cuvée Blends.

There is also a 4 bottle Vertical of Dante Dusi Zinfandel: 2013, 2014, 2015 and 2016.

As far as Grenache, the 2015 Rolph Family Vineyard Grenache is down to 6 cases. The 2016 is down to 14 cases.

Fun!

Snap them up and tell us what you think. Our reviews section can offer a little guidance. We are happy to report that they all hover in the mid 90s scoring wise.

We are currently offering free shipping on all orders of 6 bottles or more via UPS Ground (to licensed regions) within the continental United States. For orders of 3-5 bottles we are offering $10 shipping.

San Luis Obispo County residents are eligible for free shipping on orders of 3 bottles or more. Use promo code SLOCO.

To those of you not in SLO County, DON'T CHEAT. Ciera will catch you.

You have better chances of writing us a Ledge Love Letter to get a break on your shipping.

Keep on Keepin' on. We miss you all so.

Sincerely,
Ciera and Mark Adams
Ledge Vineyards
info@ledgevineyards.com
(805) 434-8663 (text or cell)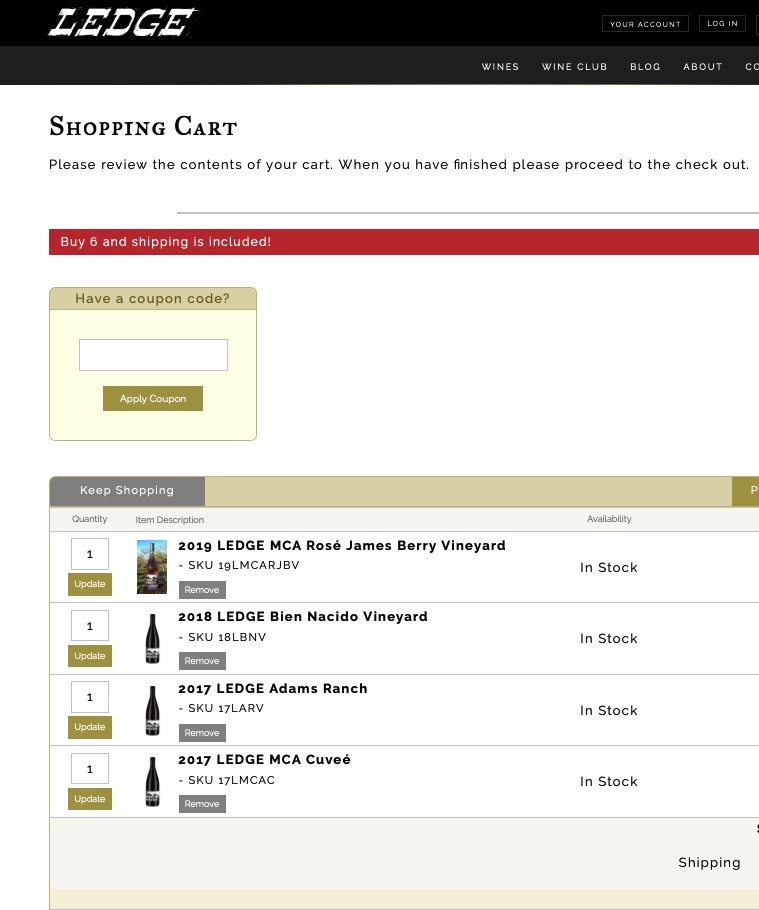 Comments
Commenting has been turned off.