January 9, 2019 | Mark Adams
Revolution 9
Today is the 9th day of January 2019.

We're getting the calendar dialed in with bottling dates, vineyard tasks and a wide variety of events. The rest of January sees the bottling of two new releases, both of which have been barrel aged for over 27 months, as opposed to our ordinary 18-24. More on that next week.

We will begin to transplant our nursery vines (Counoise, Cinsaut, Roussanne, Grenache Blanc, Grenache Noir and Syrah) into our vineyards and give the irrigation system an upgrade for the purpose of injecting worm tea into the drip line for our baby vines. Worm tea is an organic liquid fertilizer derived from worm castings, and is a powerful soil nutrient.

We will fill you in on our busier, latter half of the month next week, but for now we are enjoying all of this glorious rain. Ciera got me a sous-vide pressure cooking rig for Christmas, so we are enjoying some cozy slow cooked meals along with lots of music and family time. We hope your January is going well, please feel free to drop us a line with questions or comments about the wines (or anything else) any time.

Below is an old photo of Dad showing me the ropes as he and I glue up some PVC and install the original irrigation system in 2005. Thanks Dad!

See you next week,
MCA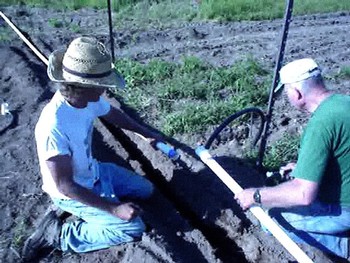 Comments
Commenting has been turned off.