February 6, 2019 | Mark Adams
Riding in my Car
You guys,

I am in Beverly Hills pouring wine for the stars. I know what you're thinking, and it's totally true!
For those curious about what Gaga and Bradley j'adored the most - it was (drum roll please, Caesar)...
The 2016 Adams Ranch Syrah!

Gaga (she likes it when I call her Stefani) said she loved the enahanced aromatics and oily viscosity that the Roussanne brought to the wine.
Brad just said, "I really dig your car, man".

Well guys, that's it for tonight. Ciera came down to "The Hills" with me for this work trip, and thank goodness too. I needed all of the cerebral support I could get and she knows all of the words to "Think of Me" from Andrew Lloyd Webber's Phantom of the Opera. She sang it softly and sweetly for hours on end as we poured our wines at the Peninsula Hotel from 11am to 9pm. She is THE BEST.

Special thanks to Miema and Poppa Adams for taking care of our sweet Elizabeth while we were loading up on Hollywood street cred. We will be home soon, although you may not recognize us in our freshly carved mullets. Business in the front and party in the back. It's about to be the "en fuego" trend for both males and "contra-males" (thats what chicks like to be called down here).

See you around and bite my dust,
MCA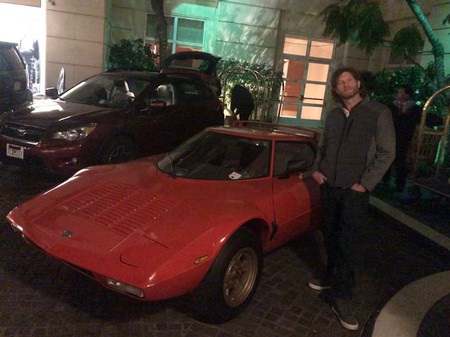 Comments
Commenting has been turned off.