March 6, 2019 | Mark Adams
Au revoir les enfants (Reservoir Dogs)
Good Afternoon,
A friendly reminder: Wine Club shopping carts are active and the offer is out. Please double check your inbox if you are on the list. In addition to the regular allocation, we are offing a 2013 Adams Ranch Syrah and a few other gems from previous vintages.

The 2016 Adams Ranch Syrah is sold out but there is a small stash of 2016 James Berry Vineyard Grenache remaining. Only allocation and mailing list members get this offer. We will be sending this offer to our (much larger) general email list Friday.
---
In other news...

Like much of the country, we here in the Willow Creek District are experiencing an extreme winter and lots of precipitation. The approximate average rainfall for Templeton is around 20 inches and we have currently received over 35 inches.

The reservoirs are filling up and wilflowers are starting to peek out of the lush grassy landscape. It's going to be a great year for wildflowers! Next week, after a few days of sunshine, I will post a bunch of wildflower photos.

As for now, I've got our baby cuttings trimmed up and the 1year olds are full of roots and ready to transfer into the vineyards. The Bunkhouse Block will undergo a fun transition, as we inter-plant a "field blend" of vines into what was previously entirely Syrah. The Bunkhouse will contain Syrah, Grenache, Cinsaut, Counoise and Roussanne with the intention of picking it together and co-fermenting the harvest. Exciting!

The vineyard block breakdown at the Ranch looks like this:

LEDGE BLOCK - Cordon trained (8'x3' spacing) Estrella clone Syrah, Massale propogated from the Bone Rock terraces at James Berry Vineyard. Deep sand and clay.
METER BY METER - Cane pruned and tightly spaced (4'x3') Estrella clone Syrah, propogated from the Ledge Block. Heavy clay over a sandstone shelf.
THE FIN- Head trained at 10'x10', multiple clones of Grenache including 362 (France), 814 (Spain) and the Alban selection. Terra Rosa, sandstone and clay.
ORCHARD BLOCK- Head trained at 10'x10', mostly Spanish Garnacha (814) on sandy clay loam.
LAKE BLOCK - Head trained at 10'x8', Grenach interplanted with Roussanne in heavy standstone gravel, rolled stones, sand and clay.
BUNKHOUSE BLOCK - Guyot trained at 8'x4', Syrah clones 7 and 747, Cinsaut, Counoise and Roussanne. Clay loam, rocky sandstone and sand.
CINSAUT BLOCK - Widely spaced (11'x11') head trained Cinsaut in sandy clay loam.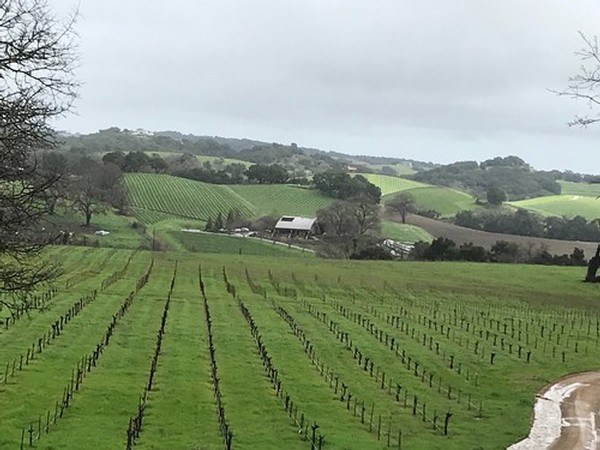 Above: Adams Ranch Vineyard Grenache in the Fin and Orchard Blocks.

Below: Part of our vine nursery including Syrah, Grenache, Counoise, Roussanne and Grenache Blanc.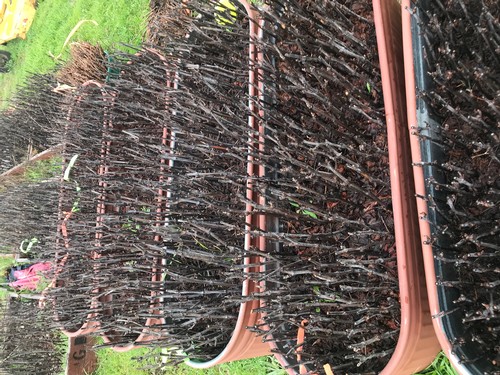 Comments
Commenting has been turned off.