BLOG

We have had an intense couple of days up here at the rancho. Some of our friends, who happen to be touring musicians, stayed with us and we proceeded to combine wine and music related actvities. Monday night the boys (Tim Buhm and The Coffis Brothers) performed for a music video shoot at Bethel Road Distillery, followed by a full blown rehearsal up here at the house. The next day we all went down to the Krush FM studio where we poured Ledge wines (2017 Adams Ranch and 2017 James Berry Vineyard) along with Jordan Fiorentini of Epoch wines on a radio show called Liquid Lunch with the "Cork Dorks", Adam Montiel and Jeremy West. The boys sang a few songs as well. The show is archived on their website.

After this show we popped in to say hello to our friends at Bristol's Cider House, where they have started picking apples and making fresh batches of cider. My brother and I are going to take a stab at making a small batch of our own cider (just for fun) here in a few days.

After Bristol's we moseyed up to Firestone Walker Brewery and participated in their annual Anniversary Ale winemaker blending session where we teamed up with our buddy from Saxum, Justin Smith. While we have "won" this friendly competition a few times in the past, this year's honor went to Sherman Thatcher of Thatcher Winery.

After the blending session we made our way to Morro Bay to hear the guys play some music at The Siren. They rocked it - and for a Tuesday night - the place was pretty packed. Way to deliver, Central Coast!

This morning the touring van left the ranch and headed to San DIego where the guys will be performing at The Casbah. You can hear them here at the ranch at our next "Ledge Fest", which is a thank you concert, dinner and tasting for our wine club members.

We are a little tuckered out, but very grateful for this community. It is really special to be able to show a group of wandering musicians how supportive we can be of eachother. My friends and neighbors made me proud to be a part of it all.

Many, many thanks to my wonderful wife and daughter for putting up with a few action-packed days. You rock.
Harvest is right around the corner. Exciting!

Hey, it's good to be back home again
Sometimes this old farm feels like a long lost friend
Yes, and hey, it's good to be back home again

One of the sweetest thing about going away for extended periods of time is missing home.

I sure missed this place.

That isn't to say that I didn't have an absolute blast showing Ledge wines out the road - or river and Bayou as it were. Both the Idaho wilderness and the Louisiana trips were amazing. It is fair to say that I fell in love twice in two weeks.

Apologies for the lack of blog updates. This one is going to be short as well. The main thing to report is that the wines are absolutely firing and we look forward to releasing them to you next month. We are available to wine club to taste here at our home. As many of you know, our personal phone and email are printed on the bottle. Inquire within.

As far as harvest is concerned, the heat kicked things into gear and some of my neighbors have started picking. We are still looking at mid October but things are ripening nicely.

I'm still getting back into the swing of my "Farmer Mark" role, as my wife likes to call me.

To quote Frank Black of the Pixies, "I've been tired".

Thanks to the wine club folks who came up and tasted at Adams Ranch Vineyard. We sure enjoy meeting you all.

Photos and whatnot to come.

I've got half a mind to get this blog back to regular Wednesday updates.

Make that a full mind.

We'll check in with you all next Wednesday.

Stay Classy San Diego,
MCA

Happy Birthday to my big sister!

You have always been a good influence and a path paver in my life and you are appreciated more than you know.

In other news, the Idaho River Adventure was a resounding success and I intend to take some of you with me next time. The wines paired brilliantly with widely varied, top-notch cuisine. We brough the 2017 Adams Ranch Syrah Blend, 2017 JBV Grenache Blend, 2017 JBV Counoise Rosé, 2017 G2 Grenache Blanc, 2016 MCA Cuvée, 2016 Rolph Family Grenache, 2014 Vineyard Drive Zin/Petite Sirah Blend and the 2013 Vineyard Drive GSM. They are all showing great and with the exception of the 17s (which will be in the upcoming fall release) are available via email request.

A few photos are included below, although they do not do the scenery justice. We were in 200 million acres of wilderness with no way through except for the river. We made some new friends and established what will likely be a continuing relationship with the outfitter. In fact, please do not hesitate to reach out to me about next year's trips.

Veraison is cruising right along, with the Syrah leading the way. Much of the Syrah is close to 100% colored up, which means we are on track for the usual mid-October harvest window. There will enough damn grape photos in the upcoming blogs to make your head spin. I'll spare you those this week.

Off to New Orleans on Monday - so if you or someone you know lives in the area, feel free to reach out to me. We have a sold out dinner Tuesday night, but I will be out Monday night and working the market during the day Tuesday. I definitely plan to hit Tipitina's for live music and I'd love to connect with anyone down there over some crawfish, gumbo and beignets.

Laissez les bons temps rouler!
MCA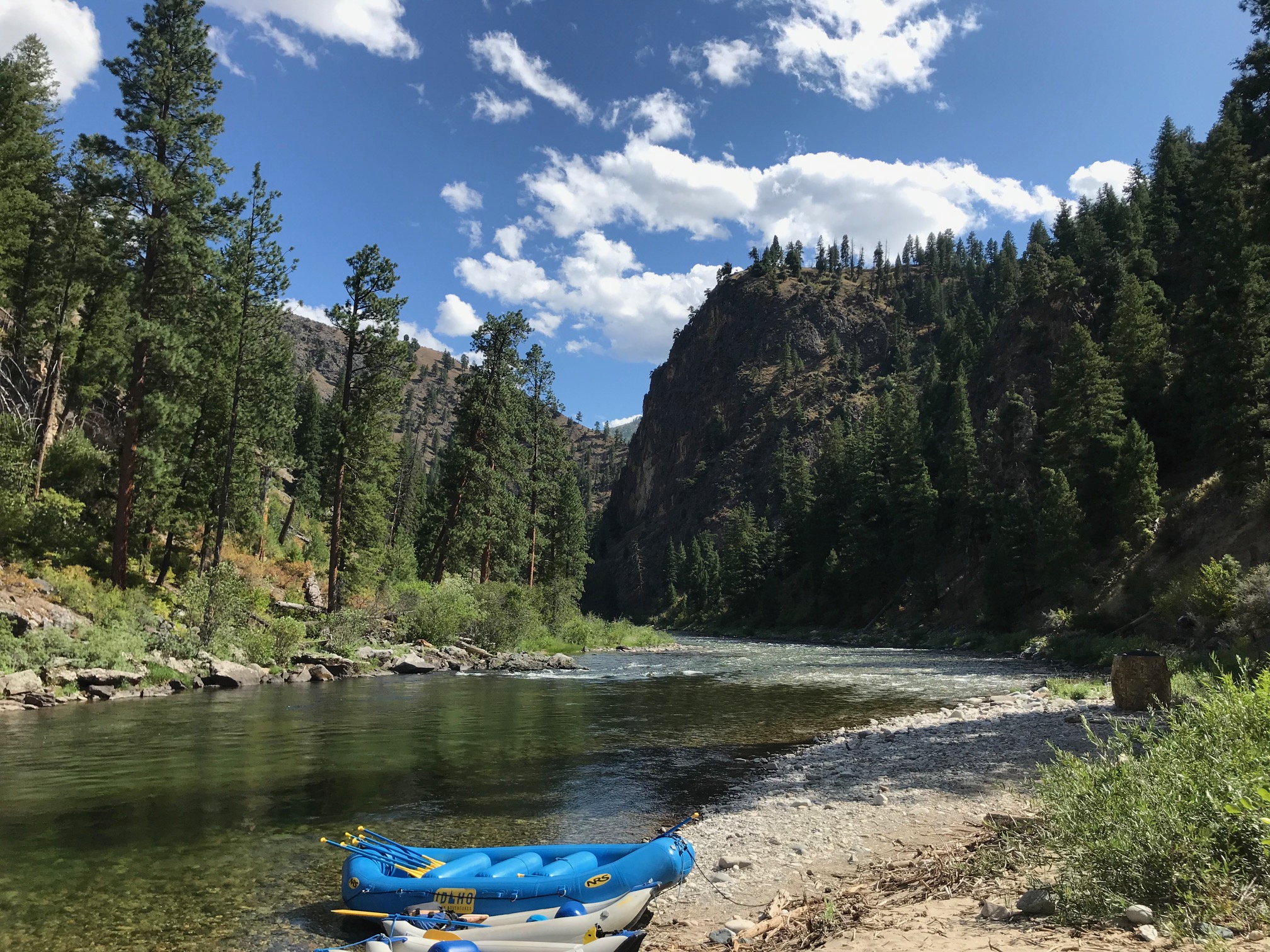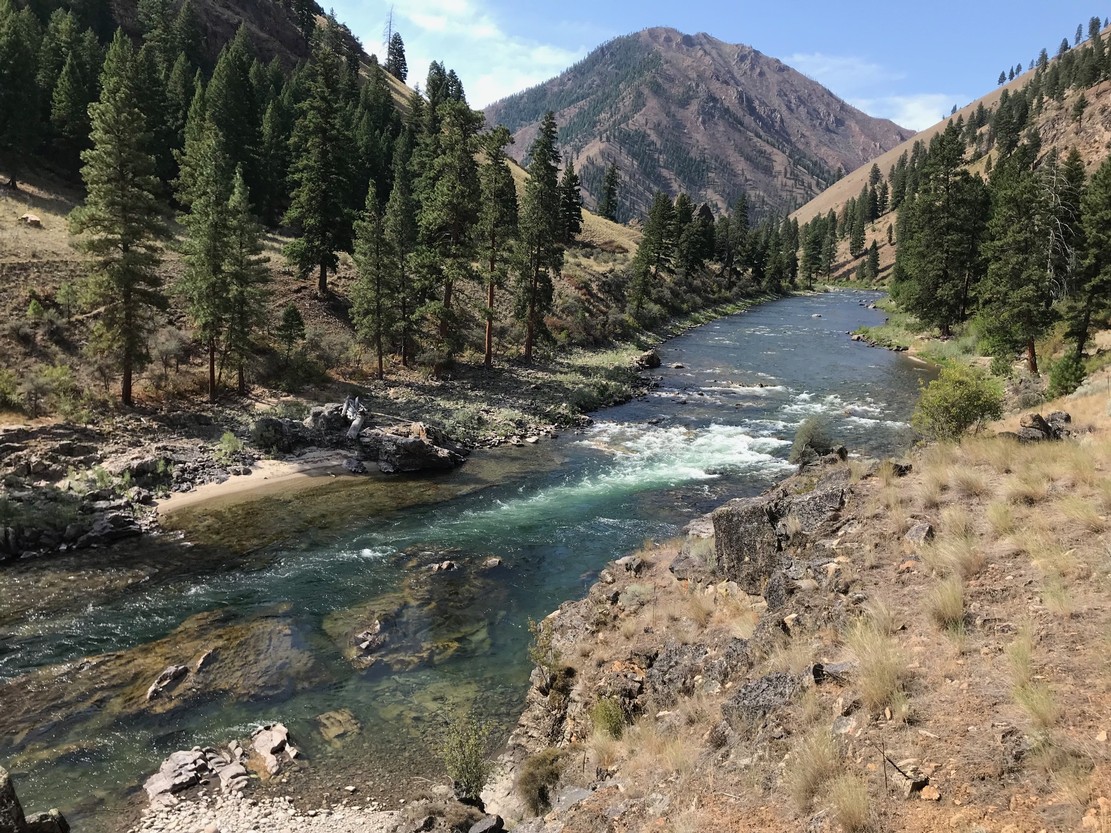 As some of you may know, I am off of the grid for a week pouring and discussing Ledge wines with a group of river adventurers in Idaho.
Back at the homestead, veraison has started coloring up our grapes and we are getting charged up for harvest.
A full report will be forthcoming when I am back home and in cell phone range.
Until then,
Esto Perpetua,
MCA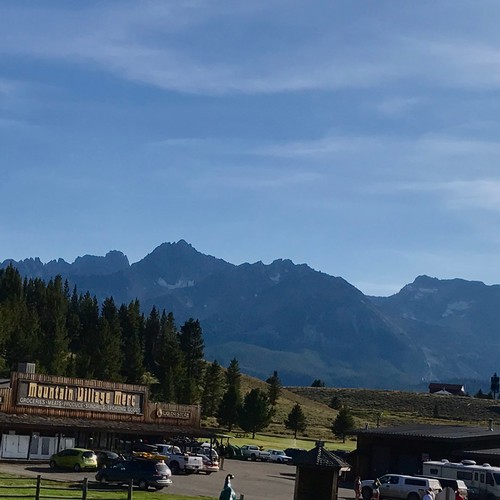 Our family has been playing lots of Gin Rummy.

Lightnin' Hopkins is the preferred soundtrack.

I won't get into which version we play, but up until bedtime we play as a family and share the day's news, gossip and of course "smack talk" as is common in many parlor games.

Our butternut squash, pride and joy and the most skillful smack-talker has gone to bed and it's time for a husband and wife game.

I'm about 90 points behind and need to focus.

We'll talk to ya later.

MCA







July 31, 2019
Paso Robles, CA


"Almost all absurdity of conduct arises from the imitation of those whom we cannot resemble."
― Samuel Johnson, The Rambler


I haven't read a lick of Samuel Johnson outside of the quote above. That said, me gusta.

My friend Michael, a sommelier in Los Angeles, asked me if I could name a musical equivalent to the Adams Ranch wines from Ledge.

"Ugh" I'm thinking, "Enough with these exercises." but I bit.

With surprisingly little hesitation I offered up Yma Sumac and sent him a video.

"What did I just watch?" He quipped, 15 seconds into "Chuncho".

""Listen to the whole thing." I say, "She is a revelation. Completely different, experimental and yet with an absolute sense of place."

A while later he picked up on her sound and saw where I was coming from.

So, yeah. Yma Sumac. Chuncho makes me smile. Takes me places. The other answer would have been Lou Reed.

"Hey Mark, if your wine was an architectural period, which one would it be?"

Seriously? I can't even-

Byzantine probably.

Cuisine?

There is no way you could expect me to-

Basque seems like a good one.

Michael really only asked about musical comparisons, and I actually love to compare and contrast wine with other universal curiousities.

---

In other news, I will be curating the wine program for an upcoming river adventure in Idaho. We are bringing 4 wines, the JBV Counoise Rosé, the G2 Grenache Blanc, MCA Cuvée and Rolph Family Vineyard Grenache. Should be a hoot.

We had a delightfully informative visit and tasting with Josh Raynolds of Vinous, a human being who is intimidatingly well-versed in just about everything. Bone up on the Genius Edition of Trivial Pursuit if you intend to give him audience. Prepare backup. Seriously.

Thank God for Ciera when Josh is around. She can occupy him with things like the history of Bayreuth while I look up who in the heck Frederick Law Olmsted was. It was a joy to see him again.

Hey, before I forget, James McMurtry is playing in Tin City this Friday, August 2. His song Choctaw Bingo is something to check out if you are unfamiliar.

The next stop for Ledge is the Idaho River Adventures trip followed by a winemaker dinner and market visit down in New Orleans, where we just picked up distribution. Pumped about those events. Last I checked there were a pair of seats still available on the rafting trip, August 15-20 on the middle fork of the Salmon River.

After that harvest will be nigh which means a ridonkulous hairdo is in order. This year it will be a mullet. I haven't had a haircut in a while, so the results should be downright horrifying.

Stay tuned and thanks for reading!

MCA

What-wha-what-what-what's it all about?

1. The Fin, Grenache, planted 2010
2. Lake Block, Roussanne, planted 2015
3. Bunk House, Syrah (Counoise, Roussanne, Grenache and Grenache Blanc elsewhere), planted 2016
4. Ledge Block, Syrah, planted 2005
5. Baby Block, Cinsaut, planted 2017
6. Meter by Meter, Syrah, planted 2016
7. Lake Block, Grenache, planted 2015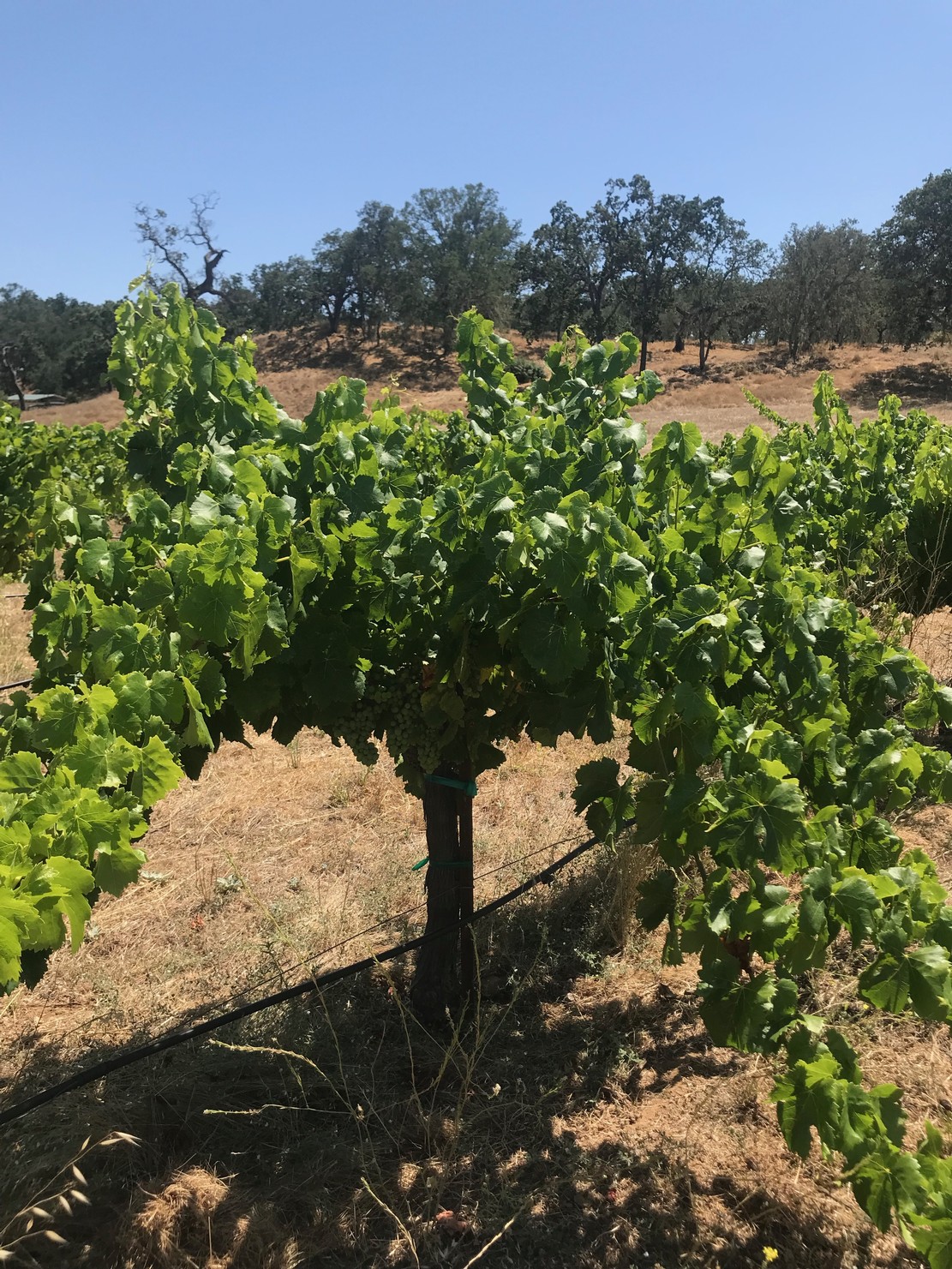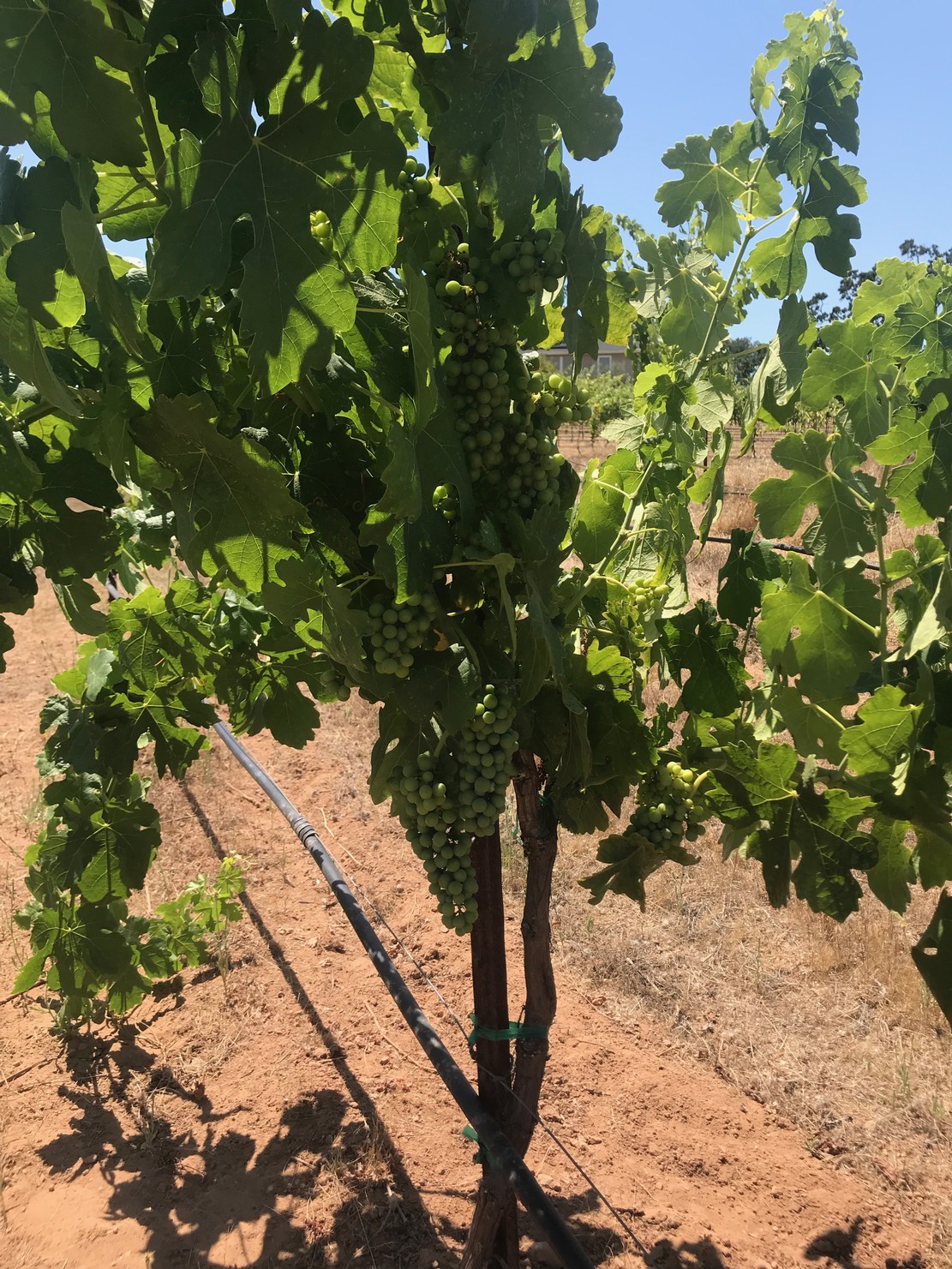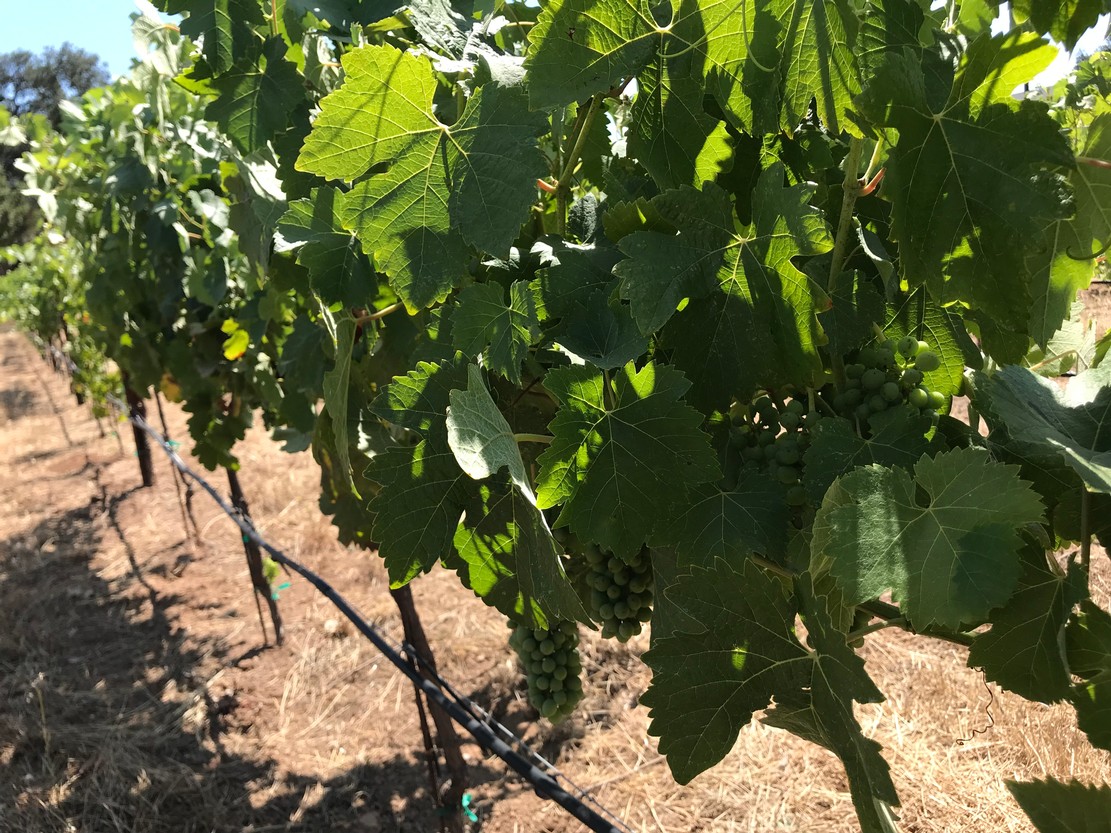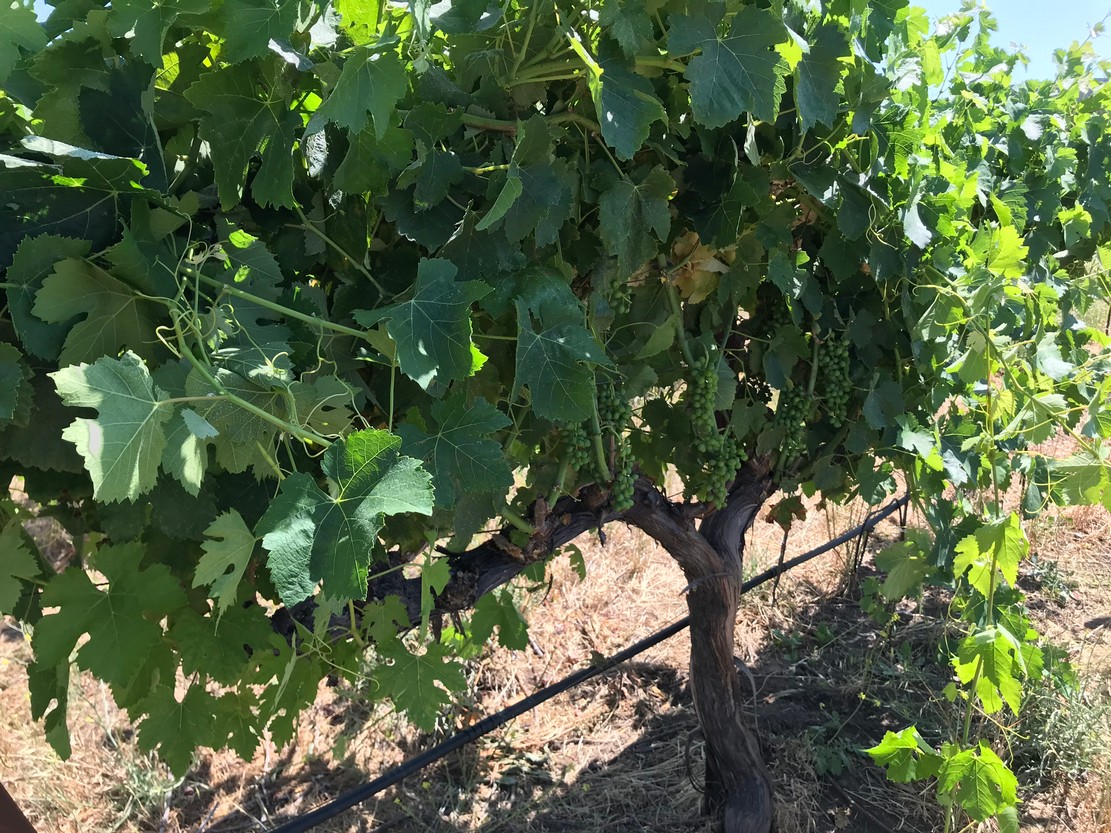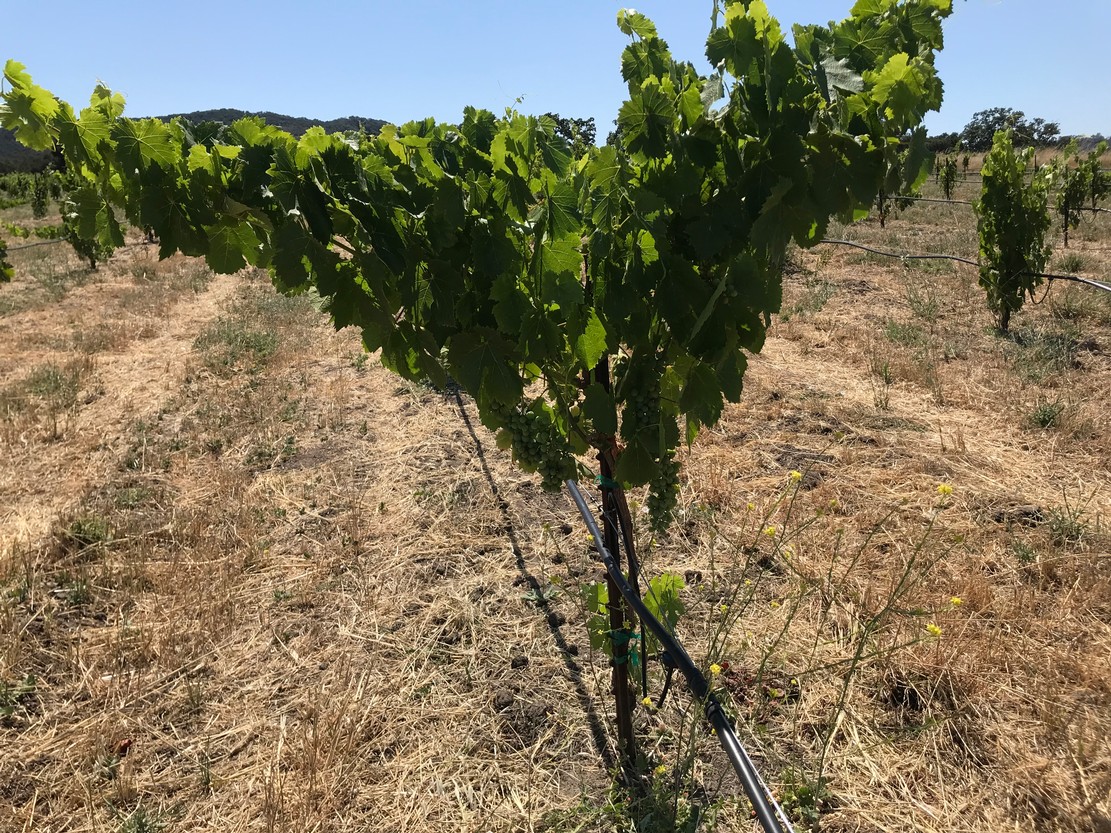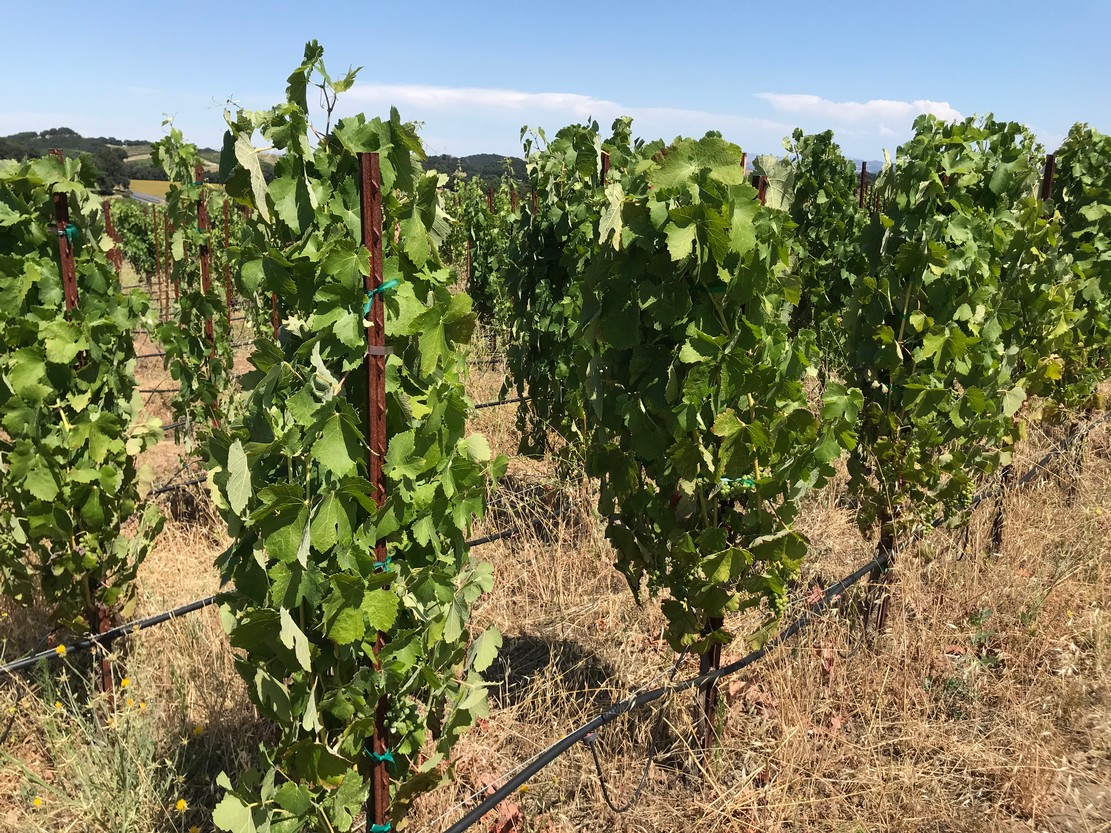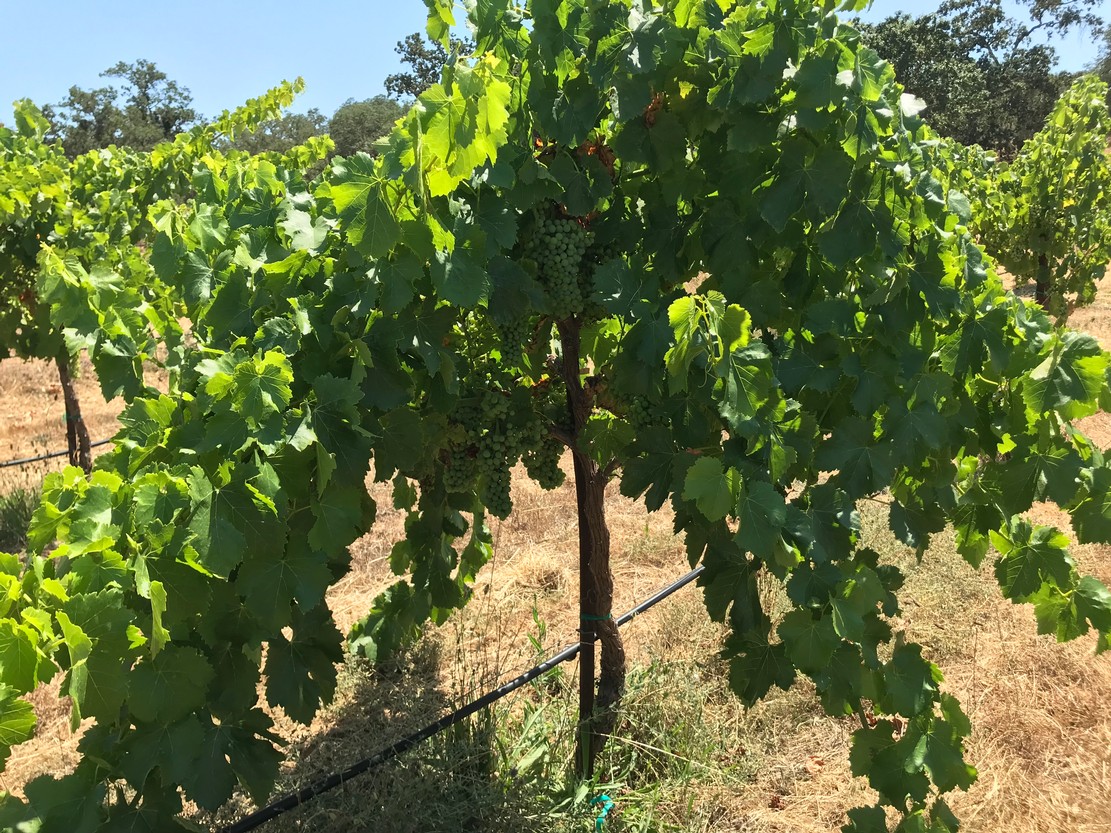 Smoke from the barrel of my 17 HMR lingers and yet the varmints reproduce at a dizzying rate.
Send ammunition.

Incessant humping by the "yellow-toothed ground goblin" has proved to be a nuisance, but thanks to some sturdy sights, I sleep soundly at night and most of the damage hitherto has been avoided. We're doing our best.

Our Baby Block of Cinsaut is flourishing in it's second year and I have a good mind to plant the rest of this ranch to head-trained vines at 11'x11' spacing.

Don't tell the head office that I have plans to expand the vineyard. I might be summarily dispatched.

The wide spacing allows for great vigor and water efficiency, and scoping out the aforementioned enemy is a snap. Those little bastards have no place to hide.

The meter by meter Syrah block is a fruitful yet beastly way to farm. It might do me in.

I'll send photos of everything next week. Bunkhouse, Orchard, Lake and Meter by Meter blocks will all be giving us significant new fruit. Exciting!

Send ice packs.

Yours Aimfully,
MCA



If the purpose of life's journey is to gradually invent oneself from cradle to grave, the identity of a vigneron presents a challenge to that ideal. For those unfamiliar, vigneron is a French term which has no English equal. Winegrower comes pretty close. A vigneron plants and farms an estate while also crafting and bottling wines from each successive vintage. Soup to nuts. Kit and caboodle.
The "genius" of a wine estate lies in the ability to maintain excellence, not to annually re-invent transcendental fruit and therefore wines. I would posit that it is a relatively monotonous existence to be a vigneron. This is not to say it is soulless, on the contrary. I personally find the duality of artisanal and agricultural life to be deeply spiritually rewarding. It is however formulaic and in that sense a somewhat static existence. I welcome opinions to the contrary, but the process of farming, fermentation and élevage involve the basic unwavering scientific processes of ripening, fermentation and integration. There are a great many other details that vary from cellar to cellar, but there are clear limits to the exploratory potential of farming and producing. It is also significant that for the most part, oenophiles prefer consistency, not existential grape-juice vision quests.

There are of course exceptions to every rule and I am lured yet again into what many consider to be winemaking's parallel universe: music.

The creme de la creme of music is widely considered to be classical. To that end, opera is classical music's most widely lauded vessel. Staging and wardrobe may be fluid throughout the ages, but the formula, the music and the libretto, remain consistent. The art form has been perfected, the score is the law and deviation is not acceptable.

On the flip side of that coin is popular music, blessed with endless creative options both within compositions and throughout the lifetime of the artist. Genres are invented regularly and the scope of popular music is essentially infinite.

One can argue that winemaking has endless explorative possibilities, with over 10,000 different grape varietals, undiscovered terroir and new methodology helping to perfect and develop our craft every harvest.

To summarize this rant, I m surmising that Grand Cru and Opera may well be synonymous. There are absolute rules to greatness that consumers reward with loyalty.

As far as popular music, we have entered into a realm where "rock star winemaker" is actually a term. These winemakers often employ cutting edge techniques to farm, process, ferment, age and market wines with intent to cultivate a fan base of wine-club devotees.

I am proud to mention that my dear friend and mentor Justin Smith of Saxum is being honored as Winemaker of the Year in Paso Robles. I think they ought to just make him a damn statue and make this a permanent distinction. He always encouraged us to develop a wine brand that spoke both our individuality and the fundamental principles rooted in terroir. Classical and popular musics dancing together so to speak. To throw the conventions and limitations of tradition out the window while keeping one foot firmly in the vat of the worlds greatest wine estates.

Rock me Amadeus.

All of us here at the Adams Ranch and Ledge Vineyards wish you a happy Independence Day.